The only time I saw Ted Nugent
was at the Sports Arena in Atlanta, Georgia. The Motor City Madman was with the Amboy Dukes and wearing only a loincloth. For some reason the crazed maniac decided to jump off the stage and into the crowd. That was, as Boris Kogan was so fond of saying when analyzing one of my Chess games, a "BEEG mistake." The crowd began pummeling the poor dude, with the audience, including the fellow with whom I had attended the show, Richard Dalrymple, shouting, "KILL HIM!" If there was any security they were most definitely not going to attempt going into the crowd that had turned into a blood thirsty mob; Ted was on his own…Fortunately, he was returned to the stage, bloodied, but unbowed, and he picked up the guitar and continued playing as if nothing had happened. The crowd went WILD, yelling and screaming in appreciation.
"The debut album by the Amboy Dukes should be high on collectors' lists. Fusing the psychedelia of the early Blues Magoos with Hendrix riffs and British pop, the band which launched the legend of Ted Nugent has surprises galore in these lost grooves. As essential to the Amboy Dukes' catalog as the non-hit material on Psychedelic Lollipop was to the Blues Magoos, the first album from the Amboy Dukes is a real find and fun listening experience. "The Lovely Lady" almost sounds like the Velvet Underground meets the Small Faces by way of Peanut Butter Conspiracy. This is a far cry from Cat Scratch Fever, and that's why fans of psychedelia and '60s music should cherish this early diamond." AllMusic Review by Joe Viglione (https://www.allmusic.com/artist/ted-nugent-mn0000749970/biography)
Ted left The Dukes and set out on his own. The title of one of his albums seemed to have Chess players in mind:
Fast forward several decades and the Madman transformed himself into the Wildman and a television show filled with the blood and gore of animals he killed to prove it:
It should come as no surprise that Terrible Ted became a strident arch conservative:
Ted Nugent has no idea what 'COVID-19' means in bizarre rant
April 12, 2021 | 10:26am
Turns out there is such a thing as a dumb question.
In a viral video shared via Facebook Live on April 7, "Cat Scratch Fever" rocker Ted Nugent claimed he wasn't afraid of the big bad coronavirus.
"I ain't scared. I ain't scared of nothing," Nugent, 72, began in the 12-minute clip recorded, presumably from his home near Jackson, Michigan, where he runs a 340-acre hunting ranch called Sunrize Acres.
After waxing on about regional "songbirds," the outspoken conservative then launched into a rant about his canceled tour plans due to pandemic restrictions.
"Are you kidding me? The production companies won't let us tour again this year," said Nugent in the meandering rant. "Dirty, bastards, lying, scam, smoke and mirrors, COVID-19 freaks."
"Why weren't we shut down for COVID one through 18?" the "Stranglehold" singer then asked in the video, which contains some PG-13 language.
https://nypost.com/2021/04/12/ted-nugent-has-no-idea-what-covid-19-means/
Then the worm turned…
Ted Nugent tests positive for COVID-19: 'I thought I was dying'
Published: April 20, 2021 at 9:10 a.m. ET By
The musician recently went viral for asking why there were no lockdowns for 'COVID 1-18'
"So I was officially tested positive for COVID-19 today." — Ted Nugent
That was singer Ted Nugent, 72, who has called COVID-19 "not a real pandemic" as well as a "scammy pandemic," revealing in a Facebook Live post on Monday that he now has the virus.
"Everybody told me that I should not announce this, but I have had flu symptoms for the past 10 days. I thought I was dying," he says in the almost nine-minute video. "Just a clusterf—."
The "Just What the Doctor Ordered" singer describes suffering symptoms such as "body aches" and "a stuffed-up head."
"My god, what a pain in the ass. I literally could hardly crawl out of bed the last few days," he says.
Yet Nugent said that he still won't get one of the available COVID-19 vaccines because "nobody knows what's in it," even though half of American adults have safely received at least one dose of a COVID vaccine, which has proven to be highly effective in containing the spread of the virus in some countries.
Nugent's fans wished him a speedy recovery beneath his post, especially as his age puts him in a high-risk group for severe COVID-19 illness. His critics, on the other hand, reveled in the news that Nugent was infected with the very disease he has denied and spread misinformation about.
His name was trending on Twitter on Tuesday morning — just a week after he went viral for appearing to be confused about what "COVID-19" actually means.
While complaining about the yearlong pandemic canceling his tour for a second time, he asked in another Facebook Live video, "Why weren't we shut down for COVID 1-18?"
In fact, the name notes the fact that the virus was discovered in 2019 — not that it's the 19th coronavirus. Specifically, COVID-19 is the disease caused by a new coronavirus called SARS-CoV-2, which the World Health Organization first learned of on Dec. 31, 2019. The WHO notes that coronavirus disease 2019 has been called "COVID-19" for short.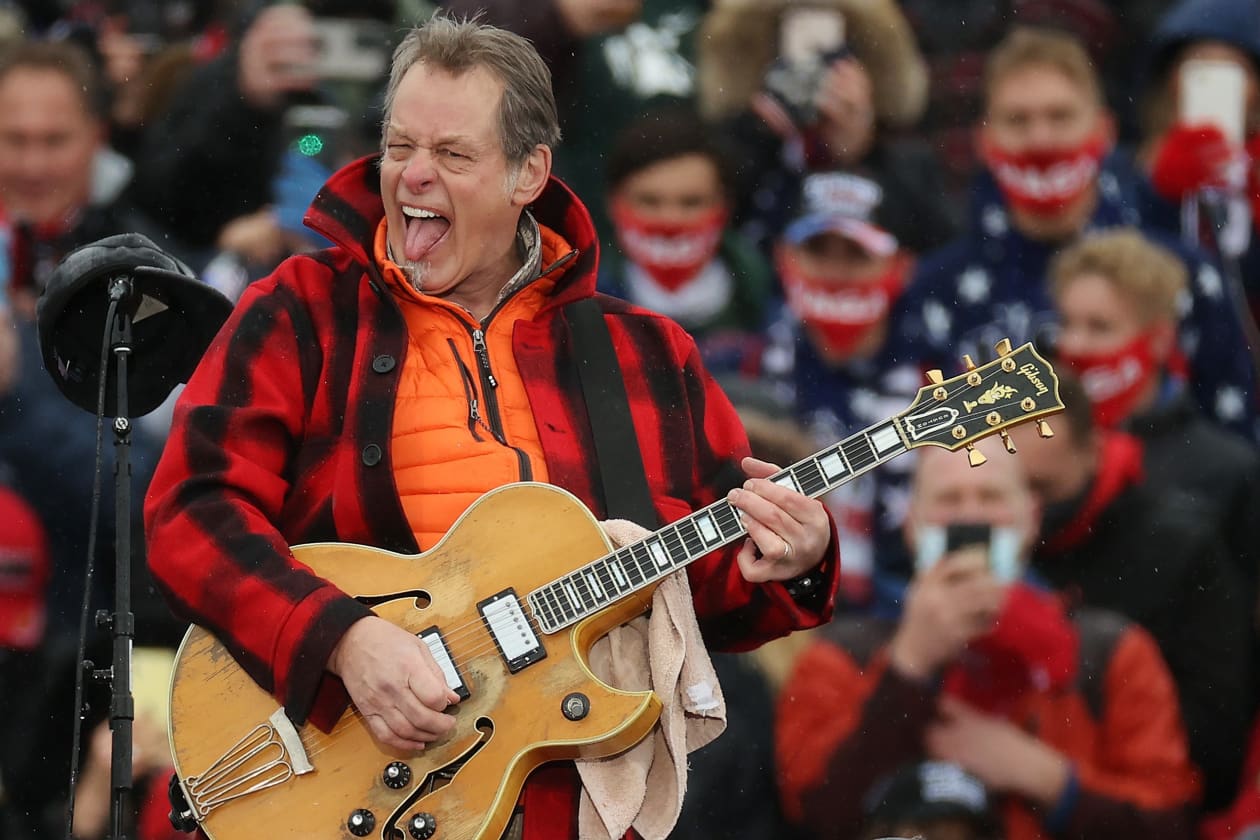 https://www.marketwatch.com/story/ted-nugent-tests-positive-for-covid-19-11618921721