Hikaru Nakamura
v Jeffery Xiong
U.S. Championship 2018 round 06
C25 Vienna game
1. e4 e5 2. Nc3 Nf6 3. g3 d5 4. exd5 Nxd5 5. Bg2 Nxc3 6. bxc3 Bc5 7. Nf3 Nc6 8. O-O O-O 9. Re1 Qf6 10. d3 h6 11. Rb1 Bb6 12. Be3 Bg4 13. h3 Be6 14. c4 e4 15. Nd2 exd3 16. c5 Ba5 17. Rxb7 Nb4 18. cxd3 Bd5 19. Rxb4 Bxg2 20. Rf4 Qc6 21. Qa4 Bxd2 22. Bxd2 Rfe8 23. Rxe8+ Rxe8 24. Qxc6 Bxc6 25. Kf1 Rb8 26. Rb4 Rxb4 27. Bxb4 Bd7 28. h4 f6 29. d4 Be6 30. a3 g5 31. Ke1 ½-½
1. e4 e5 2. Nc3 (The Vienna, a discredited opening I have often played which dates to the early days of Chess. Nothing like seeing Naka play an interesting opening to whet ones appetite for the coming round! Jacques Mieses
played 2 Nc3 122 times; Wilhelm Steinitz, 64.
Jana Krivec
played it on 70 occasions around the turn of this century)
2…Nf6 (After this move Steinitz drops out, replaced by Alexander Alekhine, who sat behind the white pieces 40 times)
3. g3 (Now we see Jana Krivec leading with 35 games, followed by Rauf Mamedov (27), and Peter Rahls with 26 games)
3…d5 (Now Alexander Finkel leads having faced 3…d5 18 times. Peter Rahls is second with 15; Jana shows 14)
4. exd5 Nxd5 5. Bg2 Nxc3 6. bxc3 (The standard position. Finkel and Rahls hold first and second, but our girlfriend, Heather Richards, has had this position ten times, which means more Heather games to replay!)
6…Bc5 (6…Bd6 has been the most often played move, but the Stockfish at ChessBomb and the CBDB show the game move best, but there is a caveat…the Stockfish program that shows the game move best is Stockfish 8 at a depth of 36. The CBDB shows that when Stockfish 9 goes one depth further it switches to 6…Nc6, the move Houdini prefers)
7. Nf3 Nc6 8. O-O O-O 9. Re1 Qf6 (SF likes 9…Bb6) 10. d3 h6 (The Fish likes 10…Bb6) 11. Rb1 (There is total agreement that 11 Be3 is the best move)
11…Bb6 12. Be3 Bg4 13. h3 Be6 (Theoretical Novelty! The gloves are off and we are fighting in the street! See games below for 13…Bh5.
It appears someone has done his homework as all the clanking digital monsters proclaim Be6 the best move in the position)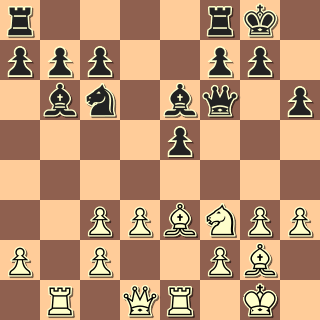 The hoi polloi in the 'chat' room at ChessBomb thought little of Hikaru's choice of opening:
patzerforlife: another Nakamura draw
congrandolor: what happens with this guy? his chess used to be thrilling
congrandolor: now almost as boring as So´s
faustus: Go Jeffery!
Wizboy: nakamura is the new giri
Jeh: Yeah, this position is totally innocuous….
14. c4 e4 15. Nd2 exd3 16. c5 Ba5 17. Rxb7 Nb4 (Stockfish at Da Bomb gives this line: 17… Nb4 18. cxd3 Nxd3 19. Ne4 Qg6 20. Qxd3 Bxe1 21. Rxc7 Rad8 22. Qe2 Bb4 23. Rxa7 Bxh3 24. Nd6 Bxg2 25. Kxg2 Bxc5 26. Bxc5 Rxd6 27. Bxd6 Qxd6 28. Qc4 Qd2 29. Rb7 Qa5 30. Rb2 Qf5)
18. cxd3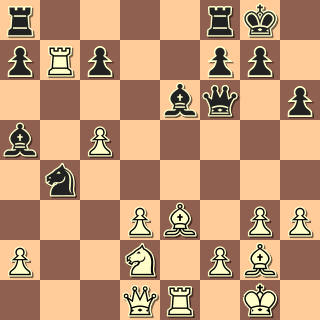 18…Bd5? (An awful, game losing type move, gifting white a large advantage. 18… Nxd3 19. Re2 looks normal)
19. Rxb4? (Nakamura returns the favor. What is causing the proliferation of back to back blunders in recent years? Stockfish gives this line: 19. Nb3 Bxb7 20. Bxb7 Nc6 21. Bxc6 Bxe1 22. Bxa8 Bxf2+ 23. Bxf2 Rxa8 24. g4 Qb2 25. Qd2 Qxd2 26. Nxd2 Rb8 27. Nb3 Rb4 28. Bg3 Ra4 29. Bxc7 Rxa2 30. d4 Ra3 31. Na5 Rxh3 32. Kf2 Rc3 33. Nc6 Rd3 34. Ne7+ Kf8 35. Bd6)
The nattering nabobs 'chatting' had a field day with Naka's last move:
CheshireDad: Nb3 seems a very tough move to find otb
Wizboy: Nb3 protects the pawn, attacks 2 pieces – any 2000 player would see this
Wizboy: i mean, idea is, Nb3 attacks a B which is trapped and has nowhere to go, and after Bxb7 Bxb7 white is still attacking that B and the black R. If R runs to safety Nxa5 and white wins 2 pieces for R. Nc6 Bc6 Be1 Ba8 Bf2 Bf2
Wizboy: okay, maybe too long. 2100-2200. Still Naka should be able to see this
attm: any 2100-2200 here?
kramnikaze: Nb3 doesn't attack 2 pieces. it defends the white bishop after: 19. Nb3 Bxb7 20. Bxb7 Rb8 21. Nxa5
congrandolor: BBBBLUNNDERR
kramnikaze: Iguess Naka isn't 2100-2200 ….
congrandolor: hehe
congrandolor: maybe he is drunk
congrandolor: or high
kramnikaze: or both 😉
patzerforlife: In 10 years Naka will be walking the streets begging for spare change
ChessHulk: too much poker 🙂
Bonifratz: Nakamura is very underwhelming so far in this event
Wizboy: honestly that line was not so hard to see
Bxg2 20. Rf4 Qc6 21. Qa4 Bxd2 22. Bxd2 Rfe8 23. Rxe8+ Rxe8 24. Qxc6 Bxc6 25. Kf1 Rb8 26. Rb4 Rxb4 27. Bxb4 Bd7 28. h4 f6 29. d4 Be6 30. a3 g5 31. Ke1 ½-½
cycledan: white is a clear pawn up, I am sure eval doesn't see through to end where it may be winning
gracz: Nakamura = Giri 🙂
kirxan: looks drawn to me
kirxan: and no, I don't get the reason for not playing 19.Nb3
(https://www.chessbomb.com/arena/2018-us-championship/06-Nakamura_Hikaru-Xiong_Jeffery)
Vjekoslav Biliskov (2332) v Davorin Kuljasevic (2561)
19th Zadar Open A CRO 12/16/2012
C26 Vienna, Paulsen-Mieses variation
1. e4 e5 2. Nc3 Nf6 3. g3 d5 4. exd5 Nxd5 5. Bg2 Nxc3 6. bxc3 Nc6 7. Nf3 Bc5 8. O-O O-O 9. Re1 Qf6 10. d3 h6 11. Rb1 Bb6 12. Be3 Bg4 13. h3 Bh5 14. g4 Bg6 15. Nd2 Rad8 16. Qe2 (16 Ne4 Qe7 17 c4 1/2-1/2, Gil Ravelo (2331) v A. Bezanilla (2300), Havana 1999)
Rfe8 17. Ne4 Qe7 18. a4 Rb8 19. Rb3 Bxe3 20. Qxe3 b6 21. Ng3 Qd7 22. Rbb1 Re6 23. f4 exf4 24. Qxf4 Rbe8 25. Ne4 Ne7 26. Qf2 Nd5 27. Qd2 Bxe4 28. Rxe4 Rxe4 29. dxe4 Nf6 30. Qxd7 Nxd7 31. a5 Ne5 32. axb6 cxb6 33. Kf2 Rc8 34. Rb3 f6 35. Bf1 Kf7 36. Ba6 Rc7 37. Ke3 Ke6 38. Ra3 g5 39. Bb5 Ng6 40. Kd4 Nf4 41. c4 Kd6 42. Rf3 Rc8 43. h4 Ke6 44. hxg5 hxg5 45. Ra3 a5 46. Ra1 Rd8+ 47. Ke3 Rh8 48. c5 bxc5 49. Rxa5 Rh3+ 50. Kd2 Ke5 51. Bd7 Kd4 52. Ra4+ c4 53. Bb5 Rh2+ 54. Kc1 Kxe4 55. Rxc4+ Kf3 56. Bd7 Ne2+ 57. Kb2 Rh7 58. Bc6+ Kg3 59. Be4 Re7 60. Bf5 Rb7+ 61. Ka3 Rb6 62. Re4 Kf3 63. Ra4 Ke3 64. Re4+ Kf3 1/2-1/2
Vjekoslav Biliskov (2353) v Nikola Nestorovic (2440)
20th Zadar Open A 2013
C26 Vienna, Paulsen-Mieses variation
1. e4 e5 2. Nc3 Nf6 3. g3 d5 4. exd5 Nxd5 5. Bg2 Nxc3 6. bxc3 Nc6 7. Nf3 Bc5 8. O-O O-O 9. Re1 Qf6 10. d3 Bb6 11. Rb1 h6 12. Be3 Bg4 13. h3 Bh5 14. g4 Bg6 15. Nd2 Rad8 16. Nc4 e4 17. d4 Qe6 18. Qe2 f5 19. gxf5 Bxf5 20. Kh2 Ne7 21. Bd2 Nd5 22. a4 a5 23. Rb5 Qc8 24. Nxb6 Nxb6 25. Rxa5 c6 26. Re5 Nd7 27. Rxf5 Rxf5 28. Bxe4 Rf6 29. c4 Qc7+ 30. Kg2 Rdf8 31. f3 Nb6 32. Rb1 Nc8 33. Be1 Nd6 34. Bg3 Qf7 35. Bxd6 Rxd6 36. d5 Kh8 37. Qe3 Re8 38. Qd3 cxd5 39. cxd5 b6 40. Qd4 Qf4 41. Rxb6 Qg5+ 42. Kf2 Rxb6 43. Qxb6 Qd2+ 44. Kf1 Qd1+ 45. Kg2 Qd2+ 46. Kf1 Qd1+ 47. Kg2 Qd2+ 48. Kf1 Qd1+ 49. Kg2 1/2-1/2