Fifty nine years ago today President of the United States John Fitzgerald Kennedy and Soviet Premier Nikita Khrushchev
were "eyeball to eyeball" over the missiles earlier placed in Cuba by the Soviet leader. "This was the day recalled by almost everyone in ExComm as "doomsday Saturday," and seemed to all involved to be the immediate prelude to a nuclear war between the United States and the Soviet Union." That, and much of what follows was taken from the magnificent book: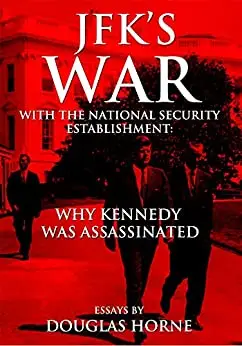 It begins: October 14th, 1962: A U-2 flight over Cuba photographs many of the 36 MRBMs and their mobile launchers at multiple sites.
October 15th: The CIA's National Photographic Interpretation Center (NPIC) in Washington, D.C. develops the film and interprets the images; this is the day that the missiles were discovered.
October 16th: President Kennedy is informed, and the Cuban Missile Crisis, as it is defined by historians, begins; this is the first day of thee harrowing "thirteen days," to use Robert F. Kennedy's terminology from his book about the event.
October 18th: President Kennedy kept a long-standing date with Soviet Foreign Minister Andrei Gromyko and Soviet Ambassador to the United States Anatoly Dobrynin in the White House. At that meeting, Gromyko lied to JFK and denied that any offensive weapons wee being placed in Cuba. The public still did not know about the missiles, and the Soviets still did not know that we knew.
October 19th: President Kennedy met with the Joint Chiefs of Staff as a body to receive their advice, and was severely pressured to adopt massive air strikes and a full invasion as his response the the Missile Crisis. The Chiefs unanimously pressured JFK to bomb and then invade Cuba, and Air Force Chief of Staff LeMay's exchange with JFK was unusually blunt, rude, and provocative. [Specifics to come later in this essay.]
October 20th-22nd: It had proven difficult, but by Saturday, October 20th, after four days of back and forth in multiple meetings every day, Bobby Kennedy had built a narrow consensus within ExComm for a blockade as an initial response to the crisis, with an air strike and invasion a future options, or course, if a blockade did not work.
JFK met with the hastily recalled Congressional leadership early on the evening of Monday, October 22nd. It was a stormy session, with most of the leadership declaring they were against the blockade option and in favor of military action. President Kennedy then gave his nationally televised address that evening,
and the Cuban Missile Crisis then moved into its public phase, (lasting from October 23 through 28th). In his speech, JFK announced the blockade option (a "quarantine" of any offensive weapons headed to Cuba, since a blockade was technically an act of war), and threatened that the launch of any nuclear missile from Cuba against any nation in the western Hemisphere would result in a full-scale nuclear attack upon the Soviet Union by the United States. President Kennedy also moved the American armed forces from DEFCON-5 to DEFCON-3 just prior to the speech. (Defense condition 5 was peacetime deployment, and at the other extreme on that scales of readiness, defense condition 1 was "nuclear war.")
October 23rd: The United States successfully engineered a 19-0 vote in favor of the Cuban blockade option by the Organization of American States (with Cuba abstaining).
October 24th: On this day the naval "quarantine" of Cuba was initiated.
Let us pause for a brief break in the action for personal recollections. This writer was in the seventh grade having turned twelve at the end of August, just before school began after Labor Day.
The earliest memory I have of my father, a deeply religious man, is of being in church and looking up at him holding a Bible in his hand while singing this song:
There was a gentleman in the neighborhood who had a small barber shop located in his back yard, which is where my hair was cut for many years. Like most of the men in the neighborhood he had served in the military during World War II. Some of the men would come there to talk and smoke cigarettes, and to get away from the wife for a time. I recall being there with my father during the Cuban Missile Crisis when he was asked if he thought it a good idea for me to be listening to their conversation. "The boy has got to grow up some day. Might as well be now," replied my father. All the men were Republicans and Baptists and loathed and detested JFK. Those men were what became known as "Goldwater Republicans." They did not care for change and especially when it came from a Yankee, Catholic, POTUS. They hated Communists and were ready for war at any cost. My father was a radioman with the Navy during "The Big One" and must have been very good at what he did because he was assigned to the Pacific Task Force and was in many, if not all of the major battles about which movies have been made. After the war he had what has come to be known as PTSD. Sloppy Floyd Bailey, who proudly called himself an old "Jarhead," made fun of my father, saying he had "spastic colon disease." My father never talked about the war until we were watching the Braves play in the World Series and the flood gates opened wide; did they ever…My father was opposed to war, especially nuclear war, because he had experienced enough of it to last a lifetime. The men at the Barber Shop were full of bluster, but I could sense they were scared and afraid of what the future might bring. They attempted to act like macho men around the other men but when I overheard some of them at the Boys Club they were filled with a palpable fear of the future. My father told me to say nothing about what I had heard to the other members of our family. Other members of the family, aunts,uncles and cousins, would come over and sit around the kitchen table drinking coffee and smoking cigarettes while talking in hushed tones so my sisters and I could not hear them. It did not work. Everyone was on edge; you could feel the vibes. At school we were told to not discuss anything about what we had seen and heard about the "Crisis." This was while being made to prepare for War by learning how to "Duck and Cover."
Everyone old enough to be aware was on edge, and even those too young to understand knew something was happening even if they did not know what it was, Mr. Jones.
It was around this time that something major happened that altered the course of my life, and I have always wondered what, if any, part the Cuban Missile Crisis played in how my life developed…
October 25th: On Thursday, U.N. Ambassador Adlai Stevenson debated the ill-informed and hung-out-to-dry Soviet Ambassador Zorin on television at the televised U.N. Security Council meeting over the missiles in Cuba. Confronted with Soviet denials and stonewalling, Stevenson and his team produced for public consumption undeniable evidence of the Soviet missiles in Cuba on several large photographic briefing boards prepared for this purpose by the CIA's NPIC in Washington, D.C.
October 26th: As a symbolic act meant purely to demonstrate that the U.S. blockade had teeth, on Friday, October 26th the U.S. Navy stopped and boarded a harmless Soviet-chartered Lebanese freighter manned by a Greek crew, which was known to be carrying innocuous cargo. The blockade had accomplished its goal of preventing the introduction of any more offensive weapons into Cuba, and stopping this ship was intended as proof that America was not afraid to stop ships n the high seas.
Unfortunately, this was also the date that ExComm informed JFK that the MRBMs in Cuba were probably now operational. (This was a remarkably accurate estimate; the Soviet Commander in Cuba confirmed readiness to fire the 36 MRBMs the next day, on October 27th, by cable.)
Low-level reconnaissance flights, which had been taking place twice per day since Tuesday, were accelerated to once every two hours on Friday to increase the psychological pressure on the Soviet Union, and to provide as much up-to-date information as possible to Ex Comm and the U.S. military. On this date Castro ordered his anti-aircraft gunners to begin firing on all low-flying U.S. aircraft.
On this date, we now know, the Soviet missile commander, General Prilyev, moved the nuclear warheads for his 35 MRBMs (in their mobile vans) from the nuclear bunker sites (under construction), to the field sites where the mobile launchers and the missiles were located.
October 27th: This was the day recalled by almost everyone in ExComm as "doomsday Saturday," and seemed to all involved to be the immediate prelude to a nuclear war between the United States and the Soviet Union.
End Part One