During the meeting of the Ironman Chess Club Tuesday, July 16, 2019 I was able to question the owner of Championship Chess, (https://www.championshipchess.net/) Steve Schneider,
a man I have known since the 1970's, and for whom I once worked teaching Chess to children in an after school program. Our 'conversation' turned into an interview. There were others listening to our discussion. Without those witnesses I would be unable to publish this interview. It began after Steve, who is elderly, and like many older people, battling myriad health issues, including life threatening blood clots in his legs, stated, "I spend eighteen hours a day on Chess." I did not question this because it is common knowledge Steve 'burns the midnight oil', sending emails into the wee hours of the night. I was holding a Championship Chess flyer for the 8th annual K-12 Summer Scorcher Chess tournament, which includes, on the back, the first twenty moves of the game between World Human Chess Co-Champion (at classical Chess) Magnus Carlsen and Sharsidden Vokhidov from the 2018 World Rapid Championship, titled "The Queen's Raid."
Me: "I see you are still teaching the Queen's Raid."
Steve: "There is nothing wrong with teaching the Queen's Raid. It's a good opening. Look at who plays it!"
Me: "Come on, Steve."
Steve: "All the computers say it's a playable opening!"
Me: "Which computers?"
Steve: "Stockfish, and all the top programs! Stockfish says white is better in the game!" (Referring to the aforementioned game printed on the back of the flyer. For years a Championship Chess flyer contained Chess puzzles chosen by NM Tim Brookshear. The Queen's Raid game appears because Tim, for various reasons, decided to no longer produce the puzzles, allowing Steve's atavistic tendencies to rear their ugly head. Hence the Queen's Raid, something near and dear to the heart of the owner of Championship Chess. A case can be made that Championship Chess was predicated upon the Queen's Raid, which has become synonymous with Championship Chess. The Queen's Raid is the foundation of Championship Chess. Steve Schneider will invariably be known as the "Queen's Raid guy.")
Me: "When, exactly, is white better according to Stockfish, Steve?"
Steve: "In all the diagrams!"
Me: "Come on, Steve."
Steve: Except where Magnus missed the best move in the last diagram."
Me: "But the diagram is before Carlsen, as you say, '…missed the best move.'"
Steve: "Then he's better there, too!"
(All I could do was shake my head as I muttered "unbelievable." I then decided to move to a different subject. Granted, Magnus was better but only after his opponent played a theoretical novelty that was an extremely weak move, 4…Qe7. The Patzer is so bad that even with the inclusion of the weak move Qe7 the game is considered about even by "all of the programs.")
Me: "What's the deal with the World of Chess?" (Steve has spent much money having someone develop a program for beginners to which he sells access to unknowing parents of children who are in Championship Chess after school programs. I had previously seen a flyer for The World of Chess at the Ironman CC)
Steve: "What do you mean?"
Me: "Is it operational?"
Steve: "Yes."
Me: "I looked for it on the internet but could not locate it."
Steve: "Not just anyone can get to it."
Me: "I would like to review it, Steve."
Steve: "I DO NOT WANT IT REVIEWED!"
Me: "You don't want it reviewed?" (Asked with incredulity)
Steve: "Why would I want others to see it?"
Me: "When a new product is developed it is usually reviewed…"
Steve: "You have to pay first."
Me: "You must pay before even checking it out?"
Steve: "Yes."
Me: "I understand it is similar to Mike Klein's ChessKid, (https://www.chesskid.com/) which is free."
Steve: "It's NOT free. You must pay!"
Me: "I checked out ChessKid and there is much free content for anyone to see and use…"
Steve: "ChessKid really took off after he came to one of my lectures and stole my ideas."
Me: "Who came to your lecture?"
Steve: "Mike Klein came to a lecture in Alabama. Most of what's on ChessKid he took from me!"
Me: "But Steve, ChessKid has been around since long before you developed The World of Chess."
Steve: "And you have to pay."
Me: "But you can check it out before paying."
Steve: "I'm not giving anything away. You must pay first!"
At this point Steve's face was beet red and he was in a highly agitated state, so there were no further questions as others began to query "Coach Steve."
This is my attempt to reproduce the Championship Chess flyer:
ECO20 The Queen's Raid (At the 365Chess.com website you will find this-C20 KP, Patzer opening) (https://www.365chess.com/opening.php?m=4&n=332&ms=e4.e5.Qh5&ns=3.5.332)
Carlsen, Magnus (2835)
Vokhidov, Shamsiddin (2480)
World Rapid Championship 12.2018
1.e4 e5 2.Qh5 Nc6 3.Bc4 g6 4.Qf3 Qe7 5.Ne2 Nf6 6.d3 Bg7 7.Nbc3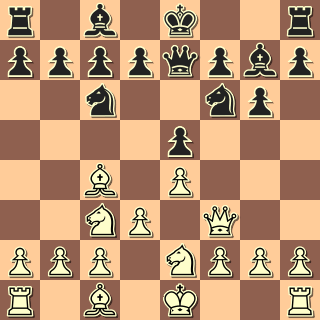 Typical opening moves where the players are even. h6 8.Nd5 Nxd5 9.exd5 Na5 10.d6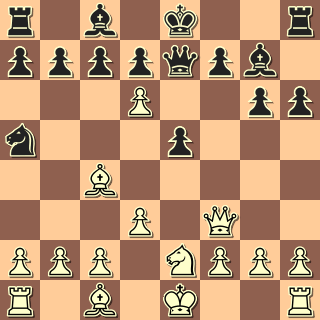 Carlsen prevents Black from trading his Bishop. He sacrifices a Pawn for better development.cxd6 11.Bd5 Nc6 12.Bd2 Qf6 13.Qe4 O-O 14.O-O Ne7 15.Nc3 Qf5 16.Qb4 Nxd5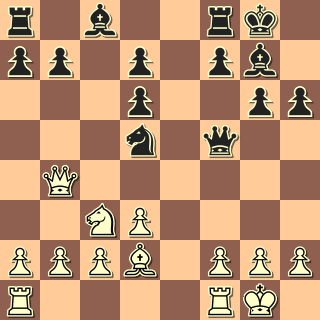 Black trades a Knight for a Bishop. 17.Nxd5 Kh7 18.Nc7 Rb8 19.Qxd6
White is better. b6 20.f3 Here Carlsen missed the best move Ne8! 0-1
I went to 365Chess and the "Big Database" contains 281 games with white winning 36.3% while losing 50.9%. The ChessBaseDataBase contains only 35 games because it is more selective, containing mostly games by titled players. It shows white scoring only 44%.
The CBDB shows what the engines 'thought' of the opening moves played in the Carlsen v Vokhidov game.
1.e4 e5 2.Qh5 (After this move SF 10 at D43 shows an evaluation of -0.50 for white after black plays 2…Nc6 ; Komodo 12 has it -0.20)
Nc6 3.Bc4 g6 4.Qf3 (Although Stockfish at Depth 43 plays the game move Komodo 12 at D42 prefers 4 Qd1)
4…Qe7? (There is only one game with this move in the CBDB. Komodo has it -0.02 after 5 Ne2. There are 25 games with 4…Nf6, SF has it -0.56. Vokhidov did not know the opening, which may have contributed to the thinking of Magnus Carlsen before playing The Patzer. Magnus has never played it again. There is a reason…) 5.Ne2 Nf6 (The Fish and the Dragon both play 5…Na5) 6.d3 (SF 10 plays 6 Nbc3) 6…Bg7 (Komodo and Houdini play the game move but Stockfish plays 6…h6, which will be a Theoretical Novelty if and when a titled human player makes the move on a board) 7.Nbc3 (SF 10 shows an advantage of -0.39 after 7…Nd4) 7…h6 8.Nd5 (SF 8 h3; Houdini 8 Be3) 8…Nxd5 9.exd5 Na5 ( According to both SF and Houdini 9…Nb4 is better) 10.d6 cxd6 11.Bd5 Nc6 (SF 11…Rb8) 12.Bd2 (This is Komodo's move; Houdini plays 12 Qe4) 12…Qf6 (SF 10 castles)