Life Master Richard Francisco
carried the Georgia colors to Charlotte, NC, for the Spring 2019 GM/IM Norm Invitational contested
March 20-24, 2019 at the Charlotte Chess Center and Scholastic Academy. Richard played in the IM section scoring 3 1/2 points while winning two, drawing two, and losing too many.
Richard earned his NM certificate in 2003 and LM title in 2009. (http://www.uschess.org/msa/MbrDtlMain.php?12631588) He is ranked in the top three hundred active players in the USCF and is the fourth highest rated player in the Great State of Georgia. According the FIDE Mr. Francisco is number 8064 in the world among active players. (https://ratings.fide.com/card.phtml?event=2021188)
Richard will be playing again in the Summer 2019 CCCSA IM Norm Invitational beginning June 5.
NM RICHARD FRANCISCO (2231) – FM ROBBY ADAMSON (2216)
Spring 2019 IM Norm Invitational
Round 4 | 2019.03.22
1. e4 e5 2. Nf3 Nc6 3. d4 exd4 4. Nxd4 Nf6 5. Nxc6 bxc6 6. e5 (Although the move played in the game has been by far the most frequently played move SF 10 at depth 52 and Houdini at depth 50 "think" the game should go 6 Nc3 Bb4 7 Bd3. With this move the game now becomes the C45 Scotch, Mieses variation) 6…Qe7 7. Qe2 Nd5 8. c4 Nb6 (SF and Komodo show 8…Ba6 as the move) 9. Nc3 Qe6 10. Bd2 (SF plays 10 Qe4 expecting d5 11 exd6; Houdini plays 10 f4 Bc5 11 Be3) Ba6 11. b3 O-O-O 12. f4 f6 13. Qf2 (See Abdulov vs Lenic below for 13 Qe4)
Bb7 14. a4 Kb8 15. a5 Nc8 16. a6 Ba8 17. c5 fxe5 18. f5 Qe7 19. Ne4 d5 20. Bg5 Qd7 21. Bxd8 Qxd8 22. Ng3 Qe7 23. b4 Qh4 24. Rb1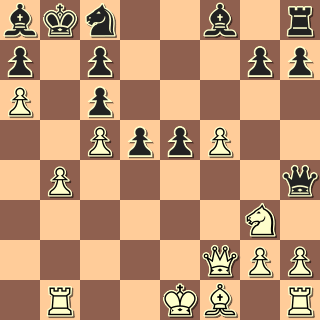 24…Nd6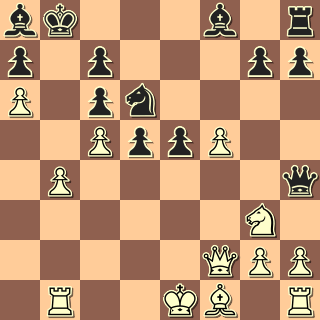 25. Be2 Nb5 26. O-O Be7 27. Nh5 Nc3 28. Rb2 Qxf2+ 29. Rxf2 Bg5 30. Rf1 e4 31. Nxg7 Bf6 32. Nh5 Bd4+ 33. Kh1 Nd1 34. Bxd1 Bxb2 35. f6 Rf8 36. Bg4 Bb7 37. axb7 Kxb7 38. Be2 Bc3 39. g4 Bxb4 40. Ng7 Bxc5 41. Ne6 Bd6 42. Nxf8 Bxf8 43. Rb1+ Kc8 44. g5 1-0
Orkhan Abdulov (2388) vs Luka Lenic (2641)
Event: 18th ch-EUR Indiv 2017
Site: Minsk BLR Date: 05/30/2017
ECO: C45 Scotch, Mieses variation
1.e4 e5 2.Nf3 Nc6 3.d4 exd4 4.Nxd4 Nf6 5.Nxc6 bxc6 6.e5 Qe7 7.Qe2 Nd5 8.c4 Nb6 9.Nc3 Qe6 10.Bd2 Ba6 11.b3 O-O-O 12.f4 f6 13.Qe4 Bb7 14.O-O-O Re8 15.Re1 fxe5 16.fxe5 g6 17.a4 a5 18.Bd3 Bg7 19.Bf4 d6 20.Bg3 dxe5 21.Qe3 h5 22.Kc2 h4 23.Bf2 e4 24.Qxe4 Qf6 25.Qg4+ Kb8 26.Nd1 Qa1 27.Qxg6 Reg8 28.Bxb6 Qa2+ 29.Kc1 Bh6+ 30.Qxh6 Rxh6 31.Be3 Rxg2 0-1
FM EZRA PAUL CHAMBERS (2334) – NM RICHARD FRANCISCO (2231)
Spring 2019 IM Norm Invitational
Round 5 | 2019.03.23 | 0-1
B38 Sicilian, accelerated fianchetto, Maroczy bind, 6.Be3
1. e4 c5 2. Nf3 Nc6 3. d4 cxd4 4. Nxd4 g6 (SF 9 shows 4…Nf6 best) 5. c4 Bg7 6. Be3 Nf6 (SF 10 plays 6…Qb6, followed by 7 Nb3 Qd8)
7. Nc3 O-O 8. Be2 b6 (Komodo plays d6) 9. O-O (SF plays 9 Qd2 Bb7 10 f3 while Komodo plays 9 f4 Nxd4 10 Bxd4) Bb7 (SF prefers 9…Nxd4 10 Bxd4 Bb7. Only one game has been played by transposition. See Horvath vs McCambridge below) 10. f3 Qb8 (SF prefers 10…Nxd4 11 Bxd4 Bh6) 11. Qd2 Rd8 (SF plays 11…Nxd4 12 Bxd4 d6) 12. Rad1 (SF 9 plays 12 Nc2 while SF 10 and Komodo play Ndb5)
12…d6 (SF plays 12…Nxd4 13 Bxd4 d6) 13. Rfe1 (SF plays 13 Nc2 Rd7 14 f4; Komodo plays either 13 b3 Qc8 14 a3 or 13 Nbd5) 13…Rd7 (Houdini plays 13…Nxd4 14 Bxd4 Qc7) 14. Bf1 (SF plays 14 b3 e6 15 Nxc6 while Houdini plays 14 Ndb5 Nd8 15 Rc1) 14…Qf8 (SF plays the game move giving 15 g3 e6; Komodo plays 14…Ne5 15 b3 Nf8; Houdini plays 14…Nxf4 15 Bxd4 Qc8)
15. b3 Rad8 16. g3 e6 17. Qf2 Ne5 18. Bh3 Re7 19. Na4 d5 20. exd5 exd5 21. c5 Ba6 22. cxb6 axb6 23. Bf1 Bxf1 24. Kxf1 b5 25. Nc3 b4 26. Na4 Rde8 27. Qd2 Rc7 28. Rc1 Rxc1 29. Rxc1 Qe7 30. Bf2 Qd7 31. Kg2 Bf8 32. Nc5 Qa7 33. Na4 Qa8 34. Rc7 Bd6 35. Rc1 h5 36. h3 Bf8 37. g4 hxg4 38. hxg4 Qb7 39. Bh4 Bg7 40. Re1 Ned7 41. Rxe8+ Nxe8 42. Nc2 Bf8 43. Be1 Ne5 44. Qe2 f6 45. Nd4 Nc7 46. f4 Nc6 47. Ne6 d4 48. Nxf8 Kxf8 49. Nc5 Qa8 50. Kg3 Qe8 51. Qd2 Qe7 52. Nd3 Nd5 53. Bf2 Nc3 54. Kh2 Qe4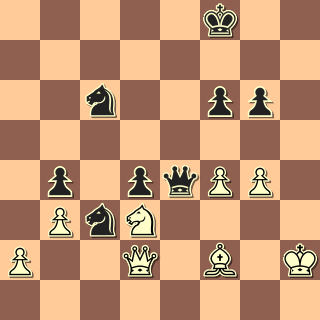 55. Bh4 Kf7 56. Bf2 Qf3 57. g5 Ne4 58. Qc2 Nxf2 59. Nxf2 Qxf4+ 60. Kh3 Qf3+ 61. Kh2 Qf4+ 62. Kh3 Qf5+ 63. Qxf5 gxf5 64. gxf6 Ne5 65. Kg3 Kxf6 66. Kf4 Ke6 67. Kg5 Nf3+ 68. Kf4 Ne1 69. Nd1 Nd3+ 70. Kf3 Ke5 71. Ke2 Ke4 0-1
Tamas Horvath (2390) vs Vincent McCambridge (2350)
A04 Reti opening
1.Nf3 c5 2.c4 g6 3.e4 Bg7 4.d4 cxd4 5.Nxd4 Nf6 6.Nc3 O-O 7.Be2 Nc6 8.Be3 b6 9.O-O Nxd4 10.Bxd4 Bb7 11.f3 Rc8 12.Rc1 d6 13.Re1 e6 14.Bf1 Qc7 15.Nb5 Qd8 16.Nxa7 Ra8 17.Nb5 Rxa2 18.Na3 e5 19.Bc3 Bh6 20.Rb1 Nh5 21.Qb3 Qh4 22.g3 Nxg3 23.hxg3 Qxg3+ 24.Bg2 f5 25.c5+ Rf7 26.cxd6 fxe4 27.d7 exf3 28.d8=Q+ Bf8 29.Qxf7+ Kxf7 30.Qd7+ Be7 31.Re2 fxe2 32.Qxb7 Qe3+ 33.Kh1 Qh6+ 34.Kg1 Qe3+ ½-½
Socko, M 2473 vs Lind, J 2206
Warsaw AIG Life Rapid 7th 2007
1. e4 c5 2. Nf3 Nc6 3. d4 cxd4 4. Nxd4 g6 5. c4 Bg7 6.Be3 Nf6 7. Nc3 O-O 8. Be2 b6 9. O-O Bb7 10. f3 Qb8 11. Qd2 Rd8 12. Rad1 d6 13.Rfe1 Rd7 14. Bf1 Qf8 15. b3 Rad8 16. Nc2 e6 17. Bg5 h6 18. Bh4 g5 19. Bf2 Nh5 20. g3 Ne5 21. Bg2 Qe7 22. Ne3 Qf6 23. Qe2 Qg6 24. Nb5 Ba8 25. Nd4 Kh8 26. Rf1 Bf6 27. Kh1 Rg8 28. Bh3 Be7 29. Bg2 Nf4 30. gxf4 gxf4 31. Rg1 fxe3 32. Bxe3 Qh5 33. Rdf1 Rdd8 34. f4 Qxe2 35. Nxe2 Ng4 36. Bd2 d5 37. cxd5 Bc5 38. Bc3+ Kh7 39. Nd4 Ne3 40. Rf3 Nxg2 41. Rxg2 Rxg2 42. Kxg2 exd5 43. e5 Rc8 44. f5 b5 45. Rg3 Re8 46. Kh3 b4 47. Bb2 Rxe5 48. Ne6 d4 49. Rg7+ Kh8 50. Rxf7 Re3+ 51. Kh4 Re2 52. Nxc5 Rxh2+ 53. Kg4 Rxb2 54. Rf8+ Kg7 55. Ne6+ Kh7 56. Rxa8 Rxa2 57. Nxd4 Rg2+ 58. Kf4 Rd2 59. Rxa7+ Kg8 60. Ke5 h5 61. Ne6 h4 62. f6 Rf2 63. Nf4 Rf1 64. f7+ Kg7 65. Ne6+ Kg6 66. f8=Q 1-0