In the Chessbase report Batumi Olympiad Round 9: Poland stuns USA, Sagar Shah writes:
10/4/2018 – "Being the sole leader at the Olympiad is not an easy task. USA was the sole leader with 15.0/16 going into the ninth round. They were the clear favourites facing the Polish team. But the inspired Poles played out of their skins and beat the US with three draws and the decisive result being Piorun beating Nakamura." (https://en.chessbase.com/post/batumi-olympiad-round-9-poland-stuns-usa)
I nominate the latter part for understatement of the year. Team USA held control of its fate in its hands. Hikaru Nakamura's loss was, quite simply, DEVASTATING. There were other losses earlier in the Olympiad by team USA but coming when it did, none compared to Nakamura's loss in round nine. To argue that it was not the most devastating loss of the 2018 Olympiad, and arguably the most devastating loss by any American in any Olympiad, would be akin to arguing that a batter striking out in the bottom of the ninth inning of the seventh game of the MLB World Series with two outs and the tying and winning runners on base was the same as a strikeout earlier in the game.
Mr. Shah writes about the game, "Nakamura tried the Scandinavian against Kacper Piorun, retreating his queen back to d8, and was in a slightly inferior position out of the opening. There were a few equalizing chances like the one below, but Naka wanted to win the game at all costs and that's the reason why he made certain poor decisions."
The author of those words mentions absolutely nothing about how he came to know that, "…Naka wanted to win the game at all costs and that's the reason why he made certain poor decisions." Is this what Hikaru said after the game when questioned, or is this what Mr. Shah assumes? Inquiring minds want to know…Maybe we Chess fans will be able to glean what, exactly, was in Nakamura's mind during that game if, and only if he gives an interview. Maybe IM John Donaldson will explain the circumstances in a future article about the Olympiad. I find it extremely difficult to believe "…Naka wanted to win the game at all costs." Hikaru Nakamura has been drawing the majority of his games recently and his current rating decline is an indication of the correctness of what I have written. Hikaru Nakamura is now thirty years old, and if he were a Chinese player would not be on the Olympic squad because when a player turns thirty in China he must stop playing and become a teacher. Could this be the reason China took the gold medal? Although it pains this old man to write this as Nakamura is to me still a young man the fact is that in modern Chess when players earn their GM title before leaving grade school Hikaru became "old" upon turning thirty.
Let us have a look at the game. I have previously attempted to play this line, first played by Captain George Henry Mackenzie
in the London tournament held in 1883. Why Nakamura chose this particular opening only he can explain.Certainly if he were of the mindset to "…win the game at all costs…" he would have chosen a more, shall we say, dynamic opening. Incidentally, Piorun is five-time World problem-solving champion. He certainly solved the Nakamura problem in this game…
Kacper Piorun (POL) (2612)
– Hikaru Nakamura (USA) (2763)
World Chess Olympiad Batumi 2018 round 09
B01 Scandinavian or Centre Counter defense
1. e4 d5 2. exd5 Qxd5 3. Nc3 Qd8 (It should come as not surprise that both Komodo and Stockfish prefer 3…Qa5)
4. d4 Nf6 5. Nf3 g6 (The top two moves are, in order, 5…Bg4 and c6. Houdini would play the seldom played 5…a6. Nakamura has entered fertile territory here as his move has not been played often, and it has not been played previously by a so-called "super" GM)
6. Be2 (This move has only been attempted a handful of times by much lesser players. The Dragon would move the prelate to c4, or play 6 h3)
6…Bg7 7. O-O (Komodo prefers 7 h3) 7…O-O (Komodo prefers 7…Nc6)
8. Bf4 Nc6 (Komodo would play either 8…c6 or Bf5 depending on the program and depth. The game between Georg Schwager and Rudolf Ohmstede from Ruhrgebiet VK3 9899, 1999 continued, c6 9. Qd2 Re8 10. Rfe1 Bf5 11. Bd3 Bxd3 12. Qxd3 Nbd7 13. Rad1 Nb6 14. Ne5 Nbd5 15. Nxd5 cxd5 16. b3 Rc8 17. c4 a6 18. h3 Qa5 19. Re2 Qb4 20. Rc2 e6 21. Qf3 Rf8 22. Rdc1 Qa5 23. Bg5 Ne4 24. Be7 Bxe5 25. Bxf8 Bxd4 26. Bh6 g5 27. cxd5 Rxc2 28. Rxc2 Qe1+ 29. Kh2 f5 30. dxe6 Nd6 31. Re2 Be5+ 32. g3 Qc3 33. Qd5 Bxg3+ 34. fxg3 Ne8 1-0)
9. Qd2 b6 10. Rad1 Bb7 11. Rfe1 (Until this move we have been following the game R. Miranda (2238) v S. Slipak (2458) played at the Caba Legislatura Cup 2018. Slipak played 11 Nb5 Nd5 12. c4 Nxf4 13. Qxf4 a6 14. d5 Ne5 15. Nbd4 Qd6 16. Qc1 Qc5 17. Ng5 Qa5 18. Qb1 c5 19. f4 Nxc4 20. Nf5 Nxb2 21. Rc1 Bf6 22. Ne4 Qb4 23. a3 Qxa3 24. Rf3 Qb4 25. Kh1 Bg7 26. Nxe7+ Kh8 27. Nd6 c4 28. Nef5 Bxd5 29. Nxg7 Bxf3 30. Bxf3 c3 31. Bxa8 Qxd6 32. Bf3 Qf6 33. Nh5 gxh5 34. Qe4 Rc8 35. Qb4 Rc5 36. g3 Nd3 0-1)
11…e6 12. Bh6 Ne7 13. Bxg7 Kxg7 14. Ne5 Rc8 15. Qf4 a6 16. Rd3 b5 17. a3 Qd6 18. b4 Rcd8 19. Red1 Nfd5 20. Nxd5 Nxd5 21. Qh4 f6 22. c4
22…g5 (This weakening move gives the advantage to white. Naka should have played 22…bxc4)
23. Rg3 Ne7 24. Qh5 (Nakamura has been outplayed up to this point and with 24 c5 Piorun would retain a large advantage)
24…Be4 25. Re3 Bf5 26. c5 Qd5 27. Bf3 Qa2 28. Nc6 Nxc6 29. Bxc6 Qc4 30. Be4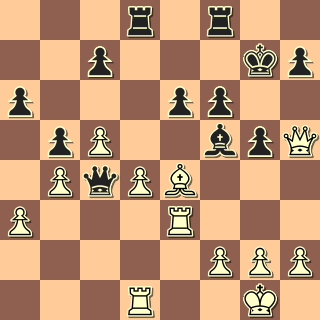 30…Bxe4 (This is an instructive mistake. Stockfish shows two better moves, 30…Rxd4 and 30…Bg6, both leaving the game equal)
31. Rxe4 e5 32. h4 h6 33. Qf3 Qd5 34. h5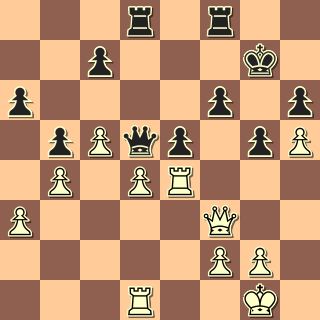 34…exd4? (This is as bad as it gets. The Fish shows that a prudent move such as 34…Kg8, or even 34…Rd7 would keep Naka in the game)
35. Rdxd4 Qf7 36. g4 Rxd4 37. Rxd4 Qe6 38. Qd3 f5 39. Rd7+ Rf7 40. Qd4+ Kh7 41. Rd8 Rg7 42. Rf8 (Breaking the coordination between the Queen and Rook. There were many better moves. Stockfish has the simple 42 Kg2 best. White is still winning, but has possibly given his opponent chances to hold))
42…Qc4 43. Qxc4 bxc4 44. Rxf5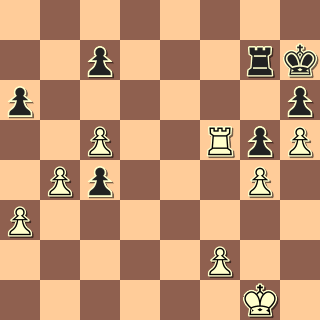 44…c6 (Turn out the lights, the party's over…There were many better moves, all of which did nothing, such as 44…Rd7 and Re7. Sometimes it is difficult to no nothing when wants to do something, hoping to save the game. Moving the pawn makes Naka's position worse. Shuffling the rook keeps the position bad, but does not make it worse. It is difficult to sit there facing defeat without wanting to do something; anything, but as Sergei Karjakin showed in his World Championship match with Magnus Carlsen, it can be difficult for an opponent with a "won" game to actually "win" the game if one continues to limit the damage to his position)
45. Re5 Rd7 46. Re4 Rd1+ 47. Kg2 Rc1 48. Kf3 Kg7 49. Ke3 Kf6 50. Kd4 c3 51. Re8 c2 52. Kc3 a5 53. Rc8 axb4+ 54. axb4 Ke5 55. Rxc6 Rb1 56. Kxc2 Rxb4 57. f3 Kd4 58. Rxh6 Rc4+ 59. Kd2 Rxc5 60. Re6 1-0
This particular variation took a devastating hit in the 1962 Olympiad in Varna with the following game:
Bobby Fischer
vs Karl Robatsch
1. e4 d5 2. exd5 Qxd5 3. Nc3 Qd8 4. d4 g6 5. Bf4 Bg7 6. Qd2 Nf6 7. O-O-O c6 8.
Bh6 O-O 9. h4 Qa5 10. h5 gxh5 11. Bd3 Nbd7 12. Nge2 Rd8 13. g4 Nf8 14. gxh5 Ne6
15. Rdg1 Kh8 16. Bxg7+ Nxg7 17. Qh6 Rg8 18. Rg5 Qd8 19. Rhg1 Nf5 20. Bxf5 1-0
After the following game the variation was put into moth balls for quite some time:
Bobby Fischer vs William Addison
Palma de Mallorca Interzonal 1970
1. e4 d5 2. exd5 Qxd5 3. Nc3 Qd8 4. d4 Nf6 5. Bc4 Bf5 6. Qf3 Qc8 7. Bg5 Bxc2 8.
Rc1 Bg6 9. Nge2 Nbd7 10. O-O e6 11. Bxf6 gxf6 12. d5 e5 13. Bb5 Be7 14. Ng3 a6
15. Bd3 Qd8 16. h4 h5 17. Bf5 Nb6 18. Nce4 Nxd5 19. Rfd1 c6 20. Nc3 Qb6 21.
Rxd5 cxd5 22. Nxd5 Qxb2 23. Rb1 Qxa2 24. Rxb7 1-0
Alexander Sellman vs George Henry Mackenzie
London 1883
1. e4 d5 2. exd5 Qxd5 3. Nc3 Qd8 4. d4 Bf5 5. Qf3 Qc8 6. Bf4 e6 7. Bd3 Bxd3 8.
Qxd3 Nf6 9. Nf3 Bd6 10. Be5 Nbd7 11. O-O-O a6 12. Rhe1 Bb4 13. d5 Nxe5 14. Rxe5
Bd6 15. Re2 O-O 16. dxe6 fxe6 17. Rde1 Qd7 18. Rxe6 Rae8 19. Rxe8 Rxe8 20.
Rxe8+ Qxe8 21. Qc4+ Kf8 22. Kd1 Qg6 23. g3 Qh5 24. Qe2 Bb4 25. Qd3 Bxc3 26.
Qxc3 1/2-1/2
Samuel Rosenthal vs George Henry Mackenzie
London 1883
1. e4 d5 2. exd5 Qxd5 3. Nc3 Qd8 4. d4 Bf5 5. Nf3 e6 6. Be2 Nf6 7. O-O Bd6 8.
Nb5 Be7 9. Bf4 Na6 10. a3 c6 11. Nc3 Nc7 12. Re1 O-O 13. Nh4 Bg6 14. Nxg6 hxg6
15. Bd3 Ncd5 16. Nxd5 Nxd5 17. Be5 Bf6 18. Qg4 Bxe5 19. dxe5 Re8 20. Rad1 Qc7
21. h4 Ne7 22. h5 gxh5 23. Qxh5 g6 24. Qh6 Nf5 25. Bxf5 exf5 26. e6 Rad8 27.
Rxd8 Qxd8 28. exf7+ Kxf7 29. Qh7+ Kf6 30. Qh4+ Kf7 31. Qh7+ Kf6 32. Qh4+ Kf7
33. Qc4+ Kf6 34. Qc3+ Kf7 35. Qb3+ Kf6 36. Rxe8 Qxe8 37. Qxb7 Qe1+ 38. Kh2 Qxf2
39. Qxc6+ Kf7 40. Qc4+ Kf6 41. Qc3+ Kf7 42. b4 g5 43. Qd3 g4 44. c4 Kf6 45.
Qc3+ Kg5 46. Qg7+ Kh5 47. Qe5 Kh4 48. Qe7+ Kh5 49. Qe5 Kh4 50. Qh8+ Kg5 51.
Qd8+ Kh5 52. Qe8+ Kh4 53. Qe7+ Kh5 54. Qe5 Kh4 55. Qf6+ Kh5 56. Qf7+ Kh4 57.
Qe7+ Kh5 58. c5 f4 59. c6 Qf1 60. Qe5+ Kg6 61. c7 f3 62. Qe4+ Kg5 63. Qxg4+
Kxg4 64. c8=Q+ Kg5 65. Qg8+ Kf4 66. Qf7+ Kg4 67. Qg7+ Kf5 68. gxf3 Qxf3 69.
Qxa7 Qe2+ 70. Kg1 Kg4 71. Qg7+ 1-0
The Captain was not the only player to attempt the "Queen back" variation at London:
James Mortimer vs Berthold Englisch
London 1883
1. e4 d5 2. exd5 Qxd5 3. Nc3 Qd8 4. d4 e6 5. Be3 Nf6 6. Bd3 Be7 7. Nce2 b6 8.
Nf3 Bb7 9. Ng3 Nbd7 10. c3 O-O 11. h4 c5 12. dxc5 Nxc5 13. Bxc5 Bxc5 14. Qc2
Qc7 15. Ng5 h6 16. Kf1 Rfd8 17. N5e4 Ng4 18. Re1 Nxf2 19. Nxc5 Nxd3 20. Nxd3
Qxg3 21. Rh3 Qg6 22. Nb4 Ba6+ 23. Kg1 Qxc2 24. Nxc2 Rd2 25. Rc1 Bb7 26. Rg3
Rad8 27. b4 Rd1+ 28. Rxd1 Rxd1+ 29. Kf2 Rd2+ 0-1
Other players were inspired by the Captain, including the man with one of, if not the best nickname in the history of Chess:
Szymon Winawer
vs Joseph Henry "Black Death" Blackburne
1. e4 d5 2. exd5 Qxd5 3. Nc3 Qd8 4. d4 g6 5. Be3 Nh6 6. Qd2 Nf5 7. Bd3 Bg7 8.
Bxf5 Bxf5 9. h3 h5 10. Nge2 Na6 11. a3 c6 12. Ng3 Qd7 13. O-O-O h4 14. Nxf5
Qxf5 15. Qd3 Qa5 16. Qe4 e6 17. Bf4 O-O-O 18. Qe3 Nc7 19. Bxc7 Qxc7 20. f4 Rh5
21. Rhf1 Qb6 22. Ne2 c5 23. c3 cxd4 24. Nxd4 e5 25. Nc2 Rxd1+ 26. Kxd1 Qxe3 27.
Nxe3 Bh6 28. Nd5 exf4 29. c4 Re5 30. Re1 Rxe1+ 31. Kxe1 Kd7 32. Ke2 f5 33. Kf3
g5 34. Nb4 Bg7 35. Nd3 Kd6 36. b3 Bd4 37. Ke2 Be3 38. Kf3 b6 39. b4 a6 40. a4
Bd4 41. Ke2 Bc3 42. b5 a5 43. Kf2 Bd4+ 44. Ke2 Bg1 45. Kf3 Be3 46. g4 hxg3 47.
Kg2 Bd2 48. c5+ bxc5 49. b6 c4 50. Ne5 Kxe5 51. b7 Ke4 0-1
Yes, that is the man responsible for the Winawer variation of the French defense.