Coaching Kasparov, Year by Year and Move by Move
Volume 1: The Whizz-Kid (1973-1981)
by Alexander Nikitin
This is a meritorious book in all respects. When the book was finished I was already looking forward with anticipation to the second volume to follow. The Elk and Ruby publishing company has hit the ground running with one of the books reviewed on this blog, Checkmate!
by Sally Landau, (https://xpertchesslessons.wordpress.com/2019/04/21/checkmate-the-love-story-of-mikhail-tal-and-sally-landau-a-review/) having recently garnered a prestigious spot on the ECF shortlist for book of the year award.
(https://www.englishchess.org.uk/ecf-book-of-the-year-2019-shortlist/)
The author, Alexander Nikitin,
was the coach of the young Garik Weinstein from 1973 until 1990. Simply put, the young lad had vast potential, like a diamond in the rough, but needed polishing, which was provided by his coach. The first sixty seven pages, which were read with amazement, recount what transpired in those early years. The second part of the one hundred ninety eight pages consists of annotated games played by the young Weinstein/Kasparov. The author writes about the necessity for the change of name. "His change of surname was a delicate matter. It's usually found in women, very rarely in men, and, as a rule, only happens to men when it's forced. Garik's mother had to bear the main burden of stress and battle when arranging the legal formalities and, above all, when convincing all friends and relatives that this was the right decision. Klara had to endure so many unpleasant hours. So many tears were shed after conversations with relatives of her by then long departed husband. "…a year earlier, with Botvinnik's assent, I had tenaciously started to try and convince Garry's mother of the need to change her son's surname from his father's to her own-which, by the way, she had not changed upon getting married."
In the following paragraph the author writes, "From the very beginning I had no doubt that the lad would have a fantastic chess career. I knew from my work in the Sports Committee just what inexplicable difficulties of a totally non-chess character could suddenly appear to a youth with the "wrong" surname during the development of his talent, especially at the transition to Big Chess, when somebody's sporting career could be held back and perhaps even badly damaged, without much notice being taken at the top and without much discussion." And, "Chess fans throughout the world quickly got used to this surname without having learnt unnecessary details. Life was to confirm the justification of my fears and the need for this difficult decision. Enough has now been written about the hidden anti-Semitism, especially in the lower corridors of the government. I am convinced that Garry Weinstein would have never got to play a world title match against Karpov in 1984 or even in 1987. He wouldn't have been allowed. He would have been isolated in the periphery of chess. The system functioned like clockwork in those days."
For every Weinstein/Kasparov how many other, extremely talented young boys were fodder for the "system"? Nikitin writes about one such boy, "…twelve-year-old Boris Taborov. They were both highly talented, smart and inquisitive, by my-how their lives soon panned out so differently! The phlegmatic and good-natured Boris soon became the first Soviet player to gain the master title at the age of 14. He played a couple of times in the junior championships in Europe, but failed to achieve further success and gradually faded. What happened to him? Boris was raised in a family of scientists who had little enthusiasm for their son's chess achievements. His parents really wanted Boris to become a scientist like them and continue their work. They got quite worried at seeing that chess for their son was more than a game. Feeling no moral support from those near and dear to him, the lad was torn between two occupations at once, unable to make a definitive choice… His focus on two activities at once in fact prevented him from achieving great things in science, while he was quite unable to jump on to the steps of the prestigious carriages of the chess train as it disappeared into the distance. Caissa doesn't favor the indecisive."
He who hesitates is lost.
The author writes about Garik's father, "Kim Weinstein on all evidence seems to have been a strong and unusual personality; highly valuing fairness and honesty. He managed to pass on much to his son, but alas it could have been more."
I'm certain Judit Polgar will agree with what was written! (https://xpertchesslessons.wordpress.com/2017/12/11/garry-kasparov-cheated-judit-polgar/comment-page-1/)
He writes, "Yet most of all, I was struck by Garry's eyes-smart, with a kind of unusual spark in them."
Mikhail Botvinnik
plays a large role in the saga of Garik Weinstein/Kasparov. He would say: "A lad striving to become a true chess player needs to be able to do many things. He needs to work at chess independently, prepare for every competition, analyze the outcome of each tournament, and love analysis not only in respect of the opening. He also needs to know how to relax and regain his strength after a competition. If he isn't successful in that, chess will not become an art form bringing joy, but instead just a trade bringing sadness. Therefore, he should not play many games and should not play often."
"As the years progressed, the union of Teacher and Favorite Pupil transposed into a comradeship of colleagues of equal playing strength."
"Lasker's thought: "a person is responsible for the quality of his work but not for its results" from that year on became one of the mottos driving Garry's work."
The author divulges the secret concerning, "Vladimir Andreevich Makogonov,
who had been one of the strongest masters of the pre-war period and a player with a subtle positional style, who had a wonder grasp of the nuances of battle and without a doubt understood the game at a grandmaster level, showed up at the Kasparov apartment. Few people knew about Garry's contact with Makogonov-the master didn't want to advertise it. I don't think even Botvinnik knew about it…The two great chess elders who coached the kid had their own eccentricities: Botvinnik was overly jealous about allowing other coaches to work with Kasparov, while Makogonov had taken offense at society."
"A big talent acts like a mighty magnet or bright star – it draws those who have discovered its strength, blinds their judgement and takes them prisoner for years to come."
This paragraph blew my mind:
"It wasn't just chess books that I sent him, but everything that could satisfy his curiosity, thereby further developing his logical thinking. For example, one parcel that I sent in 1975 contained the latest issue of Chess Informant, a selection of endgame articles required in order to tackle homework that Dvoretsky had set, excellent commentary by Spassky showing how to assess positions, Bronstein's book on Zurich, accompanied by a request to study carefully how the world's best players handled King's Indian positions, alongside…a Go Set, (! my exclam)

photo by Phil Straus/American Go E-Journal
in order for him to better understand how to gain space, and, for dessert, interesting articles on his tory, which the boy so loved."
If I had known Kasparov played Go I would have challenged him to a game at the Supernationals in Nashville a decade ago when he signed my copy of
"At first I did not always manage to follow the volume of work carried out by the boy independently. He found everything interesting and wanted to learn more and as quickly as possible. However, this led to information overload, leading to interesting symptoms, which I called "know-all disease". The boy's agile and deep memory digested everything fed to it, but the process of comprehending what he had read lagged behind. He would mechanically memorize variations, but they were not given the time to settle in his mind in the right order, and they would get mixed into a messy and, consequently, fairly useless tangle in his brain. Petrosian called this illness the symptom of "Informant children". The majority of young players now suffer from this ailment, especially abroad, where the computerization of chess has sharply increased the volume of information available. Klara wrote to me that in those times Garik resembled an excited madman."
Naturally, the author writes about Bobby Fischer
with words that can only be called "glowing praise." For example, "For both me and Garry, the American genius of those years remains the benchmark of high professionalism. His independent behavior was unusual for that time, and many of his demands were considered to be whims. Now, though, the majority of those demands are considered to be the norm."
"After Minsk it became clear that Garry's calculation ability had developed so much further than his positional understanding that it simply "squeezed out" the latter. When playing strong this could lead to nasty problems. His technique for converting an advantage also lagged. Here we needed to work both at chess itself and on his psychology. Unlike Karpov, he wasn't born with a killer's instinct, and after gaining an advantage he often reduced his concentration and his earlier playing intensity, hoping that his opponent would bring about his own defeat."
I can, unfortunately, identify with reduced concentration after gaining an advantage.
"Karpov once described a similar situation of a battle against himself, providing the apt conclusion: "you mustn't play for a win if in spirit you're happy to draw." In order to rise above yourself in such circumstances you have to love chess madly, like the legendary Fischer."
"A battle in a chess game is frequently a battle against yourself, against your doubts and prevarications."
"The degree of his childishness, which in my opinion has not yet completely disappeared even today…"
There is a thread running through the book concerning the lack of stamina displayed by the young boy Weinstein, which, with the current youth movement, should make everyone involved with Chess pause to ask the question, "How much Chess is too much Chess?"
The author writes things like this, "At the finish the boy was very tired and incapable of working at top gear for four hours."
"The child's tired brain would turn on and off at will."
"The boy only relented at the end of the fourth hour of tense battle. He didn't have the energy left to resolve the final, quite tricky problem in a sharp endgame, and the game was drawn."
"It's always disappointing to lose your way when the danger appears to have passed. However, at the age of ten it's hard to retain concentration over four hours of tense work."
The annotations to the games are marvelous and the commentary fascinating. Game six, of forty six, is an excellent example:
G. Weinstein – B. Kantsler
Leningrad. Spartak Junior championship. 27.07.1975
Kings's Indian Attack. [C00]
1.e4 e6 2.d3 d5 3.Nd2 c5 4. g3 Nc6 5.Bg2 g6 6.Ngf3 Bg7 7. 0-0 Nge7
Just half a year later I added this way of playing the opening for white to the list of opening systems temporarily banned from use. Garik would have to make do with 2.d4 and go for a more active setup, which was appropriate to his playing style. He was to learn with surprise that battles after 2.d4 are much richer and more interesting.
8.Re1 0-0 9.Qe2 b5 10.e5 a5 11.Nf1 Ba6 12.h4 b4 13.N1h2 h6 14.Bf4 Kh7 15.Bh3 c4 16.Kh2
This generally OK system is not of much use for young players, in that thanks to its lack of ideas it doesn't require much time to study compared with other, richer opening systems. If you are targeting big achievements in chess then you need to strive to learn the subtleties of as many standard positions as possible, in other words, those that frequently come up. Such positions provide support in the middle of the game, and their knowledge will significantly improve your technique. The best way to build up a solid base of such positions is to study opening systems whose content is as rich and varied as possible. The opening setup deployed by Garik here was one I called a system for idlers, as white can make all the moves automatically, often while ignoring the location of his opponent's pieces.
16…Nf5?! 17 Bxf5 gxf5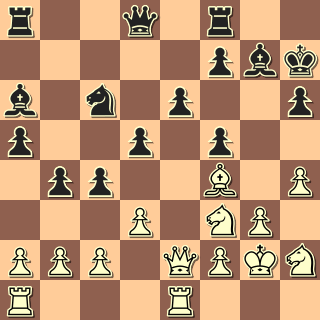 18.g4!
So, here's the first test to see if the player can think out of the box. Set up the position after move 17 and ask your pupil the simple question: "What would you play as white?" Give the young player 20 minutes to think. Will he look at 18 g4? How quickly?
Little children introduced to chess strategy don't like pawn advances that open up their own king's bunker. They are afflicted by the usual, childish fear of the unknown, when it's hard to assess the approaching danger, as they don't have life experience or precedents. Deliberately made moves such as 18 g4 are an indicator of a child mature beyond their years. Actually, Garry already had experience – he remembered the game with Alexei (now Alex Yermolinsky)
and the jokey nickname "g4".
After playing over the game I realized the openings played "back in the day" could very well be thought of as "Bacon's opening system for idlers!"
In conclusion, this is a superb book. It is truly "cheap at twice the price." This is a five star book that should make it to a shortlist for the best Chess book of the year award because it will stand the test of time.