Although I have intentionally not followed the ongoing Moscow Grand Prix event my old friend the legendary Georgia Ironman has followed it because it did begin with a couple of games of what is now called "classical" Chess before devolving into what is called "rapid Chess" before devolving further into "speed" Chess. Frankly, I could care less about which player is best at faster time controls. The only thing that matters is who is best at a classical time control. Say what you will about Magnus Carlsen but the fact is that he could not beat either Sergey Karjakin or Fabiano Caruana at classical Chess, something to keep in mind when talking about the best Chess player of all time.
In an article at Chessbase by Antonio Pereira recently, dated 5/18/2019, it is written: "Ian Nepomniachtchi, Jan-Krzysztof Duda and Radek Wojtaszek won with the white pieces at the start of the FIDE Grand Prix in Moscow, which means Levon Aronian, Wesley So and Shakhriyar Mamedyarov will need to push for a win on Saturday if they want to survive the first round. Three match-ups ended with quick draws, while Peter Svidler and Anish Giri accepted the draws offered by Nikita Vitiugov and Daniil Dubov in games that could have easily kept going."
The article continues:
"Better than losing and worse than winning"
"A lot of criticism followed the 2011 Candidates Tournament in Kazan, in which the knock-out format led to some players openly using a safe-first strategy by signing quick draws in the classical games and putting all on the line in the tie-breaks. In order to discourage the players from using this strategy, the organizers are awarding an extra point in the Grand Prix overall standings for those who eliminate their opponents needing only two games. In the first game of the opening round in Moscow, four out of eight encounters ended peacefully after no more than 23 moves."
The so-called "strategy" of the organizers had absolutely no effect on the players who continue to agree to short draws with impunity whenever and wherever they want, regardless of what organizers or fans want to see from them. Are the players aware their "inaction" is killing the Royal game? Do they care?
Exhibit one:
Teimour Radjabov (AZE)
vs Hikaru Nakamura (USA)
Moscow Grand Prix 2019 round 01
1. Nf3 Nf6 2. g3 d5 3. Bg2 e6 4. c4 Be7 5. O-O O-O 6. d4 dxc4 7. Qc2 b5 8. a4 b4 9. Nbd2 Bb7 10. Nxc4 c5 11. dxc5 Be4 12. Qd1 ½-½
Sergey Karjakin (RUS) – Alexander Grischuk (RUS)
Moscow Grand Prix 2019 round 01
1. d4 Nf6 2. c4 e6 3. Nf3 d5 4. Nc3 c6 5. e3 Nbd7 6. a4 Bd6 7. a5 O-O 8. Be2 e5 9. cxd5 cxd5 10. dxe5 Nxe5 11. O-O Bc7 12. Qb3 Nc6 13. a6 bxa6 14. Qa4 ½-½
The article continues:
"It must be added that Nikita Vitiugov had what seemed like a considerable advantage against Peter Svidler when he surprisingly offered a draw.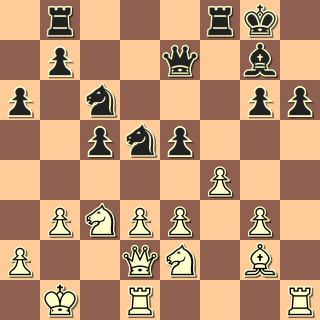 Both contenders are part of the Mednyi Vsadnik team from Saint Petersburg, which won the last two editions of the Russian Team Championship and are the current European champions. Vitiugov has also worked for Svidler as a second more than once. The long-time friends talked about how unfortunate it was for them to be paired up immediately in round one, although Svidler confessed that, "[he] somehow had a feeling that [they] would play at least one [match], and particularly in Moscow".

Good old friends from Saint Petersburg | Photo: World Chess
"Regarding the position shown in the diagram, Peter recounted how he was thinking about 18.f4 being a move that would leave him worse on the board. So, when the move was accompanied by a draw offer, he thought, "yeah, that's a good deal!" And the point was split then and there.
To accept the draw was a good match strategy? Peter wittily added:
"As for match strategy, I envy people who have strategies of any kind. I don't have any. I thought I was worse and then I was offered a draw, so I took it."
https://en.chessbase.com/post/moscow-grand-prix-2019-r1-d1

http://www.espn.com/espnw/news-commentary/slideshow/13596920/13-major-showdowns-serena-venus-williams
The Williams sisters, Venus and Serena, have had to play each other many times during their storied tennis careers, and each and every time there has been a winner because offering a draw is not in the tennis rule book. What is it doing in the Chess rule book?
Chess organizers better wake up because Chess is in a battle with the game of Go and if the trend continues, like the Highlander, there will be only one left standing.