Earlier this week at the Ironman Chess Club the Legendary Ironman, NM Tim Brookshear,
who has been hosting the ICC for over nineteen years, asked me to play one of his students, Sofia, a young, intelligent (MENSA member), Class D player. All I knew about her was she liked playing gambit-type openings. Unlike some Chess organizations which tell students what openings to play, coach Tim allows his students to chose their own openings before offering input. I figured, since Sofia liked gambits, she would be an aggressive player. After playing 1 e4 Sofia replied instantly with 1…e5. If you are a regular reader of this blog you probably know what came next, which was, "The truth as it was known in those long ago days," 2 Bc4. When the young lady played 2…c6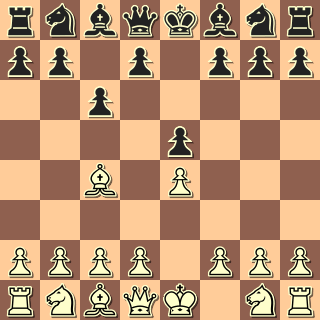 I was somewhat flummoxed because c6 is not usually played until after 2…Nf6 3 d3. Because of her unusual move order I had to stop and cogitate for a few moments…I decided to play 3 Nf3 to put immediate pressure on my opponent, knowing I would have played Nc3 if she had prefaced c6 with Nf6, later learning it was not the best move. Although she resigned some time later, the game was not easy because she continually set traps that had to be avoided, causing me to use time like a turkey gobbling food. For example after playing Bd6 she backed it up with Qc7, which meant that after I played Bg5 she kicked my bishop with h6, so I dropped back with Bh4, before being forced to drop back again with Bg3 to counter her queen and bishop battery. Then Sofia took my bishop, softening my kingside as I had to reply hxg3. There is another young female, Jade, I have previously played who shows promise. I sat there wondering if we will one day in the future be watching them playing in the US Women's Championship at the St. Louis Chess Club.
What with the intermittent internet connections from the from AT&T it was only some time later I was able to get to 365Chess.com and the ChessBaseDataBase to learn everything to be learned about the move 2…c6.
This was the first game found with my dubious 3 Nf3:
Rustam Kasimdzhanov (2425) vs Yuuki Tanaka
Asia-ch Boys
Macau
1996
ECO: C23 Bishop's opening, Philidor counter-attack
1.e4 e5 2.Bc4 c6 (A seldom played move according to the CBDB, which shows 39 games, but but it does show 2…c6 scoring better than any other move, albeit with a severely limited sample size. Stockfish and Houdini both play the most often played, by far, the move, 2…Nf6) 3.Nf3 d5 4.Bb3 Bd6 5.d4 Bg4 6.dxe5 Bxe5 7.exd5 Nf6 8.O-O O-O 9.dxc6 Qc7 10.cxb7 Qxb7 11.h3 Bh5 12.g4 Nxg4 13.hxg4 Bxg4 14.Bd5 Nc6 15.Bxc6 1-0
The Nepo man is the highest rated player to have played 2…c6:
Sergei Rublevsky (2688) vs Ian Nepomniachtchi (2707)
Siberian Bank Cup, Novosibirsk RUS 11/18/2012
C23 Bishop's opening, Philidor counter-attack
1.e4 e5 2.Bc4 c6 3.d4 (This was SF 9s move but has been superceded by SF 10s 3. Nc3 expecting 3…Bc5 4. Qg4) d5 4.exd5 cxd5 5.Bb5+ Nc6 6.dxe5 Bc5 7.Nf3 Qb6 8.Nc3 Bxf2+ 9.Kf1 d4 10.Ne4 Qxb5+ 11.Kxf2 Qb6 12.Nd6+ Kf8 13.Rf1 Be6 14.Bf4 h6 15.Kg1 Nge7 16.Bg3 Nd5 17.Bf2 Ne3 18.Nxd4 Qxd4 19.Qxd4 Nxd4 20.Bxe3 Nxc2 21.Bc5 Nxa1 22.Nxf7+ Kg8 23.Nxh8 Kxh8 24.Rxa1 b6 25.Bb4 Rd8 26.h3 Kg8 27.a3 Rd5 28.Bc3 Kf7 29.Rf1+ Ke7 30.Bb4+ Kd7 31.Bf8 g6 32.Bxh6 Rxe5 33.Rf2 Bc4 34.Rd2+ Ke6 35.Kf2 Rd5 36.Rc2 b5 37.Bg7 a5 38.Bc3 a4 39.Kg3 Bd3 40.Rf2 Rg5+ 41.Kh4 Rh5+ 42.Kg4 Rf5 43.Rd2 Rd5 44.Kg3 Bc4 45.Rf2 Rf5 46.Rc2 Bd3 47.Rd2 Rd5 48.Kf2 Bc4 49.Bd4 Rf5+ 50.Ke3 Rf1 51.Bc3 Re1+ 52.Kf4 Re2 53.Rxe2+ Bxe2 54.g4 Kf7 55.Ke4 ½-½
Nikola Mitkov (2455) vs Walter Arencibia (2550)
ESP-chT 1997
C23 Bishop's opening, Philidor counter-attack
1.e4 e5 2.Bc4 c6 3.Nc3 Bb4 4.Nf3 d6 5.d4 Qa5 6.Qd3 Nf6 7.Bd2 O-O 8.a3 d5 9.Ba2 Bxc3 10.Bxc3 Qb6 11.Nxe5 Nxe4 12.O-O Na6 13.Rfe1 Bf5 14.Qf3 Be6 15.b4 Nc7 16.Bb2 a5 17.c3 axb4 18.cxb4 Nb5 19.Qe3 Rfe8 20.Bb1 f6 21.Nd3 Ned6 22.Nc5 Bf5 23.Qc1 Rxe1+ 24.Qxe1 Re8 25.Qd1 Bxb1 26.Rxb1 Nc4 27.h3 Nbxa3 28.Bxa3 Nxa3 29.Rb3 Nb5 30.Rg3 Qc7 31.Qg4 Qf7 32.Kh2 h5 33.Qf4 b6 34.Na4 Re4 35.Qb8+ Kh7 36.Nc3 Rxd4 37.Nxb5 cxb5 38.Qd6 Re4 39.Rd3 Re2 40.Qxd5 Qc7+ 41.Rg3 Re5 42.Qd3+ f5 43.Qd1 g6 44.Kg1 Qe7 45.Qd4 Re1+ 46.Kh2 h4 47.Re3 Qc7+ 48.f4 Rxe3 49.Qxe3 Qd6 50.Kh1 Qxb4 51.Qxb6 Qb1+ 52.Kh2 Qd3 53.Qf6 Qg3+ 54.Kh1 Qe1+ 55.Kh2 Qe8 56.Qxh4+ Kg8 57.Qf6 Kh7 ½-½
(SF 10 plays 3…Bc5 expecting 4. Qg4 g6 to follow. There is no game with 3…Bc5 found at the CBDB, but there is one game with 3…Bc5 found at 365Chess.com:
Sarah Hegarty vs Meri Grigorian (2036)
Ron Banwell mem 08/26/2002
C23 Bishop's opening, Philidor counter-attack
1.e4 e5 2.Bc4 c6 3.Nc3 Bc5 4.Nf3 b5 5.Bb3 Qb6 6.O-O d6 7.a4 b4 8.Ne2 Nf6 9.d3 a5 10.h3 h6 11.c3 Ba6 12.Ng3 bxc3 13.bxc3 O-O 14.Rb1 Qa7 15.Qe2 d5 16.c4 Nbd7 17.Bb2 Rab8 18.Bc2 dxc4 19.dxc4 Rb4 20.Nd2 Rfb8 21.Bc3 Rxb1 22.Rxb1 Bb4 23.Qf3 Qc5 24.Qd3 Nb6 25.Bb3 Rb7 26.Bxb4 axb4 27.Nf5 Rd7 28.Qe2 Kh7 29.Nf3 g6 30.Qe3 Qxe3 31.Nxe3 Nxe4 32.Nxe5 Rd2 33.Bc2 Nxf2 34.Rxb4 Nc8 35.Kf1 Nd6 36.Nf3 Rxc2 37.Nxc2 Nd3 38.Rb6 Bxc4 39.Nd2 Bd5 40.Ne3 Ne4 41.Nxe4 Bxe4 42.a5 Nc5 43.Ng4 Kg7 44.Ne5 Kf6 45.Ng4+ Ke6 46.Nxh6 f5 47.Ke2 Kf6 48.a6 Nd3 49.Ke3 Ne5 50.Ng4+ 1-0
Truth Hits Everybody
The Police
Album: Outlandos d'Amour
[Verse 1]
Sleep lay behind me like a broken ocean
Strange waking dreams before my eyes unfold
You lay there sleeping like an open doorway
I stepped outside myself and felt so cold
Take a look at my new toy
It'll blow your head in two, oh boy
[Chorus]
Truth hits everybody
Truth hits everyone
Oh, oh, oh
Truth hits everybody
Truth hits everyone
Truth hits everybody
Truth hits everyone
[Verse 2]
I thought about it and my dream was broken
I clutch at images like dying breath
And I don't want to make a fuss about it
The only certain thing in life is death
Take a look at my new toy
It'll blow your head in two, oh boy
[Chorus]
Truth hits everybody
Truth hits everyone
Oh, oh, oh
Truth hits everybody
Truth hits everyone
Truth hits everybody
Truth hits everyone
[Bridge]
Where you want to be
Won't you ever see
[Chorus]
Truth hits everybody
Truth hits everyone
Oh, oh, oh
Truth hits everybody
Truth hits everyone
Truth hits everybody
Truth hits everyone
https://genius.com/The-police-truth-hits-everybody-lyrics