Because of the enforced time spent at home recently I have rummaged through older Chess material found collecting dust. Finding a compilation of games by IM Boris Kogan filled me with elation.
Boris Kogan with raised hand at Lone Pine (From the Mechanic's Institute Newsletter)
My collection, which was gone with the rain, thanks to crazy cousin Linda, contained games put together by Tom Fallis. Although uncertain, I do not believe this collection is the same, but I could be mistaken.
Boris was given the sobriquet, "Hulk" Kogan, after the popular wrestler called Hulk Hogan, by the Legendary Georgia Ironman. Boris was a professional and he rarely lost, but when he did lose he never withdrew. If he lost in the first round, and I can recall that occurring only one time, he finished with a score of 4-1. To our small Chess community the Hulking Boris Kogan was a mighty Oak Tree.
The writer of these words is to write a review of the new book about to be published by New In Chess magazine, still the best Chess magazine on the planet. Most probably, the book, written by former US Chess Co-Champion, Stuart Rachels,
and a student of Boris Kogan, should have already arrived, but the situation with the COVID-19 virus has altered things dramatically, and the mail is no longer timely. For instance, the Chess magazine from England never arrived and a replacement needed to be sent, only recently arrived thanks to Paul Harrington at Chess, and Greg Yanez of Chess4Less! The mailbox has been empty for days…The April issue of Chess has yet to arrive and it was coming around the first of the month; this is being written on  April 12.
John Smith was a class 'A' player on the day this game was played. After the game Smitty was no longer considered a class 'A' player, but a man who had taken down a mighty Hulk tree. Smitty, who almost earned the NM title, is profiled in an earlier post. (https://xpertchesslessons.wordpress.com/2019/09/06/paradise-by-the-chessboard-light/)
This writer learned more about Chess from the IM of GM strength, Boris Kogan, than was learned from all the books and magazines read prior to his arrival in the Great State of Georgia. Unfortunately, implementing the knowledge gained was lost in the translation, I am sad to report…
Boris proved himself human in the game as he lost his focus, and/or concentration. Uncertain as to which round this game was played I will say the three rounds in a day, and five over the course of a weekend, was not to his liking. "Mike," I can still hear him say, "You Americans CRAZY!" We were, no doubt, crazy for Chess!
Atlanta November Open
John Wiley Smith Jr. vs IM Boris Kogan
A28 English, four knights, Nimzovich variation
1. c4 e5 2. Nc3 Nf6 3. Nf3 Nc6 4. e4 Bb4 5. d3 d6 6. g3 Bg4 7. Bg2 Qc8 8. O-O Nd4 9. Be3 Bxc3 10. bxc3 Nxf3+ 11. Bxf3 O-O 12. Bg5 Bxf3 13. Qxf3 Nd7 14. Qg4 Nc5 15. Qxc8 Raxc8 16. Rad1 b6 17. f3 Na4 18. Rc1 Nb2 19. Rb1 Nxd3 20. Be3 Rcd8 21. Rfd1 Nc5 22. Bxc5 dxc5 23. Rd5 Rxd5 24. cxd5 f6 25. Kf2 Kf7 26. a4 Ke7 27. a5 Kd6 28. c4 Rb8 29. a6 c6 30. Ke3 b5 31. Kd2 cxd5 32. Rxb5 Rc8 33. cxd5 f5 34. Rb7 fxe4 35. fxe4 Rf8 36. Ke2 c4 37. Rxa7 c3 38. Rxg7 Rf2+ 39. Kd1 Rxh2 40. a7 Ra2 41. Rxh7 Kc5 42. g4 Ra6 43. Rc7+ Kd4 44. d6 Kd3 45. Rxc3+ Kxc3 46. d7 Rd6+ 47. Ke1 Rxd7 48. a8=Q Rd4 49. Qa5+ Kd3 50. Qd2+ Kxe4 51. Qg2+ Kf4 52. g5 Rd7 53. Qh2+ Ke4 54. g6 Ra7 55. Qg2+ Kd3 56. Qe2+ 1-0
[notes from the GCA newsletter] This must be the upset of the year: Boris Kogan, our won candidate for the U.S. Championship, loses to John Smith, a local Category I player. Although Kogan gains the upper hand and goes into a highly favorable ending, Smitty finds a tactical shot which turns things around. (Thanks to Paul and Phil Shields for help with the snalysis) – Steve Whiteman.
1. c4 e5 2. Nc3 Nf6 3. Nf3 Nc6 4. e4 Bb4 5. d3 d6 6. g3 Bg4 7. Bg2 Qc8 (In order to dissuade White from h3. 7… Qd7, with the same idea, would force Black to give up a bishop fo a knight: 8 h3 Be6 9 Ng5. The text move allows Black to maintain his bishop: 8 h3 Bd7 and White has difficulty castling.)
8. O-O Nd4 9. Be3 Bxc3 (Weakening the white pawn structure. Relinquishing a bishop for a knight, especially to creat static weaknesses, is not such a sin in a position which is likely to remain closed. White;s bishop's will require open lines to demonstrate their theoretical superiority.) 10. bxc3 Nxf3+ 11. Bxf3 O-O 12. Bg5 Bxf3 13. Qxf3 Nd7 14. Qg4 (Trading into an ending when you are the possessor of the board's only weak pawns is inadvisable. As previously mentioned, White's bishop will be hemmed in by the closed nature of the position. Black's knight, which can travel on squares of both colors, will be able to attack all of White's weaknesses. White should strive to stay away from an ending and open up the game for his long-range bishop. Hence, 14 Qe2, with the idea of f4, should have been considered.) 14…Nc5 15. Qxc8 Raxc8 16. Rad1 (If White had seen what was coming, he might have attempted to guard his pawns with both of his rook's: 16 Rfd1 Na4 17 Rac1 Nb2 18 Rd2. But if White moves his king rook from the king side, Black takes advantage of its absence with 16…f5. The move played was therefore best; the follow up was faulty, however.) 16…b6! (Preparing for the following maneuver by guarding the b-pawn from an attack along the file.) 17. f3? (Better was 17 Rd2 so that on 17…Na4 18 Rf2 would hold.) 17…Na4 18. Rc1 Nb2 19. Rb1 Nxd3 (Now the importance of Black's 16th move is evident.) 20. Be3 Rcd8 21. Rfd1 Nc5 22. Bxc5 dxc5 23. Rd5 (Intending to double rooks on the file) 23…Rxd5 24. cxd5 f6 25. Kf2 Kf7 26. a4 Ke7 27. a5 Kd6 28. c4 Rb8 29. a6 c6 30. Ke3 b5 31. Kd2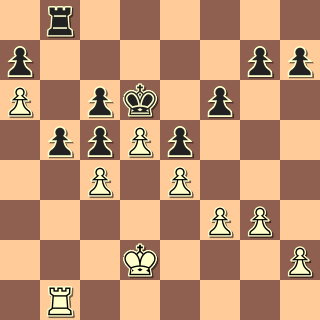 31…cxd5??
(Allowing the invasion of White's rook. The "active rook" is worth a King's ransom in the endgame. Much better was 31…b5, when Black can combine an attack on White's a-pawn (via Rb6). This rook activity, combined with a passed b-pawn (as well as a king-side pawn majority, should White allow it) give Black a winning game.) 32. Rxb5!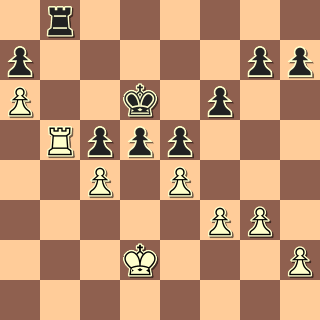 (Turning the game around.) 32… Rc8 (Not 32…Rxb5 33 cxb5 d4 34 b6! winning) 33. cxd5 f5 (Trying to get some activity for his rook. Another possibility was 33…Rc7. White does not then play 34 Rb7? Rxb7!, but first improves the position of his king with 34 Kc3 and 35 Kc4. Black's passive rook position should bring the same result as in the game.) 34. Rb7 fxe4 35. fxe4 Rf8 36. Ke2 c4 37. Rxa7 c3 38. Rxg7 Rf2+ 39. Kd1 (39 Kxf2? c2.) 39…Rxh2 40.a7 Ra2 41. Rxh7 Kc5 42. g4 Ra6 43. Rc7+ Kd4 44. d6 Kd3 45. Rxc3+ Kxc3 46. d7 Rd6+ 47. Ke1 Rxd7 48. a8=Q Rd4 49. Qa5+ Kd3 (Hoping for 50 Qxe5? Rxe4+, drawing.) 50. Qd2+ Kxe4 51. Qg2+ Kf4 52. g5 Rd7 53. Qh2+ Ke4 54. g6 Ra7 55. Qg2+ Kd3 56. Qe2+ (As 56…Kd4 brings 57 Qf2+, spearing the rook.) 1-0
A28 English, four knights, Nimzovich variation
1. c4 e5 2. Nc3 Nf6 3. Nf3 Nc6 4. e4 (Komodo plays the most popular move 4 g3) 4…Bb4 5. d3 d6 6. g3 (Stockfish plays 6 a3) 6…Bg4 7. Bg2 (SF plays 7 h3; Komodo prefers 7 Be2) 7…Qc8 (This move is not shown at either the CBDB or 365Chess. The CBDB shows SF 11 @depth 38 plays 7…Bc5, but going deeper to depth 48 displays 7…Nd4)