Anyone worth his salt teaching Chess will eventually get around to imparting the knowledge that a Chess player should examine all checks during analysis of any position. All good players do this without thinking about it, but new players need to have it reinforced that they should not only examine all possible checks to the opponent's king but also to their own king. After this a good teacher will tell his student to examine all possible "checks", or threats, to the Queen. For young players new to the game there is so much to consider that occasionally a student will overlook a check to the king or threat to the queen. When a world class player overlooks or does not take into consideration a possible check to the king it will be said that the player under discussion is "getting old" or "losing his powers," or some such…
In the sixth round of the 2020 Gibraltar Masters  the young, born in 2005, making him a Zero, and up and coming  GM Rameshbabu Praggnanandhaa,
from India, faced GM Veselin Topalov,
who some consider a former World Chess Champion. I am not one of them because Topalov won the FIDE World Championship, which was a match between second rate players. This is what is written about Topalov at Wikipedia:
"Topalov became FIDE World Chess Champion by winning the FIDE World Chess Championship 2005. He lost his title in the World Chess Championship 2006 against Vladimir Kramnik.
He challenged Viswanathan Anand
at the World Chess Championship 2010, losing 6½–5½." (https://en.wikipedia.org/wiki/Veselin_Topalov)
Wiki does not even mention the name of the player Topalov bested  to become FIDE WC, and, frankly, I have long since forgotten the name of the loser of the FIDE match. I can tell you the name of the opponents who played in each of the real world championship matches. I seem to recall Jan Timman losing one so-called "world championship" match, (I believe his opponent was Anatoly Karpov) but if my life depended on it I could not give you the name of Topalov's opponent in the second rate FIDE WC match. Topalov was born in 1975, making him a member of Generation X.
Rameshbabu Praggnanandhaa vs Veselin Topalov
Gibraltar Masters 2020 round 06
1. e4 e6 2. d4 d5 3. Nc3 Nf6 4. e5 Nfd7 5. f4 c5 6. Nf3 Be7 7. Be3 b6 8. Qd2 Nc6 9. Be2 O-O 10. O-O cxd4 11. Nxd4 Nxd4 12. Bxd4 Nb8 13. Bf2 Ba6 14. Bxa6 Nxa6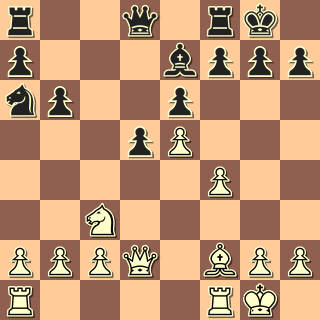 15. f5? (15 Qe2 looks strong, and not just because the Queen is going to the e2 square)
15…exf5? (The kid shows his age. The Stockfish program at ChessBomb gives 15… Nb4 16. Rad1 Rc8 17. Be3 and only now exf5)
16. Nxd5 Nb4 17. c4 Rc8 18. a3 Nc6 19. Rfe1 Bc5 20. b4 Bxf2+ 21. Qxf2 Qd7 22. Qh4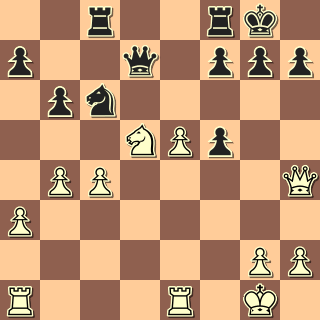 22…Qd8? (Over at the Bomb this move is shown as a BRIGHT RED move, which is as bad as it gets, color wise. It is difficult to fathom a former world number one making a move this bad, no matter how old. Certainly, most, if not all, players would have analyzed the possible check on f6 before retreating the queen. Keep in mind that, "In 1984, when he was 63 and most of his contemporaries, like Mikhail Botvinnik and David Bronstein,
had long ceased to be important players on the world stage, Mr. Smyslov
made it to the final candidates match to determine a challenger for Anatoly Karpov,
who was world champion at the time. He lost that match to Garry Kasparov,
then a prodigy in his early 20s; before the final, however, he dispatched two opponents who were both 30 years his junior." https://www.nytimes.com/2010/03/28/crosswords/chess/28smyslov.html )  23. Nf6+ gxf6 24. Rad1 Nxe5 25. Rxd8 Rfxd8 26. Qxf6 Ng6 27. h4 h5 28. Rf1 f4 29. g4 Rd3 30. gxh5 Rg3+ 31. Kf2 Nxh4 32. Qxh4 Rxc4 33. Re1 1-0

(https://www.chessbomb.com/arena/2020-gibraltar-masters/06-Praggnanandhaa_R-Topalov_Veselin)
EXAMINE ALL CHECKS TO THE QUEEN!
IM Pedro Antonio Gines Esteo (2284) vs GM Natalia Zhukova  (2338)
Gibraltar Masters 2020 round 05
1. Nf3 d5 2. g3 Nd7 3. Bg2 e5 4. d3 Ngf6 5. O-O c6 6. c4 Bd6 7. a3 O-O 8. b4 Re8 9. Bb2 a5 10. c5 Bf8 11. Nbd2 b6 12. d4 exd4 13. Nxd4 bxc5 14. Nxc6 Qb6 15. Nxa5 Rxa5 16. Bxf6 cxb4 17. axb4 Bxb4 18. Rxa5 Qxa5 19. Nb3 Qb5 20. Ba1 Qxe2 21. Qxd5 Qe6 22. Qd4 Bf8 23. Bd5 Qg6 24. Qa4 Rd8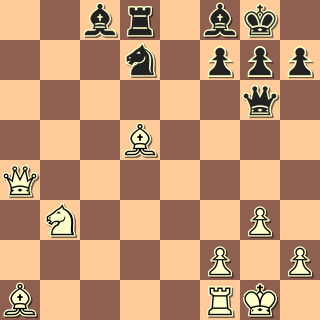 25. Rd1 (This is known as "Letting go of the rope." This is a terrible move under any circumstances. Before making a move most players would ask themselves the question, "How will my opponent reply?" Seeing the queen can be attacked by the knight would be the first thing any player would spot. Every player simply MUST be able to see the knight moving to b6 will not only attack the queen but also fork the bishop. 25 Qa5, attacking the undefended rook looks good, as does the simple 25 Bg2. With the move played in the game the player of the white pieces fell into the abyss)) 25…Nb6 26. Qa5 Rxd5 27. Rxd5 Qb1+ 28. Kg2 Nxd5 29. Qxd5 Be6 30. Qd8 Qxb3 31. Bd4 Bd5+ 32. Kh3 Qf3 33. Bc5 Be6+ 0-1
(https://www.chessbomb.com/arena/2020-gibraltar-masters/05-Gines_Esteo_Pedro_Antonio-Zhukova_Natalia)
A Track Called Jack
Armand Van Helden
Check the sound
Check it down
Check it through the underground
Check the place
Check the space
Check the track all in your face
Check the spot
Check it hot
Check with everything you got
Check the roof
Check the proof
Checks the ones that makes you move
Check, check
Check, check
Check, check
Check, check
Check the sound
Check it down
Check it through the underground
Check the place
Check the space
Check the track all in your face
Check the spot
Check it hot
Check with everything you got
Check the roof
Check the proof
Checks the one that makes you move
Check, check
Check, check
Check, check
Check, check
Check, check
Check, check
Check, check
Check, check
Check, check
Check, check
Check, check
Check, check
Check the sound
Check it down
Check it through the underground
Check the place
Check the space
Check the track all in your face
Check the spot
Check it hot
Check with everything you got
Check the roof
Check the proof
Checks the one that makes you move
https://www.lyrics.com/lyric/10507050/Armand+Van+Helden/A+Track+Called+Jack