"As I said, true champions are mentally exceptional. They can stick to their goals even in the most trying of conditions. It is easy to find ways to lose. The hard thing is to keep your mind fixed on winning, even when the pressure is at its most intense."
The above is the culminating paragraph of the first chapter from, Knowing the Score: What Sports Can Teach Us About Philosophy (And What Philosophy Can Teach Us About Sports), by David Papineau.
World human Chess Champion Garry Kasparov
infamously lost the match played against the computer program known as Deep Blue and two decades later has written a book, his mea culpa, hopefully the last, explaining how, and why, he lost the match. From what he and his co-author Mig Greengard wrote it is evident how difficult it was for Kasparov to keep his mind fixed on winning because he found a way to lose.
Garry let us in on his thinking
when he hedged his bet from the first match, where the $500,000 purse was to be split 4-1. The purse for the second match "…would more than double, to $1,100,000, with $700,000 going to the winner." Would Bobby Fischer have hedged his bet, or would he have gone ALL IN!?
"I underestimated that with so much on the line, IBM wasn't only building a chess machine to beat me at the board, but a machine to beat me, period"
"Our contacts with IBM in the run-up to the match revealed one last flaw in my estimation of my chances. Gone was the friendly and open attitude that had been on display around the Philadelphia match run by ACM. With IBM in charge from top to bottom, this chumminess had been replaced by a policy of obstruction and even hostility."
"In August, Deep Blue project manager C.J. Tan had told the New York Times quite bluntly that "we're not conducting a scientific experiment anymore. This time we're just going to play chess."
This translates to, "We are here to win."
This disabused Kasparov of the notion that he was some sort of collaborator in a joint intellectual and scientific effort. Now Garry was a gladiator in an arena where it was every man, and machine, for itself. It is written, "This gets back to the biggest reason I agreed to a prize fund that was less than everyone thought I could demand (especially my agent): I believed IBM's promises of future collaboration. During my visit to their offices in 1996. I met with a senior vice president who assured me that IBM would step in as a sponsor to revive the Grand Prix circuit of the Professional Chess Asscociation."
This brings to mind a quote: "My father always told me that all businessmen were sons of bitches, but I never believed it till now." — (Comment made 10 April 1962 in reaction to news that U.S. Steel was raising prices by $6 per ton, right after the unions negotiated a modest new contract under pressure from JFK to keep inflation down.)
John F. Kennedy, 35th president of US 1961-1963 (1917 – 1963), "A Thousand Days," by Arthur Schlesinger Jr. [1965]
Kasparov had nothing in writing, only a wink and a promise. Garry was in for a rude awakening.
The first game was an epic struggle won by Kasparov. At one point GM Maurice Ashley famously said, "The board is in flames!" In place of the game notation the games are described with words so people with little or no knowledge of Chess are able to understand without having a board and pieces in front of them. It is written, "As Prussian field marshal Helmuth von Moltke said, no battle plan survives the first contact with the enemy. My plan for a quiet fact-finding mission in game one had been blown to hell by the aggressive machine. I was pinning my hopes on my superior evaluation ability."
Kasparov resigned to the humans operating the machine to end the second game. A lengthy paragraph details the scene when Kasparov was informed THE NEXT DAY that he had resigned in a drawn position. Garry writes: "To psychoanalyze just this once, with twenty years to cycle through the stages (of grief), this was also me saying to myself, "My god, how could "I" miss something so simple?" When you are the World Champion, the world number one, any defeat can be viewed as self-inflicted. This is not exactly fair to my opponents, many of whom could count their victories over me as the pinnacle of their careers, but after such an incredible revelation I wasn't in the mood to be fair to anyone."
If Kasparov is being truthful then it is obvious he "let go of the rope." He simply gave up. He lost his belief in his "superior evaluation ability." He came to believe the program was omnipotent. He saw only opening books and endgame table bases. Which begs the question: Why were opening books and endgame table bases allowed? Garry could not use them. Why should the machine be allowed to use them? Garry was the HUMAN World Champ; he could have played against a program that would have had to "think" on its own, just as the human. It was his title wanted by IBM. He could have dictated terms. He laments not having enough time between games to rest, something the machine did not need. Garry agreed to the format.
The Go program, AlphaGo, uses no table bases whatsoever, and because of that it has caused a revolution in the opening stage of Go. Someone could have written in the program all the known openings of the greatest Go players from the past 2500 years, but did not. The authors write, "…AlphaGo defeated the world's top Go player, Lee Sedol." He was not the world's top Go player at the time he played the match, but he had previously been the top player. AlphaGo later beat the top human Go player, Ke Jie, then "retired."
Just as he wrote about the inevitability of losing his World Championship title after his lost match to Vladimir Kramnik, Garry's hand-picked opponent, he viewed it as inevitable machines would eventually supersede humans at the game of Chess.
About the final game they write: "When asked about remarks by Illescas that I was afraid of Deep Blue, I was again candid. "I'm not afraid to admit I am afraid! And I'm not afraid to say why I'm afraid. It definitely goes beyond any known program in the world." At the end, Ashley asked me if I was going to try and win the final game with the black pieces and I replied, "I'll try to make the best moves." Bobby Fischer famously said, "I don't believe in psychology, I believe in good moves."
"The match was tied , 2.5-2.5. Should I play it safe and aim for a draw or should I risk everything and play for a win with black? With no rest day, I knew I would have no energy for another long fight of the sort that resulted from my anti-computer lines. My play was already shaky. I knew my nervous system very well from two decades of competition, and it would not withstand the strain of another four or five hours of tension against the machine. But I had to try something, didn't I?"
Kasparov then went to the board and played an awful move allowing a Knight sacrifice because he thought the program would not play the Knight move. He did this even after saying, "It definitely goes beyond any known program in the world." The Knight move is such a ripper that most class D players would make it. If you do not believe me then play 1.e4 c6 2.d4 d5 3.Nc3 dxe4 4.Nxe4 Nd7 5.Ng5 Ngf6 6.Bd3 e6 7.N1f3 h6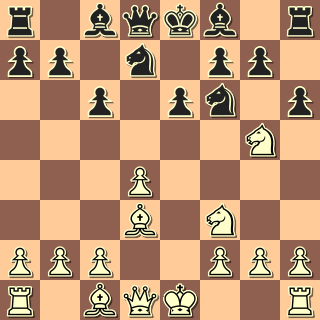 and watch their eyes blaze before playing 8.Nxe6 Qe7 9.0-0 fxe6 10.Bg6+ Kd8 11.Bf4 b5 12.a4 Bb7 13.Re1 Nd5 14.Bg3 Kc8 15.axb5 cxb5 16.Qd3 Bc6 17.Bf5 exf5 18.Rxe7 Bxe7 19.c4 1–0
Garry Kasparov has been called the best Chess player of all time by many. He lost to a computer program in under twenty moves. The game was over long before he resigned. It is called a "miniature," among Chess players, and that is not good. Garry lost like a beginner. How can he be considered the "greatest of all time?" There was only one Greatest of All Time, and that was Muhammad Ali.
Did IBM cheat? "I have been asked, "Did Deep Blue cheat?" more times than I could possibly count, and my honest answer has always been, "I don't know." After twenty years of soul-searching, revelations, and analysis, my answer is now "no." As for IBM, the lengths they went to to win were a betrayal of fair competition, but the real victim of this betrayal was science."
I am having much trouble understanding what is written because Kasparov goes to great pains to prove IBM cheated when he quotes a 2009 New In Chess interview with GM Miguel Illescas, who was on the IBM "team," along with many other Grandmasters too numerous to mention. "Every morning we had meetings with all the team, the engineers, communication people, everybody. A professional approach such as I never saw in my life. All details were taken into account. I will tell you something which was very secret. Well, it's more of an anecdote, because it's not that important. One day I said, Kasparov speaks to Dokhoian after the games. I would like to know what they say. Can we change the security guard, and replace him by someone that speaks Russian? The next day they changed the guy, so I knew what they spoke about after the game."
If that is not cheating, what is cheating? It is written, "I make the point because after Enron, people stopped telling me that "a big American corporation like IBM would never do anything unethical." Especially after they found out how much IBM's stock price went up after the match."
There it is, just Show Me the Money! In a capitalist monetary system everything devolves to Where is the Money? Or, Who has the Money? Or, How Can I Get the Money?" Kasparov mentions the IBM program known as "Watson," which "won" a tournament of champions on the TV show "Jeopardy." The person, or thing, that gets to answer the most questions wins, and "Watson" was, shall we say, REALLY quick on the trigger. Former Chess player Big Al Hamilton's philosophy of life was, "Everything is rigged."
After allowing the devastating Knight sacrifice in the final game one legendary Chess player erupted with, "Garry took a DIVE! Playing this way is his signal to us that the fix was in!" I replied, "Wonder if IBM was holding Garry's wife and children hostage?" After several moments of cogitation, the legendary one, at least in his own mind, replied, "Where were Kasparov's wife and children during the match?" If anyone questions this I suggest they read, The Fix Is In: The Showbiz Manipulations of the NFL, MLB, NBA, NHL and NASCAR, by Brian Tuohy.
Now that computer programs play a level or two better than the best human players what Kasparov accomplished in his Chess career is meaningless. To history he will only be known as the human who lost a match to a machine. Kasparov knows this and it eats at him. For example, it is written, "Looking back, I was the last world champion to win a match against a computer. Why don't those This Day in History calendars have a page for that?"