After publishing the post, Chess Grit (https://xpertchesslessons.wordpress.com/2019/06/22/chess-grit/), I asked SM Brian McCarthy for feedback. A few days later Brian visited before returning to south Georgia where he is a High School teacher. I was shocked upon hearing, "You were too hard on Steve. I have worked for Championship Chess. There is nothing wrong with his method because he is an educator." I was at a loss for words. It took a few seconds for me to get over the shock before responding, "Brian, I have a problem with anyone who teaches the Queen's Raid." Brian replied, "There is nothing wrong with teaching the Queen's Raid; every player needs to know how to defend against it."
"Brian, there is a world of difference between teaching a beginner how to defend against the Queen's raid and teaching a beginner how to play it in order to win a game quickly." After his retort I cut the conversation short because Brian has been having major health issues. Still, his reaction stung, and left an impression.
Brian's picture can be found at the Championship Chess website:
I, too, have previously worked for Championship Chess(https://www.championshipchess.net/), because money was needed. Before heading to the first school as a member of the Championship "team" I was given a quick course in the Championship "method" of teaching Chess to children by Steve Schneider, one of the owners of CC, who indoctrinated me in the Championship Chess way, which included how to teach the Queen's Raid, aka the Patzer, and pawn games, before being driven by the co-owner, Dennis Jones, to a school, where Dennis was to observe how I followed the CC "method." On the way I asked Dennis if the other "coaches" followed the CC method. "Some do," he replied, "But the stronger players do what they want. Are you a stronger player?" he asked. Dennis had given me all the information needed. While Dennis watched I gave lip service to "pawn games" and the "Queen's raid," but only to teach the children how to avoid the pitfall of being checkmated with the early raid of the Queen. It was the last time I used even part of the Championship Chess "method."
Steve Schneider
was a school teacher "back in the day." At the CC website one finds: "Coach Steve Schneider began working with children and chess when he taught his 6-year-old son to play." https://www.championshipchess.net/about-steve-schneider/#
I previously mentioned on this blog the time the Ol' Swindler said about me, "Ummm… You're a nineteen hundred." Although I crossed the expert threshold he, and others I suppose, will always think of me as a "1900." I'm OK with that, because "back in the day" the highest rated player who actually played regularly in Atlanta was Tom Pate, rated in the upper 1900's. I think of Steve as a "Fourteen hundred." USCF shows a current rating of 1379. The co-owner, Dennis Jones, is listed at the USCF MSA page as a "one thousand" player, albeit in limited action as he is still a "provisionally rated" player.
At one time Championship Chess could boast of having many higher rated "coaches" but that was in the past. For various reasons, including low wages and being forced to teach the Championship Chess "method," the higher rated teachers left CC and were replaced by teachers rated, if they were rated, even lower than the owners. The Championship Chess brain trust wanted employees who would "toe the line" and "teach the Championship Chess way."
The Legendary Georgia Ironman, Tim Brookshear relates a story concerning a game Steve played with one of his "coaches," a fellow named Lynwood, at the Ironman Chess Club.

Lynwood playing at the Ironman Chess Club recently
As the story goes Lynwood was called over by "Coach Steve" for "training." It seems Lynwood had been "called into the principal's office" earlier because he had not been following the CC "method." Lynwood was assisting "Coach Tim" and the Ironman was not one to teach any way other than his way, which happens to be the way most "approved" Chess teachers go about teaching Chess, which most definitely does not include teaching children to play the "Queen's Raid" in order to gain a quick victory. "Lynwood was great," said the Ironman, "He would do whatever asked of him, and was great with the children because of his demeanor." Poor Lynwood was caught between a rock and a hard place. Should he do what the General back at HQ said and stick his head up out of the foxhole to gather much needed information, or do what the Sargent in the foxhole said and keep his head down?
Lynwood vs Coach Steve
1 e4 e5 2 Qh5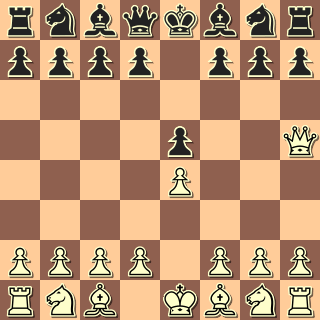 (It all begins with the Queen's Raid at Championship Chess! If there is any Chess player who should be able to defend against the Queen's Raid that man was sitting across from Lynwood as General of the black pieces) 2…Nc6 3 Bc4 g6 4 Qf3 Nf6 5 Ne2 d6
(Stockfish plays this move but the Championship Chess "main line" in the Patzer is 5…Bg7. Therefore it would appear Coach Steve was the first to vary from the Championship Chess approved method of playing The Patzer) 6 0-0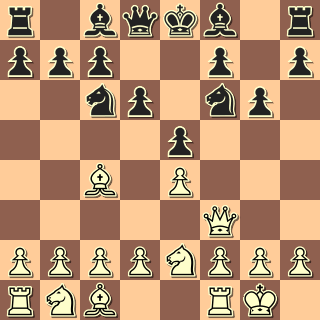 (This move is not in the CBDB) Bg4 7 Qb3 Be2 8 Bf7+ Ke7 9 Qe6 mate
In lieu of a resignation coach Steve erupted, "NO, NO, NO Lynwood, you're not using the patterns!" After Tim pointed out to Steve that Lynwood had not been the one to break the "pattern" coach Steve blurted, "Once he broke the pattern I stopped paying attention!"
Don't you just hate it when that happens?!
Steve, with much help from others, has written several Chess books for beginners, most, if not all, of which are laughable. I say this because while recalling being regaled with stories of laughable previous editions before being corrected. Tim mentioned going to a school and having his young students "correct" some of the many errors in the books. The mistakes were a riot, causing much laughter by the students.
During a conversation with Steve he expressed displeasure with the way I was teaching the Royal game, which was definitely NOT using the Championship Chess method. I had been teaching how to checkmate using only a few pieces when Steve had rather my time be spent teaching pawn games. "But Steve, I began, "Bobby Fischer wrote a book for beginners which was all about how to checkmate." (Which is what Chess was all about before it became how to draw quickly)
"What did Bobby Fischer know about teaching Chess to children?" he asked. I was incredulous, and frankly, cannot recall exactly what was said after hearing his ridiculous question. I do, though, recall posing the question, "You mean you know more about teaching Chess than the greatest Chess player of all-time?" To which Steve responded, "Yes. I know more about teaching than he did." Granted, Steve graduated from a college where he was taught how to teach, whereas Bobby was basically self-taught, but still…
I will never forget the first time attending a scholastic tournament. The memory of where it was being held has vanished. I do recall Steve and Lew Martin escorting some of the youngest children into the playing room. Anyone who has ever attended a Chess tournament, especially if one has worked at a Chess tournament, knows the feeling when the round begins and all is quiet for at least a brief period of time. That was not the case at this tournament because about a minute later the first children began returning from the playing hall, some elated, some crying. The Queen's Raid had done its work as some beginners had yet to be taught how to defend against the The Patzer. Parents of the winners were pleased as punch while the losing parents were mortified to see their child in tears. When the first little children began returning I asked with incredulity, "You mean the games have already finished?" A smiling and proudly pleased Lew Martin said, "That's how it is in scholastic Chess."
"This is not Chess," was my response. It was more than a little obvious that teaching Chess to children to some could be distilled to, "Show me the money!"
This is part one of a two part series, which will follow with the next post.