When the first issue of the American Chess Magazine debuted I mentioned something about it being expensive, writing the price of the magazine, twenty five dollars, was as much as a book. My intention was to read, and then review, the first issue. After contacting someone at the ACM about receiving a review copy I was informed it would only be possible to receive the first copy if I anted up twenty five dollars, for which I would receive the first two issues. I turned down the "offer."
It was only a few months ago upon returning to the Atlanta area that I got a chance to peruse past issues, which were wonderful. The new issue, issue #11, the second issue of 2019,
was the second issue after increasing from four issues to six issues per year. The new US Women's Chess Champion, Jennifer Yu, graces the cover, surrounded by a pink background. This is my review.
I will be completely honest and say that before taking the magazine out of the plastic wrap I was hooked, and not because of the picture of a very pretty young lady on the cover, although I can see what a wonderful hook is Jennifer Yu!
It is a shame the ACM is not sold at book stores or newspaper and magazine stands because the cover would attract much interest. This on the cover is what "hooked" me:
American Civil War
A Dying Southern Diarist
Theodore P. Savas
I read the article immediately before even scanning the magazine and it brought tears to my eyes. I was born in the back seat of a '49 Ford convertible on the way to Emory University Hospital in Decatur, Georgia, which means I was born a Southerner, as is often heard in the South, "By the grace of God." The diarist, "Leroy Wiley Gresham, was born in 1847 to an affluent family in Macon, Georgia." His mother's name, Mary, was the same as my Mother's name. The title of the article is, An Elegant Game: The American Civil War, a Dying Southern Diarist, and a Fascination with Chess. Leroy Wiley Gresham wrote his diary during the War of Northern Aggression, while he was dying. It is an elegant piece. I could end the review now and give it five stars, but there is more, much more, contained in this elegant issue!
Although I have read extensively about the War Between the States during the course of my life, it has been some time since I have read a book on the subject. This will be remedied when the book upon which the article is based, The War Outside My Window: The Civil War Diary of Leroy Wiley Gresham, 1860-1864, edited by Janet Kroon, which I have ordered, arrives.
The focus of the magazine is the most recent US Chess Championships. The annotations of the final round game are by the loser, Jeffery Xiong,
and they are excellent! For example, look at this position: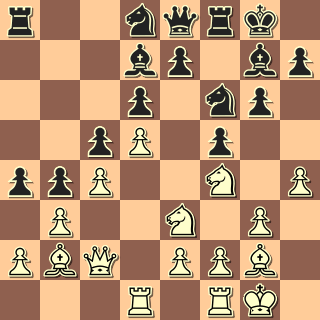 Jeffery writes, "21. Qb1 Preventing any …a4xb3 and Ra8-a2 ideas. But 21 Rfe1, quickly preparing Nf1-d2 and e2-e4, might have been more to the point." Some annotators provide Lubomir Ftacnik
style reams of analysis when all that is needed is something simple. At the conclusion of the game Jeffery writes, "It was as clean a win as you can get with the black pieces. The opening experiment proved to be golden as my inexperience in this type of position was revealed to its fullest extent. Nakamura
played truly inspiring chess, especially with the black pieces, and his will to win in this game made him the deserved champion. He has amply demonstrated his greatness, being one of the perennial top-10 players in the world. Any player can win games, but at top level only great players are capable of consistently winning must-win games!"
GM Jeffery Xiong has shown his class as a gentleman with what he has written about what must have been a tough game to lose.
The honesty continues when Xiong annotates his win with the black pieces against the now dethroned US Chess Champion, Sam Shankland,

https://www.milibrary.org/chess-newsletters/872
when Jeffery writes at the end of the game, "At first I was quite pleased with my play as I felt I had found some nice ideas. However after heading back to my hotel room and opening ChessBomb, I saw a sea of red moves! Nonetheless, I was now leading the tournament with 2 1/2/3, yet fully aware that the quality of my play was not entirely satisfactory."
This is amazingly honest writing.
A few pages further into the magazine one turns the page to see a beautiful picture of the new US Women's Champion, Jennifer Yu, sitting at a Chessboard behind the black pieces while flashing a gorgeous smile. The title above reads, Lady With A Torch, which is appropriate because Jennifer torched the field this year! One reads, "Exclusive annotations and an interview by WGM Jennifer Yu." The following page contains the game between former many time Women's Champion Irina Krush,
playing white, and Jennifer, which happens to be an opening I have played, the B13 Caro-Kann, which begins 1 c4 c6 2 e4 d5 3 exd5 cxd5 4 d4 Nf6 5 Nc3 Nc6 6 Bg5 Be6. While visiting the Nashville Chess Center (http://www.nashvillechess.org/content.aspx?page_id=0&club_id=164844) earlier this decade FM Todd Andrews,
the Music City Master, gave a lecture which happened to be this very variation. After 7 a3 Qd7 Jennifer writes, "Not 7…dxc4?, when after 8 Bxf6! exf6 9 d5 Black loses a piece." I recall raising my hand during the early part of Todd's lecture asking about the early move c5 for White. Todd was nice enough to illustrate what was behind the move c5 for the audience, while letting me know in a nice way it was a lecture, not a Q&A. The game continued, 8 Be2 Rd8 9 Bxf6 exf6 10 c5. Ms. Yu writes, "Although a general principle of chess is to maintain tension in the center during the opening, this is a good move that prevents any…dxc4 tricks. It locks up the center and challenges the wisdom of my piece placement, making the bishop on e6 and the rook on d8 look silly, since these pieces no longer have any prospects against c4 and d4. 10 Bf3 doesn't work because after 10…dxc4 11 d5 Qe7! the threat to the white king, as well as the pin on the white d-pawn, provides the black knight and bishop with immunity against the fork." The annotations are exceptional.
I could go on and on, but this is a blog post. Still, I must mention an article by GM Alex Fishbein,
Secrets Of Same-Color Bishop Endings, which is superlative! And then there is the wonderful article, Beauties of Underpromotion, by IM Boroljub Zlatanovic, which was enjoyed immensely!
Unfortunately, not everything included in the magazine is rosy. Fresh Leaves from the Bookshelf is the title of the book review column by FM Carsten Hansen.
In this issue the FM has "reviewed," and I use the word rather loosely, ten books. As he did in the previous issue Mr. Hansen reviewed ten books for the ACM. Beginning with the previous issue the ACM went from being published quarterly to bi-monthly. It may have been possible to review ten books quarterly, but how is it possible for anyone to read ten Chess books every other month? The answer is contained in the review of Tal, Petrosian, Spassky and Korchnoi,
by Andy Soltis,
published by McFarland. (https://mcfarlandbooks.com/) Hansen writes, "When I first saw the description of this book, (There is no need for the comma) I wasn't quite sure how I felt about it. ("Upon first seeing description I did not know how to feel about the book." THE ACM needs a good editor.) However, having now received a copy and read a fair amount of the text…" Let us pause in the middle of the sentence to reflect. Many years ago someone mentioned something about coming to the House of Pain "soon." This caused David Vest, the only man to have won both the Georgia Chess Championhip and Georgia Senior Championship, to pose the question, "How long, exactly, is soon?" He added, "I hate those nebulous words…" This began a discussion concerning nebulous words. A short time (Nebulous!) later Mr. Vest, heading out the door, said, "Tell Murphy I will be back in a little while." He was half way out of the door when someone asked, "How long is 'a little while', Dave?" This brought the House down! What is a "fair amount" of the book? Your "fair amount" may not be the same as my "fair amount." Can you imagine a New York Times book reviewer revealing they only read a "fair amount" of a book? I usually pay little attention to these short book reviews by writers who obviously simply scan the book reviewed. It would be better for Mr. Hansen to review only a few books he has actually read as opposed to scanning ten books before writing a review. It seems many reviewers spend more time writing the review than actually reading the book being reviewed.
Then there is the article, 50 is the new 40, by Jon Edwards, an ICCF Senior IM. Reading the article caused me to reflect upon the words written by GM Nigel Short
in New In Chess magazine 2019 #2
in his piece, Obsolescence, which concerns correspondence chess. "If ever an activity should have long ago expired and been buried with dignity, it is surely correspondence chess." This caused Kirill Oseledets to write a letter to the editor of NIC in which he expressed his unfavorable opinion of NIC for publishing the Short column. Kirill wrote, "I was sincerely surprised and deeply disappointed to see that in New In Chess 2018/2 you published Nigel Short's article with the provocative title 'Obsolescence.' Later he writes, "One thing that Nigel Short fails to recognize is that correspondence chess is first of all a research laboratory for chess."
Mr. Edwards begins, "Chess players do not yet have access to AlphaZero and so we are left to peruse more conventional chess technologies. It is tempting to focus primarily upon new databases, new videos, and new online chess services, all of which keep me feeling young and invigorated, but the fact is that chess is experiencing another profound change that has gradually but inexorably changed chess forever." Then the article begins and Jon writes, "Just a few years ago, patiently permitting a desktop computer to run for day or longer might net an evaluation depth of 35-40 ply, each ply representing a single half move."
He continues, "With new hardware , it is not uncommon (Don't 'cha just hate it when a writer uses a double negative and the editor prints it?) today for such runs to reach a depth of 50 ply or even much higher, depending obviously upon the position, the number of viable moves for each player, and the chess engine being employed. Those depths are high enough to predict accurately the future endgames, which themselves become trivial to evaluate. These long runs in typical positions are producing a slew of draws in Correspondence chess. I present here the current crosstable of the Spanish Masters, a tournament in which I am competing. With just 8 games still unfinished, the crosstable creates quite an impression, a veritable sea of draws."
The crosstable shows a tournament with fifteen players almost complete. There is only one decisive result, and the only '1' and lonely '0' stand out like Bo Derek!
Jon continues, "You might indeed conclude prematurely that correspondence chess is therefore fully dead or dying."
Duh, ya think?!
"But that's not the point or the end of the story. The reality is that it is becoming very hard to win, but it is still possible!"
The CC IM writes this because the only game won in the "veritable sea of draws," was won by the author…
He continues, "Those long runs are turning up interesting finds."
Indeed.
"I parlayed one such discovery into a win over the reigning Russian correspondence chess champion, the only win so far in this crosstable."
The game is given, along with a game played later by former World Chess Champion Vishy Anand,
who was unable to produce the move found by a computer Chess program after a "long run." At the Isle of Man Anand faced Artemiev
with white and these moves were played: 1 e4 c5 2 Nf3 d6 3 d4 cxd4 4 Nxd4 Nf6 5 Nc3 a6 6 Be2 e6 7 f4 Be7 8 Be3 0-0 9 g4 d5 10 e5 Nfd7 11 g5 Nc6.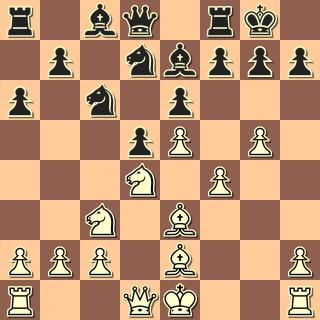 "Undoubtedly unaware of the game I had recently completed, Anand tried 12 Qd2."
"I reached the diagram position through a different move order: 1 e4 c5 2 Nf3 d6 3 d4 cxd4 4 Nxd4 Nf6 5 Nc3 a6 6 Be3 e6 7 Be2 Be7 8 f4 0-0 9 g4 d5 10 e5 Nfd7 11 g5 Nc6
Edwards continues, "I reached the diagramed position in December 2017 through a different move order: : 1 e4 c5 2 Nf3 d6 3 d4 cxd4 4 Nxd4 Nf6 5 Nc3 a6 6 Be3 e6 7 Be2 Be7 8 f4 0-0 9 g4 d5 10 e5 Nfd7 11 g5 Nc6. Sensing an opportunity for White, I ran Robert Houdart's Houdini 6.02 Pro x64 for 35 days(!) on an Intel Xeon CPU E5-2687W @3.00 GHz with 32 GB of installed RAM. At depth 45, 12 Bd3 emerged not simply as the best move, as I had anticipated (Where is that darn comma when you need it?) but also with a completely winning advantage!"
"Edwards – Lobanov instead continued: 12 Bd3!! (Please note the ICCF Senior International Master gives not one but TWO exclamation marks for a move found by a Chess engine after doing whatever it is it does for over a MONTH of computing!!) Qb6 13 Na4 Qa5+ 14 c3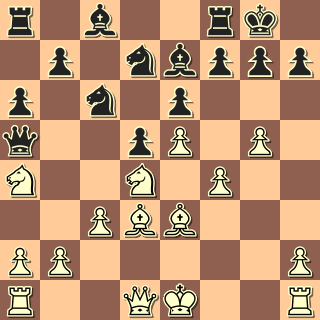 "I suspect the engines at lower depth had rejected this line owing to 14…Nxd4 15 Bxd4 b5 trapping the knight, but at higher depth, the engines easily find: 16 Bxh7+!! (Once again one exclam is not enough!!) 16…Kxh7 17 Qh5+ Kg8 18 0-0+ with a transfer of the Rf1 to h3. On 18…g6 (the toughest defense) 19 Qh4 Re8 20 Rf3 Bf8 21 Rh3 Bg7 22 f5! gxf5 23 Nb6 Nxb6 24 B5 with mate to follow. Without that line at his disposal, Lobanov chose instead to sacrifice a knight for two pawns but achieved insufficient compensation. Here's the rest of the game."
I will spare you the remainder of the game. Mr. Edwards adds this at the end of the game: "Not long after the game ended, I shared it with a GM friend of mine, the second for a world top-player, who ran 12 Bd3 on a very powerful mainframe overnight. He concluded that Black was already lost and he added White's new idea into their collective repertoire. The translation: Our world's best players fully understand the need for world class computing. He was able to do in half a day what took me more than a month! I do not know what hardware they are running but it clearly surpasses my setup. I am also proud that analysis of this game appeared in New in Chess Yearbook 129 (itl), pp33-35.
While it is clearly getting much tougher to win correspondence games and to achieve Correspondence IM and GM norms, any correspondence wins that doe occur clearly deserve considerable attention. Just ask Anand. I therefore recommend that strong players involve the Games Archive at iccf.com as a key part of their opening preparation. You will gain access to the archive after you sign up (for free)."
What, no double exclam after "free?"
Reading, "…correspondence chess is first of all a research laboratory for chess," caused me to stop reading and start thinking about what was being read. I thought the computer championships, such as the TCEC Chess tournaments, were Chess laboratories. Jon and his ilk input a position into a computer and let it do it's thing for a month and call it Chess. Jon, and all other correspondence players would be much better off if they would go to a club or tournament and use their brain to actually play CHESS!
Jon was right when he wrote, "…chess is experiencing another profound change that has gradually but inexorably changed chess forever."
With that sentence Jon Edwards just KILLED CHESS!
Consider the last theoretical novelty you saw from one of the top ten players in the world. Did it spring from the fertile imagination of a human like, for instance, the Magician of Riga, Mikhail Tal?
Or did it emanate from the bowels of some hellish mainframe? If it has gotten to the point where a computer can provide a world class Chess player a move early in the game with which any world class player will win, what is the point of Chess? Has it gotten to the point where, "Those depths are high enough to predict accurately the future endgames, which themselves become trivial to evaluate?"
If Jon is correct there is no point in watching Chess because one will never know how the 'beautiful' move was produced. A Chess fan will never know if the "tremendous move" emanated from a human brain or from the machinations of a computer program. What we currently have is some kind of symbiotic relationship between human and machine kind of like the 'Borg' depicted in the television show, Star Trek: The Next Generation.
The first World Chess Champion to lose a match to a computer program, Garry Kasparov,
became an advocate of some kind of Chess in which both players have access to a program, which, thankfully, did not become popular. It appears what happened is the symbiotic relationship was kept behind closed doors. The computers and programs were there all the time, like some kind of Wizard of Oz.
Because they were out of sight they were also out of mind.
What is the point of the folks at the Chess Informant awarding a prize for the "best" theoretical novelty if the TN was found by a computer program? It has reached the point where a Grandmaster without access to a mainframe computer has little chance against another GM with access to a powerful computer. Who is actually winning the Chess game, the human or the program?
Chess will continue to be played just as Checkers continues to be played by a small number of people. When was the last time you were aware of the world Checkers champion?
Then there is the last page, 5×5 Q&A "Where Grandmasters Advise Young Players."
The advice being given is by Susan Polgar. What the woman did to the USCF was UGLY!