A Burning Ring Of Fire
Being born and raised in the South meant attending a Southern Baptist church. Not just "Baptist", mind you, but "Southern" Baptist. There is a difference…
From the article: "And a small stretch of coast in the US, like in New Jersey and New York, are forecast to see the 'Red Devil Horns' in the sky also known as the crescent Sun.
Where as the eclipsed sun is first rising it looks like two separate pieces, like some sort of red horns piercing upward. Due to its shape, the phenomenon in history was described as an evil sunrise that looked like red horns of the Devil."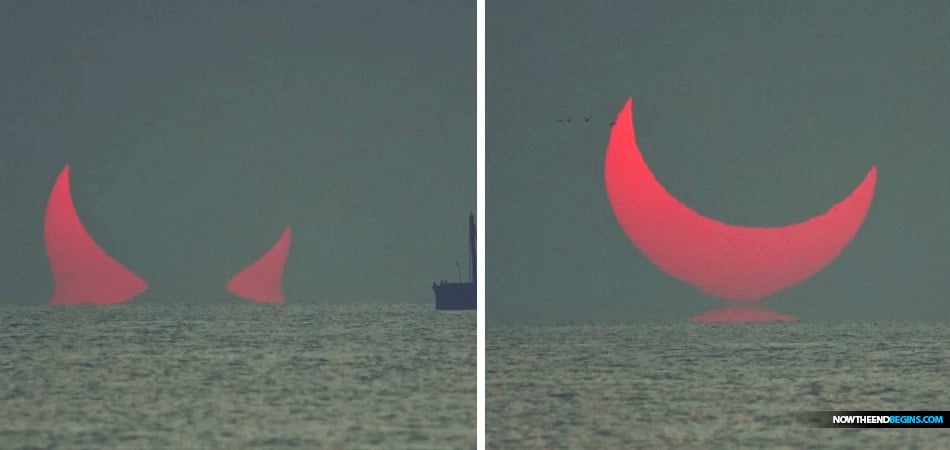 THE 'RED DEVIL HORNS' RISING INTO THE CRESCENT MOON OF ISLAM OVER PERSIAN GULF ON DECEMBER 26, 2019 (https://www.nowtheendbegins.com/persian-gulf-red-devil-horns-iran-middle-east-world-war-3/)
I heard much about the Devil during that time, especially while attending "Vacation Bible School," where I was called "Little Devil" so often I thought it was my name. An older and larger boy clubbed me after church one Sunday so I defended myself. All my father could say was, "Not at Church…" He was also fond of saying, "The world is going to Hell in a hand basket," an expression heard frequently in the South 'back in the day'. My Sunday go to meeting suit was ripped to Hell. It was worth it because that bully left me, and others, alone after that fight.
We heard about being in the "end times" so frequently I did not think I would live to become an adult.
The article ends: "In the Biblical prophecies such astronomical phenomenon as a Blood Moon and eclipse of the Sun are foretold to happen in the future along with other signs as harbingers of the end-time. The Holy Bible in Acts chapter 2 says that, "The sun shall be turned into darkness, and the moon into blood, before the great and notable day of the Lord come. And these current celestial phenomenon we are seeing now along with distress among the nations over conflict in Israel and Jerusalem, remind us we are in the Last Days as we are nearing the end of this age."
For seven decades I have been nearing "The end of this age." It is not often in my thoughts, as I attempt to live in the "now." I mean, if you think about it, what else is there?
R.E.M. Lyrics
"It's The End Of The World As We Know It (And I Feel Fine)"
That's great! It starts with an earthquake
Birds and snakes, an aeroplane
and Lenny Bruce is not afraid
Eye of a hurricane, listen to yourself churn
World serves its own needs, don't mis-serve your own needs
Speed it up a notch, speed, grunt, no strength
The ladder starts to clatter with fear of height, down height
Wire in a fire, representing seven games
In a government for hire and a combat site
Left of west and coming in a hurry
With the furies breathing down your neck
Team by team reporters baffled, trump, tethered crop
Look at that low plane! Fine, then
Uh oh, overflow, population, Common Food
But it'll do. Save yourself, serve yourself
World serves its own needs, listen to your heart bleed
Tell me with the rapture and the reverent in the right, right
You vitriolic, patriotic, slam, fight, bright light
Feeling pretty psyched
It's the end of the world as we know it
It's the end of the world as we know it
It's the end of the world as we know it, and I feel fine
Six o'clock. TV hour
Don't get caught in foreign tower
Slash and burn, return
Listen to yourself churn
Lock him in uniform and book burning, bloodletting
Every motive escalate. Automotive incinerate
Light a candle, light a votive
Step down, step down
Watch a heel crush, crush
Uh oh, this means no fear; cavalier
Renegade and steer clear!
A tournament, a tournament
A tournament of lies
Offer me solutions, offer me alternatives
And I decline
It's the end of the world as we know it
It's the end of the world as we know it
(It's time I had some time alone)
It's the end of the world as we know it, and I feel fine
(It's time I had some time alone)
I feel fine
It's the end of the world as we know it
(It's time I had some time alone)
It's the end of the world as we know it
(It's time I had some time alone)
It's the end of the world as we know it, and I feel fine
(It's time I had some time alone)
The other night I tripped a nice
Continental drift divide
Mountains sit in a line
Leonard Bernstein, Leonid Brezhnev
Lenny Bruce, and Lester Bangs
Birthday party, cheesecake, jelly beans, boom!
You symbiotic, patriotic, slam, but neck, right? (Right!)
It's the end of the world as we know it
(It's time I had some time alone)
It's the end of the world as we know it
(It's time I had some time alone)
It's the end of the world as we know it, and I feel fine
(It's time I had some time alone)
It's the end of the world as we know it
It's the end of the world as we know it
It's the end of the world as we know it, and I feel fine
(It's time I had some time alone)
It's the end of the world as we know it
(It's time I had some time alone)
It's the end of the world as we know it
(It's time I had some time alone)
It's the end of the world as we know it, and I feel fine
(It's time I had some time alone)
It's the end of the world as we know it
(It's time I had some time alone)
It's the end of the world as we know it
(It's time I had some time alone)
It's the end of the world as we know it, and I feel fine
(It's time I had some time alone)
https://www.azlyrics.com/lyrics/rem/itstheendoftheworldasweknowitandifeelfine.html