After deciding to go without a computer for a time which turned out to be a year the following email was received from the publisher of Elk and Ruby:
Hi Michael,
Are you OK?
The greatest book on chess ever published: https://www.amazon.com/dp/5604469289
Ilan
Well, you know, Ilan is the publisher so he oughta feel that way about a book, but this was the first time he had written that lavishly about any book, so it was only natural I took it to be hyperbole. This was received at the end of January and I did not purchase a new laptop until April. Then there was the tooth problem…Although I had no deadline, all of the earlier books reviewed for Ilan had at least been timely. I may not have dropped the ball with this review, but I must admit it was fumbled…Then there was the trouble deciding on how to write the review, which was not the case with the Romanovsky book (https://xpertchesslessons.wordpress.com/2021/08/27/selected-games-of-peter-romanovsky-by-sergei-tkrachenko-a-review/), a book I obviously loved. With a little help from my friends
the review finally came together.
Nevertheless, I was disappointed with myself, feeling I had let Ilan down, as the book awards had all been handed out, or at least that is what I thought. Fortunately, I was WRONG!
ECF Book of the Year 2021
Posted By: WebAdmin 8th October 2021
From the excellent books on the shortlist, two stood out – Nigel Short's WINNING and Voronkov's Masterpieces and Dramas. The latter is winner of the Book of the Year 2021. However, Short's book is so good that it merits a mention in the award.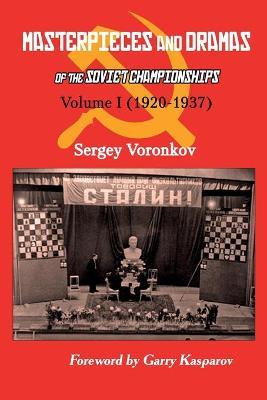 Masterpieces and Dramas
Sergey Voronkov
Elk and Ruby pp 534 hardback £35.95
The full title, Soviet Championships Volume 1 (1920 – 1937), is the story of the first ten Soviet Championships. Potential readers might be discouraged by the apparently obscure subject, but they should not be! The book reads like a novel describing how the championships were organised and played in the appalling conditions of postrevolutionary Russia is an extraordinary story of keeping chess alive against very considerable odds.
Voronkov states that 'he is interested in the people' and his approach is 'closer to a documentary movie than a dry chronicler of events'. Thus the focus is on individual stories and twists of fate of the many characterful players such as Alekhine's and Bogolubov's exclusion from Russia, which vividly contrasts with Botvinnik's early years. Many contemporary cartoons, photographs, press reports and gossip make you feel that you are there when reading the book.
The chess is very good too. Gary Kasparov in his foreword praises 'the great game selection … showing chess in the context of time'. Voronkov also has a great eye for the dramatic moments in the tournaments, positions of chess interest and historically valuable games.
A most remarkable, absorbing and entertaining chess history which fully lives up to its title, Masterpieces and Dramas, on and off the board. A worthy winner of Book of the Year 2021 over strong competition. (https://www.englishchess.org.uk/ecf-book-of-the-year-2021/)
If you have not done so, please read the AW review which can be found here: (https://xpertchesslessons.wordpress.com/2021/09/25/masterpieces-and-dramas-of-the-soviet-championships-a-review/)
I will admit to unfortunately having had trouble getting it together for this book. Part of the reason was a bad tooth, and the delay caused by the pandemic in having the work done, but it was more than that, and I felt like I had let Ilan down with the long delay, something that had not happened with any other book I have had the pleasure and privilege to review. What follows is an excerpt from an email just fired to Ilan Rubin, publisher at Elk and Ruby Publishing:
CONGRATULATIONS!
"I was uncertain about including all of Kasparov's Forward because that is usually not done…but every time I wrote something I kept returning to his excellent forward and realized that no matter what I said, Garry had said it better…I wanted to have that "Standing in a Bookstore feeling as you are holding the book for the first time and the first thing you're gonna read is the Forward", right? A friend said, "Look Mike, the best thing about your writing is that there are NO RULES! You write what you feel." I took it to heart because he was right, and it felt right to print all of Garry's wonderful Forward.
I was afraid that if I only concentrated on the first chapter it would be like one of the book reviews I wrote in school when Mrs. Jackson excoriated me in front of the class, saying, "It is more than a little obvious, Mr. Bacon, that you only read the first chapter of the book!" She sent me to the principal's office after I returned fire with the salvo, "That is NOT TRUE, you old hateful woman, because I read every word of the CLIFF NOTES!!!" Boy was she IRATE!!! There was fire emanating from her eyes as she banished me from the room…
But then I knew I was very late with the review, and I REALLY felt badly about it, but what could I do? There was no other choice but to go ahead with it looking like I only read the first chapter, which is not true, because I read every word and replayed every game and let me tell you it was a labor of LOVE! It is a tremendous book, one of the best I have have the pleasure to read, so it was worth putting IMJD's book of Bobby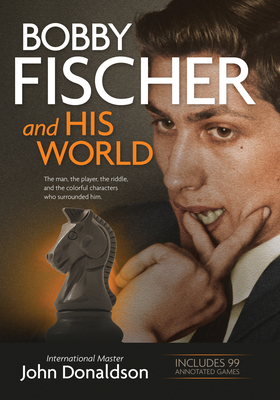 on hold ( Lasker 2
was put on hold for IMJDs book) to read M&D and the Romanovsky book."