When Norway's Magnus Carlsen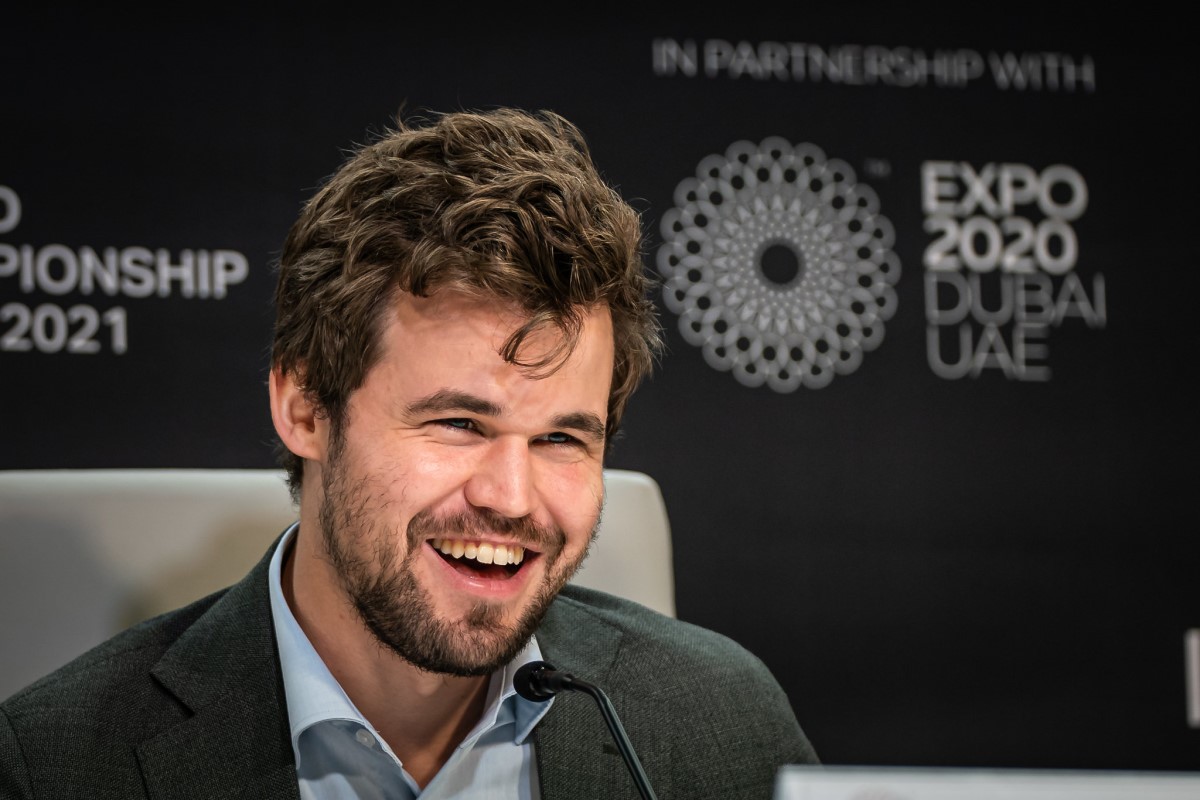 clinched victory over Russia's Ian Nepomniachtchi
it was revealed that Russian Grandmsaster Daniil Dubov
had once again been a key part of the World Chess Champion's team of helpers. That saw instant criticism led by Sergey Karjakin, with Sergey Shipov adding that Dubov would "rightly" now never play for the Russian team again. (https://chess24.com/en/read/news/dubov-hits-back-at-accusations-of-betrayal)
In an interview journalist, and FM, Mike Klein asked Nepo the question:
Mike: Is he a double-agent? Is that what you're saying?
Ian: No, I don't know. I don't think he's a double-agent, obviously, but the results of his work were quite favorable for us.
https://www.chess.com/news/view/ian-nepomniachtchi-on-the-world-chess-championship
Hold on there, Nepo. If the results of his work were favorable why did you lose? Surely Mother Russia must have known Dubov was working with team Magnus because…
Grandmaster Sergey Karjakin
was a citizen of Ukraine until relocating to Russia, the country with 175000 troops poised on the border of Ukraine as the world collectively holds its breath at the possible coming of World War III.
Karjakin infamously said, "Magnus "can psychologically crumble."
What pluses and minuses do you see for both opponents?
"Magnus has more match experience, he's a more balanced chess player, without visible flaws. He plays almost equally well positionally and tactically, in a dull endgame and in sharp attacking positions."
"But he does have flaws. When he doesn't like what's happening in a tournament he can psychologically collapse, as my match against Magnus showed. He missed wins in two games, and then he started to play significantly worse. He can psychologically crumble if something isn't going right — he loses confidence in himself and he starts to perform less well than usual."
https://chess24.com/en/read/news/sergey-karjakin-magnus-can-psychologically-crumble
Nepo was asked, "Were you involved in any psychological preparation during this period?"
"I don't really understand what psychological preparation means. If it's needing to have the correct attitude within yourself, then I've been preparing since childhood."
Do you consider the match against Carlsen the match of your life?
"I don't know. That will depend on the result. After I play it, I'll tell you."
Are there nerves?
"Nerves, as a rule, are before the start. From experience I can say that you get them in the first round when you sit down at the board and don't yet know what kind of form you're in. In such cases you usually make 2-3 moves and then your body readjusts to its working mode. Nerves, it seems me, also go at that moment. No doubt there will also be nerves when the finish is approaching, but now, before it begins, it's early to talk about that."
https://chess24.com/en/read/news/ian-nepomniachtchi-the-result-is-much-more-important-than-the-prize
Let us be honest, Nepo cracked. Before the match everyone knew Nepo had a fragile psyche. The World Chess Champ put it best:
"We spoke a bit during these tournaments, but didn't have much contact for years, until 2011, when we had a training session together. He was a lowly-rated 2700 player and struggled a bit to make it to the very top. He complained that he didn't get enough invitations to the best tournaments, and felt that the players at the very top were not better than him. I told him that his problem was that he wasn't disciplined. He had one good tournament, followed by two bad ones. He could start an event with three wins in the first four rounds, then in his fifth game he would not win a better position, leading to a collapse. A very moody player."
Carlsen talks about their history and why Nepomniachtchi failed to break through.
As usual, Magnus is less filtered when speaking in his native language. On Nepomniachtchi's biggest challenge in Dubai, he says:
"In Norway Chess he seemed very strong for the first 3-4 rounds, he had a small setback, and then he collapsed. That's not something he can allow himself in a World Championship match. I am not going to fall even if I am hit in the face once. Perhaps that will be his biggest challenge, to handle the setbacks that will come, regardless of whether it's a good position he fails to convert, or a game that he should have held to a draw but ends up losing, or opening preparation that goes wrong — that will be a huge challenge for him."
The World Champion, who has reigned since 2013 and been the world no. 1 consecutively since 2011, doesn't think Nepomniachtchi would have won the Candidates if the event hadn't been split in two.
"Because he lost the last game in the first half of the tournament. He rarely plays well after having lost. Now he managed it eventually and has started to become more pragmatic."
Carlsen says he considers Nepomniachtchi, the world no. 5, to be "a wild card" and still thinks the no. 3 Fabiano Caruana and no. 2 Ding Liren would pose a bigger challenge for him.
"I would say they are the best. I thought beforehand that anyone else would be a good outcome for me, and I still feel that way."
https://chess24.com/en/read/news/carlsen-good-outcome-to-face-nepo-not-fabi-or-ding
The one word to describe Magnus Carlsen would be "consistent." The word to describe Ian Nepomniachtchi would be "erratic."
Maybe is Nepo had devoted more time to Chess and less to other interests the match result would have been different. Maybe…
Who is Ian Nepomniachtchi, the biggest nerd to ever …
[Search domain gamelevate.com] https://gamelevate.com › who-is-ian-nepomniachtchi
Beyond his excellent skills at the chessboard, Ian Nepomniachtchi is also notable for being the biggest nerd ever to challenge for the world championship title. The Russian has played Dota 2 in a semi-professional capacity around the time of its release and was heavily involved in the original Dota scene as well.
The Chess world needs to come to terms with the fact that the way a challenger is chosen has been corrupted by the Russians. Because the nefarious Russians control world Chess they managed to have a player who was not worthy play in the Candidates tournament. The Candidates match "wild card" 22-year-old Russian Kirill Alekseenko said, "The Candidates wild card should be abolished." (https://chess24.com/en/read/news/alekseenko-the-candidates-wild-card-should-be-abolished)
Think about it for only a moment…If Russian dictator Vladimir Putin ordered Alekseenko to lose do you really think there would be any other result?
The fact is the Candidates tournament should not have been started during a pandemic. Then, after it had to be stopped, it should not have been resumed a year later. There has got to be a better way of choosing a challenger. How about a match between the second and third highest rated players? What about a double round robin between the top eight players; The Elite Eight?