After learning there would be a Blue Moon on the night of September 20, tonight, I reached out to my friend Dennis Fritzinger, the poet who was profiled here earlier (https://xpertchesslessons.wordpress.com/2021/05/04/the-chess-playing-poet/), asking permission to use one of his poems:
Blue Moon
was my Auny Shirley's favorite song
i have a picture of her
at a penny arcade
with her first or second husband
it had a moon theme going.
i still remember her
singing a few bars of it,
"Blue moon…
I saw you shining alone…"
it was a very romantic song,
about love and all that stuff;
it went way over my head,
but she seemed to like it.
"Blue moon…" she'd sing,
"Blue moon…".
from his book, Nuclear Family:
In addition I mentioned possibly putting in a plug for the book on the blog because I very much liked Nuclear Family. His response:
Dennis Fritzinger
To:Michael Bacon
Mon, Sep 6 at 8:43 PM
Hi Michael,
You have my permission to use "Blue Moon".
Also, thank you for your wonderful story. I hoped my book would trigger memories in its readers, and I'm glad to see it has!
All the Best,
Dennis
Here's how to order "Nuclear Family" (Ordering information and cover photo below).
Send $20 to:
Dennis Fritzinger
2220 Piedmont Ave.
Haas School of Business
University of California
Berkeley, CA 94720-1900
And here is the song chosen to go with the post:
While researching the song this was discovered:
Blue Moon THE SONG
The fascinating true story you never heard
EVERYONE KNOWS THE SONG
… NO ONE KNEW THE MAN
"Blue Moon," the classic American ballad that is one of the most universally recognized songs of the 20th century, is not what you think it is.
History tells us that it was written by Richard Rodgers and Lorenz Hart.
In reality, "Blue Moon" was composed in 1931 by a 17-year-old, the son of Polish immigrants, after an evening of moonlit skating on a pond in upstate New York. This is the previously untold true story.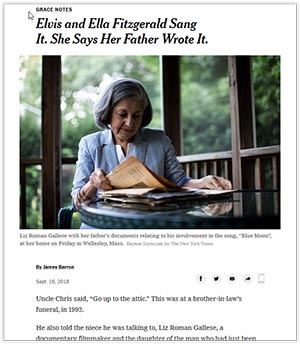 Blue Moon. The Real Story.
By Rodgers & Hart? Not Really.

From the Memoir:
". . .the history of 'Blue Moon,' for all of its known convolutedness and remarkableness, actually begins earlier. Its unknown origins are even more remarkable and convoluted, and its agency lies at that very intersection of those final Hart lyrics being either his 'simplest or most banal.'"
". . .the lyrics. . .weren't written by Hart, nor the melody by Rodgers. Rather the song was composed in 1931 by a 17-year-old, the son of Polish immigrants, in Troy, on the East bank of the Hudson River in upstate New York. His name was Edward W. Roman."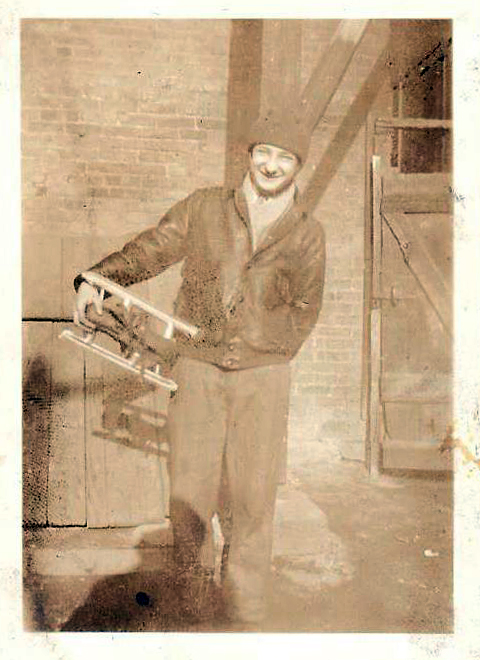 "I know because I am his daughter, and because I have always known this story. It was part of the family lore for all of my growing-up years, the source of whispers about 'that "Blue Moon" thing' among the adults. . .a matter of curiosity among the more curious of the youngsters, of which I was perhaps the most curious."
If you click onto this link you can hear Billie Holiday sing Blue Moon (https://bluemoonsong.org/)
But wait…there's MORE! Todaze moon is not a blue moon, but a HARVEST MOON! I kid you not…
Traditional Full Moon Names

Wolf Moon – January
Snow Moon – February
Worm Moon – March
Pink Moon – April
Flower Moon – May
Strawberry Moon – June
Buck Moon – July
Sturgeon Moon – August
Harvest Moon – September or October
Full Corn Moon (Harvest) – September
Hunter's Moon (Harvest) – October
Beaver Moon – November
Cold Moon – December 

It would appear that what we have tonight is a moon full of corn.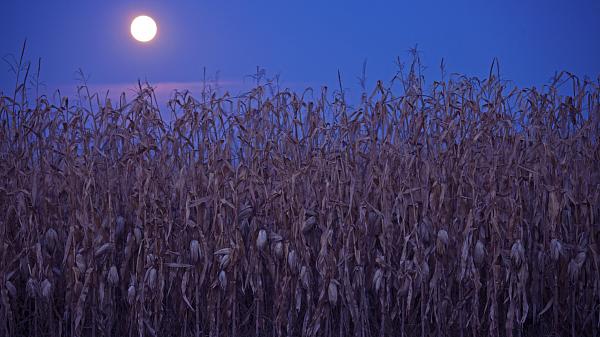 Wait a minute! I do not see anything about a "Blue Moon" in the list? Inquiring minds wanna know, so…
Full Moons with No Name
Some years have 13 Full Moons, which makes at least one of them a Blue Moon, as it doesn't quite fit in with the traditional Full Moon naming system. However, this is not the only definition of a Blue Moon.
About every 19 years, there is no Full Moon in February. This is one of several definitions of the term Black Moon. The other definitions refer to a New Moon which does not fit in with the equinoxes or solstices, similar to a Blue Moon. (https://www.timeanddate.com/astronomy/moon/full-moon-names.html)
Time to put the wrap on another post, and who better to bring in the harvest than…