The following post is NOT the one intended for today, which concerned the Royal Game, and it will follow later this evening. Recently the AW has been spending time reading Chess magazines and replaying games at a feverish rate in an attempt to get away from all of the bad news, especially that emanating from Washington, D. C. In the coming daze the intention is to post several items of interest before devoting all, or at least most, of my time writing about Chess. That is, unless the lunatic F.I.P. at the White House does something even more stupid than the damage already done to We The People. The following article was read only late last night. Let me say that "timing is everything" and this was certainly NOT the time for this from yet another Republican FOOL IN POWER! I am all for "Heritage, not hate," because as Edmund Burke said, "Those who don't know history are doomed to repeat it." Although unfortunate, slavery is part of the history of the USA, both north and South, because the northern people of the time, in their wisdom, brought Africans in slavery to this country. For the record, the South was against bringing Africans to this country. At a time when this country needs to come together as ONE PEOPLE here is yet another idiotic Republican seeking to divide We The People.
Mississippi Governor Declares 'Confederate Heritage Month' During Coronavirus Pandemic
Republican Tate Reeves has a long history of ties to pro-Confederate groups.
By Amanda Terkel
In the middle of the coronavirus pandemic, Mississippi Gov. Tate Reeves (R) has taken the time to declare April "Confederate Heritage Month."
The proclamation came two days after Reeves changed his position and issued a statewide ordering shutting down nonessential businesses and ordering residents to stay home, according to the Jackson Free Press.
Reeves' proclamation says April is the month when, in 1861, "the American Civil War began between the Confederate and Union armies, reportedly the costliest and deadliest war ever fought on American soil."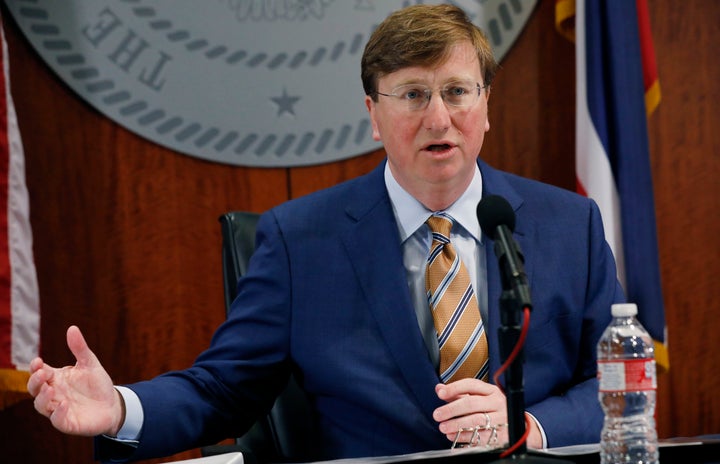 Mississippi Gov. Tate Reeves took time out of his coronavirus response to honor the Confederacy.
In 2016, then-Gov. Phil Bryant (R) signed a similar proclamation, although that one placed responsibility for the Civil War squarely on the shoulders of the Confederacy: "April is the month when the Confederate states began and ended a four-year struggle." Reeves' proclamation, as the Jackson Free Press noted, seems to spread the blame around.
Reeves faced significant criticism for being slow to issue a stay-at-home order for his state. And when he did so, his order was less strict than what some mayors had already done, allowing churches, as well as restaurants with 10 or fewer people, to stay open as "essential" businesses. He also took a shot at "liberal jurisdictions" that were shutting down more businesses.
In a follow-up order, Reeves closed down restaurants as well, restricting them to drive-through, curbside pickup and delivery.
Reeves did not return a request for comment on his Confederate history proclamation.
Reeves has long had ties to pro-Confederate organizations. In 2013, as lieutenant governor, Reeves spoke at an event for the Sons of Confederate Veterans, a neo-Confederate organization that claims the Civil War was not about slavery.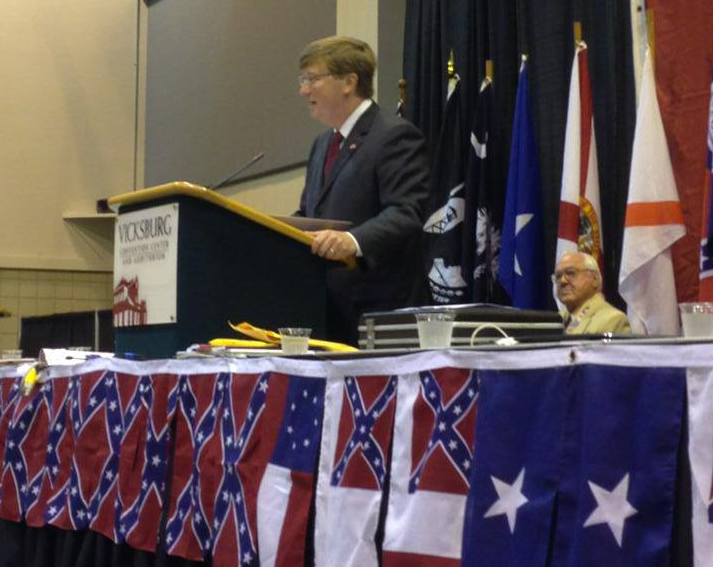 And as HuffPost reported last year, Reeves was a member of Kappa Alpha Order at Millsaps College in Jackson, Mississippi, a college fraternity that was known for pro-Confederate displays and run-ins with black students ― which became an issue in his gubernatorial run.
The fraternity looks to Confederate Gen. Robert E. Lee as its spiritual leader. A 1993 yearbook listed Reeves as a freshman that year, and he was featured as a Kappa Alpha member starting in the 1994 yearbook.
On Oct. 8, 1994, members of Kappa Alpha and another fraternity "donned Afro wigs and tied large Confederate flags around their necks," according to an article in The Clarion-Ledger at the time. Some of them were also reportedly in blackface. The fraternity brothers "got into a shouting match" over the incident with some black students.
In 1995, the Kappa Alpha yearbook page showed a group of students standing with a Confederate flag in military attire. It's not clear if Reeves was in the photo, although he was also pictured as a member of the fraternity that year.
"As a quick Google search will show, Lt. Gov. Reeves was a member of Kappa Alpha Order. Like every other college student, he did attend costume formals and other parties, and across America, Kappa Alpha's costume formal is traditionally called Old South in honor of the Civil War veteran who founded the fraternity in the 1800s," Reeves' spokeswoman said in 2019, in response to the controversy.
"I condemn racism because that's the way I was raised," Reeves added at the time, "and I will tell you that's the way I have governed as lieutenant governor."
https://www.huffpost.com/entry/tate-reeves-confederate-mississippi_n_5e8b3d5cc5b6cbaf282cf2e3
Mississippi
Written by: Bob Dylan
Every step of the way we walk the line
Your days are numbered, so are mine
Time is pilin' up, we struggle and we scrape
We're all boxed in, nowhere to escape
City's just a jungle, more games to play
Trapped in the heart of it, trying to get away
I was raised in the country, I been workin' in the town
I been in trouble ever since I set my suitcase down
Got nothing for you, I had nothing before
Don't even have anything for myself anymore
Sky full of fire, pain pourin' down
Nothing you can sell me, I'll see you around
All my powers of expression and thoughts so sublime
Could never do you justice in reason or rhyme
Only one thing I did wrong
Stayed in Mississippi a day too long
Well, the devil's in the alley, mule's in the stall
Say anything you wanna, I have heard it all
I was thinkin' about the things that Rosie said
I was dreaming I was sleeping in Rosie's bed
Walking through the leaves, falling from the trees
Feeling like a stranger nobody sees
So many things that we never will undo
I know you're sorry, I'm sorry too
Some people will offer you their hand and some won't
Last night I knew you, tonight I don't
I need somethin' strong to distract my mind
I'm gonna look at you 'til my eyes go blind
Well I got here following the southern star
I crossed that river just to be where you are
Only one thing I did wrong
Stayed in Mississippi a day too long
Well my ship's been split to splinters and it's sinking fast
I'm drownin' in the poison, got no future, got no past
But my heart is not weary, it's light and it's free
I've got nothin' but affection for all those who've sailed with me
Everybody movin' if they ain't already there
Everybody got to move somewhere
Stick with me baby, stick with me anyhow
Things should start to get interesting right about now
My clothes are wet, tight on my skin
Not as tight as the corner that I painted myself in
I know that fortune is waitin' to be kind
So give me your hand and say you'll be mine
Well, the emptiness is endless, cold as the clay
You can always come back, but you can't come back all the way
Only one thing I did wrong
Stayed in Mississippi a day too long
Copyright
© 1996 by Special Rider Music