The following game was contested in the "C" section of the Summer 2021 CCCSA GM/IM Norm Invitational at the Charlotte Chess Center & Scholastic Academy. After losing to the only Grandmaster in the "C" section, Ulvi Bajarani, FM Putnam ripped off three straight wins, with the game below being the third, to put himself in position to become an International Master if he can rip the heads off of today.
IM Roberto Abel Martin Del Campo Cardenas (2297)
vs FM Liam Putnam (2182)
Charlotte IM Norm C 2021 round 07
B15 Caro-Kann defence
e4 c6 2. d4 d5 3. Nd2 dxe4 4. Nxe4 Nf6 5. Qd3 (Every Chess player who has studied the classics will, after seeing 5 Qd3, immediately think of the famous game between Richard Reti
and Dr. Saviely Tartakower,
played in Vienna one hundred and eleven years ago, which concluded with: 5…e5 6.dxe5 Qa5+ 7.Bd2 Qxe5 8.O-O-O Nxe4 9.Qd8+ Kxd8 10.Bg5+ Kc7 11.Bd8# 1-0 With the way Chess is being played these days, especially at the CCC&SA, one would not be criticized for thinking that 1-0 was a misprint and should be 1/2-1/2. (https://www.365chess.com/game.php?back=1&gid=2636005&m=11)
I am reminded of something read recently in the best Chess magazine in the world today, and possibly of all time, the 2021 #1 issue of New In Chess. In answer to the question, "Who is your favorite chess player of all time?" in the 'Just Checking' section at the end of each issue, former US Woman Champion Jennifer Yu answered, "I never had a favorite player. I always looked at a variety of players' games. However, I'm following a lot of live events now now plan on studying the classics, so that may change soon!"
How can any player not have a favorite Chess player? Even more astounding it the fact that Jennifer became the female Chess Champion of the USA WITHOUT STUDYING THE CLASSICS! The very thought is anathema to those of us who devoured the classics.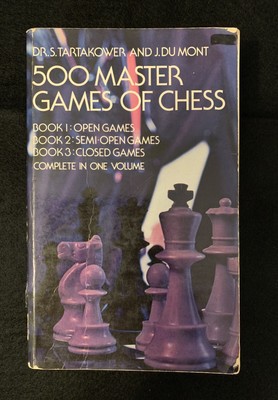 The above book looks to be in very good condition compared to other copies seen over the years. It brings to mind a comment by Senior Master Brian McCarthy
when someone ridiculed one of his books sans cover, saying it should be thrown in the trash can. "What'a you mean, man? It's still got the MEAT!"
I am reminded of the National Master who some years ago said, "You old guys just don't get it. Every thing has changed with the computer. There is no longer any reason to study anything that happened before the computer age."
"Oh yeah? I said. "If that's the case then how come you're still only a NM?" He glared at me without saying anything as some of the other "old" guys laughed, so I asked, "How long have you been stuck as NM?" Now there was fire in his eyes to go with the glare, but still he remained silent as the other oldsters continued laughing, so I added, "Looks like you would have at least made it to Senior Master by now." That brought the house down and was too much for him, so he turned and stalked away…The oldies but goodies were slappin' me on the back while saying things like, "You told him!" I put an end to it by saying, "Remember, I am no match for that young fellow, and neither are you. Matter of fact, he could probably beat all of us in a simultaneous exhibition, so stop your laughing." The grins were immediately wiped off pf their faces. The next day the young fellow walked up to me informing that what I had said after he left had gotten back to him. He stuck out his hand, which I took, as we both stood there grinning…
5…Nbd7 (SF 12 would play 5…Na6, a move waiting for a human to play a Theoretical Novelty) 6. Ng5 e6 7. N1f3 Bd6 8. Bd2 h6 9. Ne4 Nxe4 10. Qxe4 Nf6 11. Qh4 Qc7 12. Bd3 Bd7 13. Bg5 Be7 14. c3 O-O-O 15. Bxf6 Bxf6 16. Qe4 c5 17. dxc5 Qxc5 18. Qc4 Qxc4 19. Bxc4 Bc6 20. Ke2 g5 21. Rhd1 g4 22. Ne1 Kc7 23. Rxd8 Rxd8 24. Rd1 Rxd1 25. Kxd1 Be5 26. g3 Kd6 27. Ke2 f5 28. Nc2 a6 29. Nd4 Bd7 30. f4 Bf6 31. Bd3 h5 32. Ke3 h4 33. Bc2 Bd8 34. b4 h3 35. c4 Ke7 36. c5 Kf6 37. Bb3 e5 38. Ne2 Bc6 39. Bc4 Bf3 40. Ng1 Be4 41. Ne2 a5 42. Nc3 exf4+ 43. Kxf4 Bc7+ 44. Ke3 Bxg3 45. Nxe4+ fxe4 46. Kxe4 Bxh2 47. Bf1 axb4 48. Kd5 Kg5 49. c6 bxc6+ 50. Kxc6 Kh4 0-1
https://www.chessbomb.com/arena/2021-charlotte-im-norm-c/07-Martin_Del_Campo_Cardenas_Roberto_Abel-Putnam_Liam
Richard Czaya vs Wilfried Lange
Event: Bad Nauheim
Site: Bad Nauheim Date:1948
Round: ?
ECO: B15 Caro-Kann defence
1.e4 c6 2.d4 d5 3.Nc3 dxe4 4.Nxe4 Nf6 5.Qd3 Qc7 6.Bd2 Bg4 7.Ne2 Bh5 8.Nxf6+ gxf6 9.f4 e6 10.Ng3 Bg6 11.f5 exf5 12.O-O-O Qd7 13.Re1+ Kd8 14.Qf3 Qd5 15.Qxd5+ cxd5 16.Bf4 Nc6 17.c3 Rc8 18.Kd2 Ne7 19.Bd3 h5 20.h4 Rc6 21.Rhf1 Rg8 22.Re2 Re6 23.c4 dxc4 24.Bxc4 Rxe2+ 25.Nxe2 Nc6 26.a3 Kd7 27.Bb5 a6 28.Bxc6+ bxc6 29.Rf3 Bd6 30.Rb3 Bxf4+ 31.Nxf4 Kc7 32.d5 cxd5 33.Nxd5+ Kd6 34.Nf4 Ra8 35.Rd3+ Kc5 36.Kc3 Re8 37.b4+ Kc6 38.Kb3 Re5 39.g3 Re1 40.Ka4 Re5 41.Rc3+ Kb7 42.Kb3 Kb6 43.a4 Kb7 44.a5 Re4 45.Ka4 Rd4 46.Rd3 Rxd3 47.Nxd3 f4 48.Nxf4 Bc2+ 49.Ka3 Bd1 50.Nd5 Kc6 51.Nc3 Bc2 52.Kb2 Bd3 53.Kc1 Kd6 54.Kd2 Bc4 55.Ke3 Kc6 56.g4 hxg4 57.h5 g3 58.Kf3 Bd3 59.Kxg3 Bh7 60.Kf4 Kb7 61.Nd5 Kc6 62.Nxf6 Bg6 63.h6 Kb5 64.Nd5 1-0
https://www.365chess.com/game.php?back=1&gid=2681846&m=11
Evgeniya Alexandrova vs Karina Geiko
Event: UKR-ch U10 Girls
Site: Nikolaev Date: 04/25/2007
Round: 9
ECO: B15 Caro-Kann defence
1.e4 c6 2.d4 d5 3.Nc3 dxe4 4.Nxe4 Nf6 5.Qd3 e6 6.Bg5 Be7 7.Bxf6 Bxf6 8.Nxf6+ Qxf6 9.Nf3 Nd7 10.O-O-O e5 11.dxe5 Nxe5 12.Re1 Bf5 13.Qc3 O-O 14.Qxe5 Qxe5 15.Rxe5 Bg6 16.Re7 b5 17.Nd4 Rfc8 18.g3 b4 19.Nxc6 Rxc6 20.Bg2 Rxc2+ 21.Kd1 Rd8+ 22.Ke1 Kf8 23.Re2 Rc1# 0-1
https://www.365chess.com/game.php?back=1&gid=3507006&m=11
Abedin Idrizaj (2231) vs Blazo Kalezic (2455)
Event: 22nd European Teams
Site: Batumi GEO Date: 10/30/2019
Round: 6.20
ECO: B15 Caro-Kann defence
1.e4 c6 2.d4 d5 3.Nd2 dxe4 4.Nxe4 Nf6 5.Qd3 Qd5 6.Nc3 Qa5 7.Bd2 Bf5 8.Qg3 Na6 (SF & Komodo agree 8…e6 is the move)
9.Bc4 e6 10.O-O-O Qd8 11.Nf3 Nb4 12.Bb3 Be7 13.a3 Na6 14.Ne5 O-O 15.Rhe1 Nc7 16.f3 Nb5 17.Nxb5 cxb5 18.Bg5 Rc8 19.Ng4 Nxg4 20.Bxe7 Qxe7 21.fxg4 Qg5+ 22.Rd2 Qxg4 23.Qxg4 Bxg4 24.d5 Rfe8 25.h3 Bf5 26.g4 Bg6 27.dxe6 Kf8 28.Rd7 a5 29.Re2 a4 30.e7+ Rxe7 31.Rexe7 axb3 32.c3 Rc4 33.Rxb7 Rf4 34.Kd2 Be4 35.Ra7 g5 36.Ke3 Bg2 37.Re5 Bxh3 38.Rf5 Rxf5 39.gxf5 Bxf5 40.Rb7 g4 41.Rxb5 Bd7 42.Rb6 Ke7 43.Rh6 Bf5 44.Kf4 Bg6 45.Kxg4 Kd6 46.Kf4 Kc5 47.Ke5 Kc4 48.Rh3 Bb1 49.a4 Bg6 50.Rh4+ Kc5 51.Rb4 Bc2 52.a5 Bd3 53.Rxb3 h5 54.Rb6 1-0
https://www.365chess.com/game.php?back=1&gid=4228374&m=11