Fabiano Caruana
v Hikaru Nakamura
Before the tournament began one could look forward to this game having a great deal in determining the 2018 US Chess Champion. In reality, Nakamura became an also-ran, while all Chess fans are wondering why Caruana decided to play in the Championship, especially after playing, and winning, the Grenke Chess Classic almost immediately after winning the Candidates tournament when the only thing that matters is the coming battle for the World Human Chess Championship. If Fabiano does not best Magnus Carlsen the pundits will have a field day questioning whether Caruana burned himself out playing so much Chess before the title match.
U.S. Championship 2018 round 09
1. e4 e5 2. Nf3 Nc6 3. Bb5 Nf6 4. d3 Bc5 5. c3 O-O 6. O-O Re8 7. Nbd2 a6 8. Bxc6 dxc6 9. Nc4 Bd6 10. Bg5 b5 11. Ne3 Qe7 12. Nh4 Qe6 13. Nhf5 Bf8 14. f4 Nd7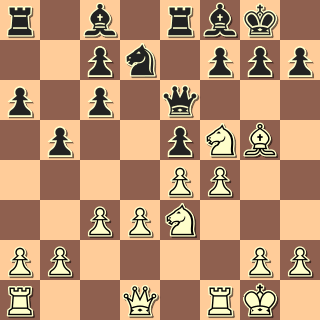 15. Ng3? This is a terrible move! Caruana backs down, refraining from playing the expected 15 fxe5. In the language of the clanking digital monsters the limpid retreat by Fabi gives his opponent an advantage of about a quarter of a pawn. Taking the pawn would leave Fabi with an advantage of about half a pawn. If Caruana plays weak moves like this against the World Champion he will lose the match.
15…f6 16. f5 Qf7 17. Bh4 Bb7 18. Qe2 Rad8
19. Nh1 (This move reminded me of the same move played by Aron Nimzowitsch, first seen in the book Aron Nimzowitsch: A Reappraisal
by GM Raymond Keene,
the plagiarist. (http://www.chesshistory.com/winter/extra/copying.html) It is ironic that a man who resorted to stealing the work of others for his books could have produced one of the best Chess books ever written. There are better moves, all being with the king rook. Stockfish shows 19 Rfd1 best)
19…Nc5 20. Rfd1 Rd6 21. Nf2 Red8 22. Rd2 a5 23. g4 g5 24. Bg3 Ba6 25. Rad1 b4 26. c4 b3 27. a3 R6d7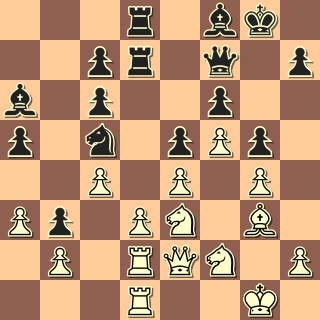 28. Qe1? (Another weak, dilly-dally move from Caruana. 28 h4 is the best move, and one does not need a program to know this. Caruana's limpid move hands the advantage to his opponent. According to digital speak, in lieu of being up by half a pawn, the move played puts Fabi DOWN by a quarter of a pawn.)
28…Nb7 29. Nh1 Nimzowitsch would be proud, but this is not one of his better choices. The Fish has 29 Kg2 or Qe2 as better. When in doubt, play Qe2!) 29…Nc5 30. Qe2 (Now this is the best move according to SF)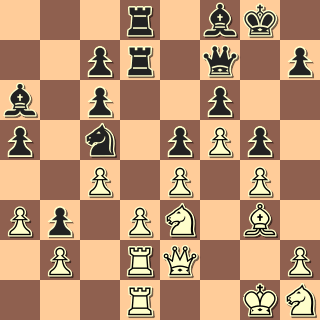 30…Rd4 (In this position black has a choice between four moves, 29…h6; Nb7; and a4, in addition to the move played, each keeping the game even, Steven.)
31. Be1 R8d6 (Expecting the obvious 31…Qd7, tripling on the d-file, I was shocked to see this move. The Fish proclaims Qd7 best. IM Boris Kogan was fond of saying "Chess is a simple game." My reply was, "Maybe to you, Hulk…" It seems the modern day players intentionally eschew playing the "obviously best" moves for some reason I cannot fathom…How often does one get the opportunity to triple the heavy pieces in any game? Look at the position after moving the Queen to d7. Every piece sans the dark squared bishop is putting pressure on the backward white d-pawn. How long would you be able to withstand that kind of pressure?)
32. Nf2 Qd7 (Naka plays the move, but now SF does not consider it best. The clanking digital monster would now play the rook BACK to d8! Like Capablanca, the program has no problem admitting a move a mistake, and correcting said mistake.)
33. Kg2 Qd8 34. h3 Rd7 35. Nf1 Na4 36. Nh2 Bc5 37. Nf3 R4d6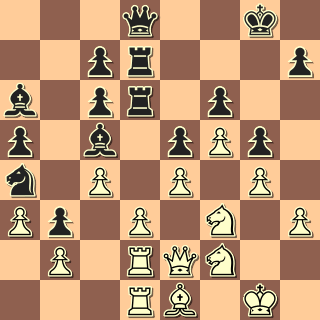 38 Rc1 (Now SF would play, you guessed it, Nh1!) Bxf2 39. Qxf2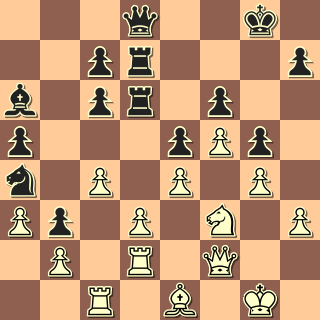 39…c5 (The Fish shows the path to victory with 39… Rxd3 40. Rxd3 Rxd3. Naka does not pull the trigger.)
40. Qe2 Rxd3 41. Rxd3 Rxd3 42. Bxa5 Bb7 43. Kf2 Qd7 44. Re1 Rd6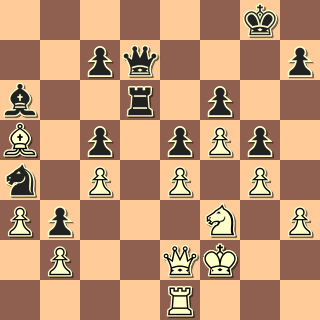 45. Rc1? (Yet another weak, vacillating move. White is lost. The move previously rejected by Fabiano, h4, is best) 45…Qc6 46. Re1 (Fabi returns the rook to its former square)
46…Rd8? (I will admit to having trouble finding a move in this position. I finally decided to move my king to g7. WRONG! I kept looking at taking the pawn on e4 with the queen, but it looks like the bishop will be lost. There is a reason Stockfish is the best Chess playing thing on the planet, and that reason is this variation: 46… Qxe4 47. Qxe4 Bxe4 48. Bxc7 Rd7 49. Rxe4 Nxb2 50. Nxe5 Rxc7 51. Nf3 Nd3+ 52. Ke2 Ne5 53. Nd2 b2 54. Nb1 Rd7 55. a4 Ra7 56. Kd2 Rxa4 57. Kc3 Rb4 58. Re2 Rxc4+ 59. Kxb2 Rb4+ 60. Kc2. Looks like a game produced by Mikhail Tal, does it not? Like me, the top players cannot calculate as well as the clanking digital monsters. It often seems that the top players no longer believe in their intuition, as did the players of the last, and previous, centuries. Because of the rise of the computer programs human players are trying to be calculating machines when what they should be doing is relying on their judgement, and intuition. I will admit going into the unknown can be a scary prospect, but the best human players have done it previously. Maybe the top players would be better off chunking the programs in the garbage and thinking for themselves…)
47. h4 (Finally, the move is played. Still, 47 Kg3 first was better…)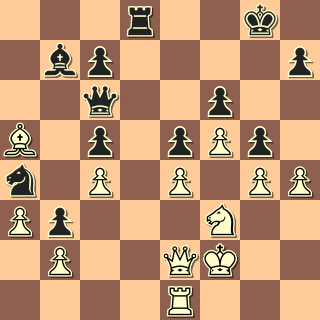 47…h6? (Naka has a chance to again play the winning move, but backs down, again, with this move, content to settle for a draw. SF shows, (47… Qxe4 48. Qxe4 Bxe4 49. Bxc7 Rd7 50. Rxe4 Nxb2 51. Nxe5 Nd1+ 52. Ke1 fxe5 53. Bxe5 gxh4 54. Re2 Rd3 55. Rh2 Nc3 56. Bxc3 Rxc3 57. Rb2 Kg7 58. g5 h3 59. Kd1 Rg3 60. a4 Rg1+ 61. Ke2)
48. hxg5 hxg5 49. Kg3 Rd7 50. Qh2 Rh7 51. Qd2 Rd7 52. Qh2 Rh7 53. Qd2 ½-½