Some time ago I received an email from an older, obviously disgruntled, Chess player who asked why I did not write about what the influx of so many children has done to tournament Chess. "They are noisy and disruptive," he wrote, "and Chess is no longer taken seriously because of it." He enclosed a picture, which prompted his words, adding, "How would you like to sit across the board from THIS for HOURS!"
I have given his email serious thought for quite sometime. I recalled seeing the picture somewhere, but for the life of me cannot recall where…
I thought about something one legendary Georgia Chess player said years ago. He was gearing up for some scholastic event I thought was the Georgia High School championships, knowing he was into the HS thing 'back in the day'. "What'cha talking about Mike," he said, "by the time they get to High School they've stopped playing Chess. Junior High is where it's happening!" This caused me to reflect upon the time Neal Harris asked me to coach a group of middle school children in 2006. Neal had taught them the basics and they seemed to be quite serious. Chess was only one of the activities in which they participated, but they took Chess seriously. They did not wear funny hats, but like all children they liked to have some fun. Several days later I sent the man a nice email telling him about growing up at a Boys Club, and later earning a collage scholarship to work at that same Boys Club. I mentioned that one of the attractions of the Boys Club was that it was a place to go have some FUN, and that I never forgot that fact while working around the younger boys. I enclosed this picture, writing, "I hope I never grow too old to have a little fun."
Jacob Crofts (left) and Lane Erickson (right) dressed in their chess best for Halloween and round two of the TNM, pose for the camera, while Frank Bannan takes a break from his blitz game to check them out. This photo was taken in the Chess Room Annex, where a giant photograph of Mikhail Tal (partly seen in the photograph) is hung. (Photo: Laura Sheppard)
http://www.chessclub.org/news.php?n=805
I've yet to hear from him again…
After the previous LOTS I received an email from Gene Nix, who had read the post. It began, "Thanks for the kind comments on my contest with Randall." It got better from there…"This was only my second LOTS, and obviously I've been missing out. Many children wearing animal hats (a few adults too), lucky plushy toys at the chess boards, and a festival atmosphere. As a school teacher I often scowl at kids always on their electronic distraction devices, so it's good to see young people involved in an engrossing mental and tactile game. Of course one must accept gracefully being outplayed by said youngsters."
"…a festival atmosphere." I like that phrase immensely! Most people, even an old curmudgeon, will gravitate towards "a festival atmosphere." If Wilder Wadford is fostering a "festive atmosphere at the Land of the Sky the number of players do not matter, for the Wild Man has done his job! It made me lament the fact that I could not make it again this year, and I vowed that if still alive next year I will make it to the Land of the Sky, as we say in the South, "Creek willing and the Lord don't rise." Who knows, maybe I will find the right hat to wear next year…and maybe you reading this will find the right hat to wear next year and we will have started a MOVEMENT! I know Wilder will read this, so I propose that next year the name be changed to the Land of the Sky Chess Festival!
I have also given much thought to "community involvement." The "community" is not limited to the businesses in and around Asheville, though it would be nice if some younger Ashevilleians were to spend the next year talking with business types about some kind of sponsorship for the LOTS Chess Festival. "Community" also means US, as in ME and YOU. I will, therefore, put my money where my mouth is and make a pledge to the 2019 LOTS Chess Festival. I will donate a book, a brand spanking new book, to be given away by drawing before each and every round next year. All one has to do to be entered in the drawing is to be paired for the upcoming round. Withdraw and you are not entered!
Gene also wrote, "Life Master Klaus Pohl, the Old Gray Wolf, fared poorly in the top section, but took second place behind only Alexander Ivanov in Saturday morning's blitz tourney."
I would like to humbly suggest, Wilder, that you limit the LOTS Chess Festival to only FOUR rounds, in order to have a speed tournament Friday evening before the event so all can participate. Four rounds will make it much more difficult for top players to make a quick buddy-buddy, draw, as every half point will COUNT!
If you are reading this YOU are a member of the "community," and maybe you have an idea you would like to share. If so, leave a comment. Maybe YOU will pledge to get just one more player to come next year. If so, you have done your part. If EVERYONE did this then Wonderful Wilder Wadford could actually RAISE the prize fund! You can start by sending an email with a link to this post to just one player you know, asking them to pass it forward.
What'cha waiting for?
Now, some CHESS! Gene was nice enough to send me a couple of games he annotated, with the help of what he calls the "clanking digital monster." Check it out: "The clanking digital monster says I missed a win late in the endgame when we both had under a minute remaining, but the details included allowing an unthinkable, but apparently not uncomputable, pawn-romp that involved the other fellow promoting first. Unthinkable."
The complete Nix vs Ferguson game can be found in the previous post.
We will begin with the position after 52 Be4: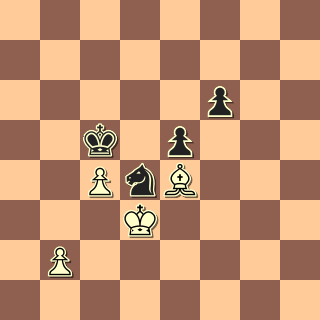 Black plays 52…Ne6?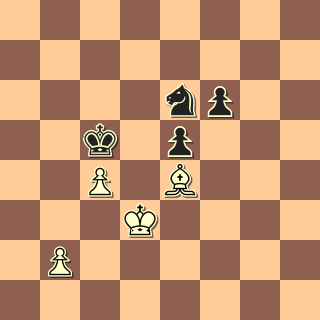 Gene then played 53 Bf5? missing the move of the "clanking digital monster" (He does not attach a name to the CDM) 53 Kc3!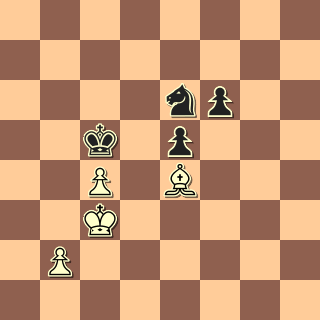 There follows:
53…Nd4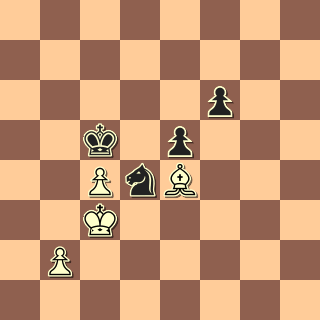 54 b4+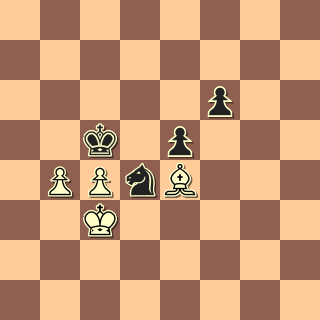 54…Kd6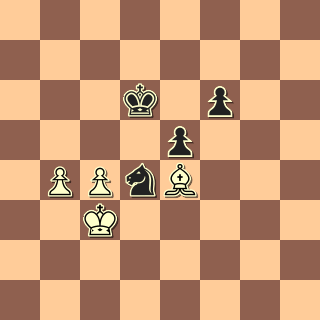 55 c5+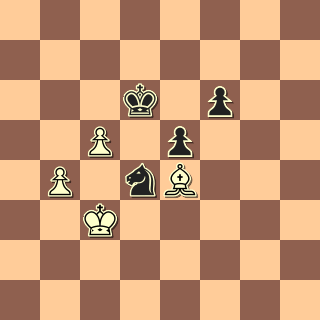 55…Ke7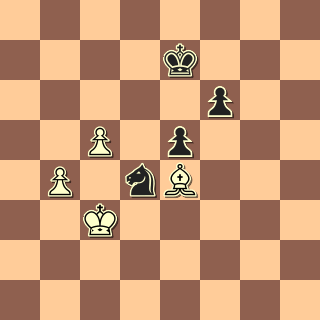 56 Kc4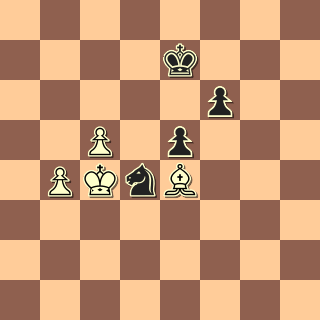 56…f5
57 Bd3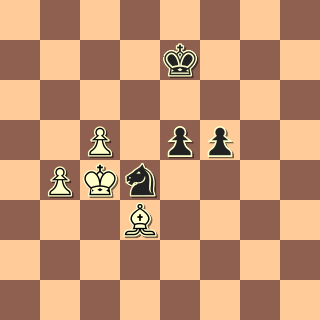 57…f4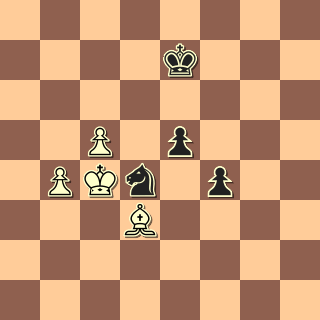 58 b5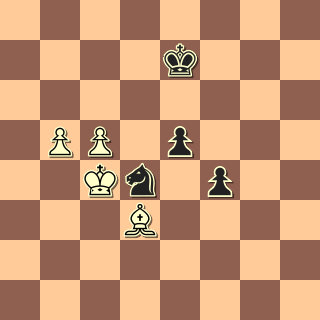 58…f3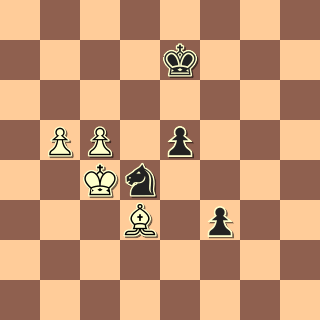 59 b6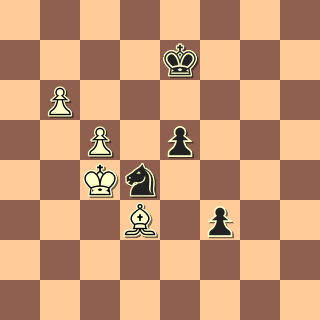 59…Nc6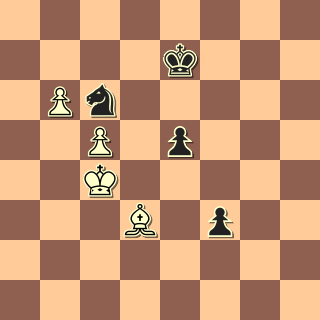 60 Be4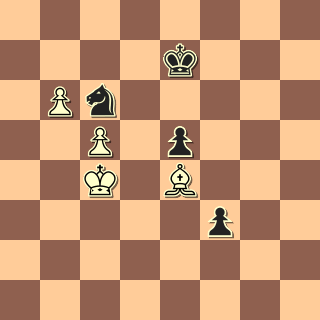 60…f2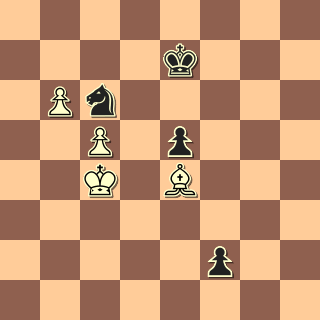 61 Bg2 (Gene writes: "One can always spot the computer analysis. What live human could allow this pawn-scamper with under a minute on the clocks?")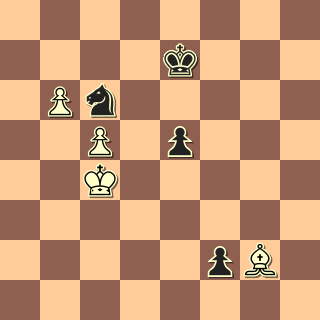 61…e4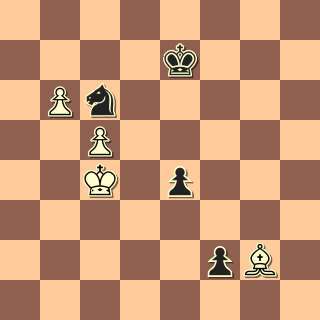 62 Kd5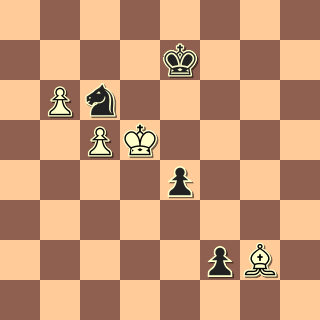 62…e3
63 Kxc6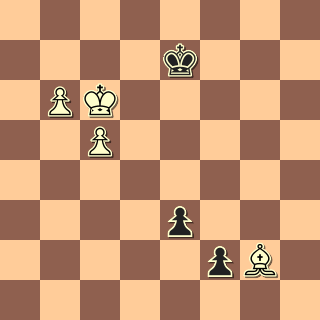 63…e2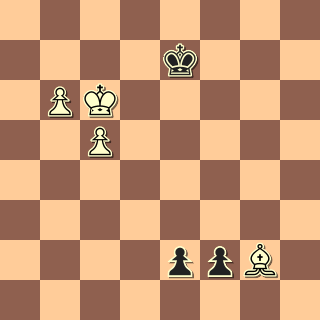 64 b7
64…f1=Q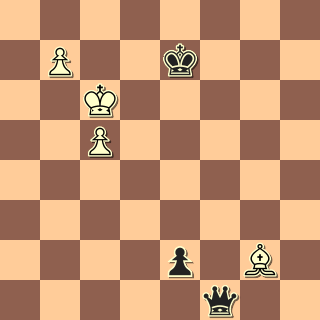 65 Bxf1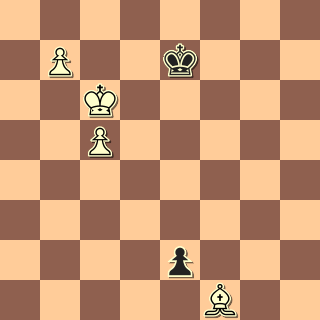 65…exf1=Q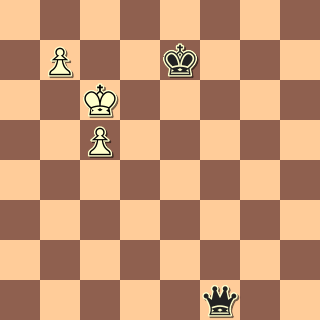 66 b8=Q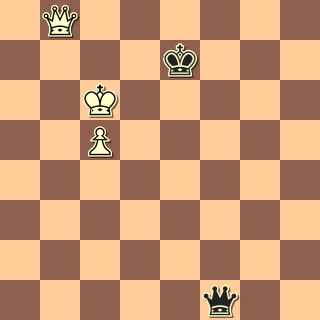 66…Qg2+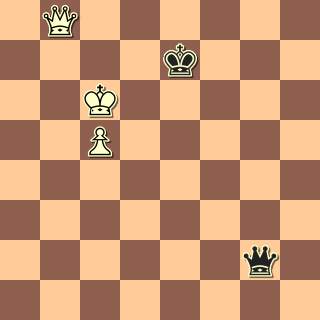 67 Kc7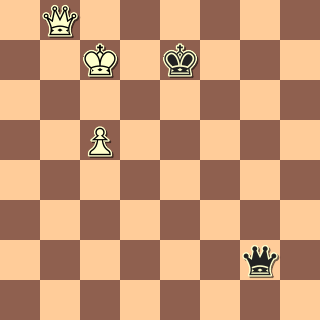 67…Qh2+
68 Kb7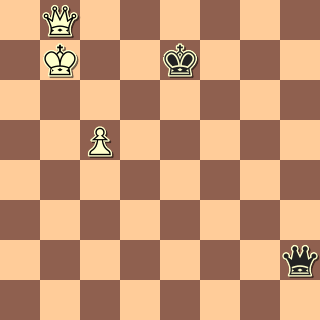 68…Qb2+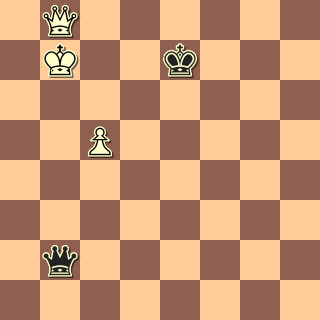 69 Ka8
69…Qc2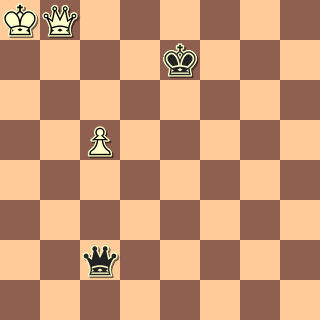 70 Qb7+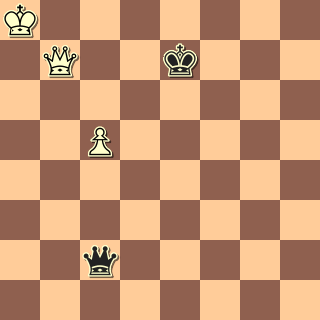 70…Kf6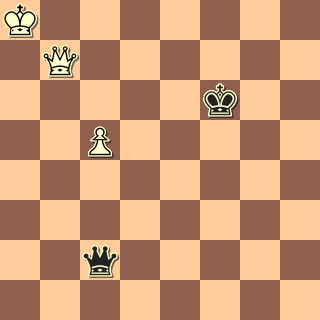 71 c6 +-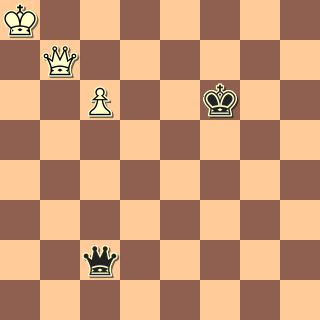 Hard to believe Gene missed this line…