Congratulations are in order for GM Aleksandr Lenderman
on his outstanding performance in winning the 2021 US Open with an almost perfect score. Alek is small of stature but big of heart. The following was fired at the AW, scoring a direct hit I might add, by an impeccable source, a gentleman, and scholar, in addition to being a USCF pooh-bah for decades, Michael Mulford, aka, Mulfish on the USCF Forum.
"I'm watching the USO broadcast now, but mostly following Lenderman's game. A word about him. He's a Castle instructor and one of the nicest guys you'll ever meet. I've had a few pleasant chats with him. When he teaches, he usually goes over GM games. Sometimes he was a participant, but in those cases he usually chooses games he lost. He's the most humble GM I know. Last night, he won a long game to go 8-0. I don't know when it finished. What I do know is that on Facebook he sent me birthday greetings at about 2-3 am his time. But right after clinching a tie for first, this guy gets on Facebook, sees it's my birthday and posts birthday greetings on my page? What other GM would do that? Yeah, I'm rooting for him. I'd love to see him go 9-0, but I would think he'd take a draw at any time if offered. Since his opponent needs a win to tie for first, I don't think you'll see any Berlin draws or Double Bongclouds."
I, too, was following the Gledura vs Lenderman game, but another game vied for my attention, but more on that game later…This post concerns GM Lenderman, who will be playing in the US Championship this year, if it is held. This is a wonderful thing because Alex was shafted by the USCF in 2015. The following was posted on this blog many years ago concerning GM Lenderman not being invited to the US Championship.
Post: #289601 by sunmaid on Wed Feb 04, 2015 10:58 pm
Last year Kamsky, Akobian and Lenderman tied for first place at the US championship and it was only through a very unfair playoff system that Gata Kamsky was ultimately crowned champion. Since Kamsky and Akobian are in, I think it would have been a wise decision to give the wild card entry to Alex Lenderman. Sam Sevian is an exciting young player, but he will get his chance in many years to come to play in this tournament.
http://www.uschess.org/forums/viewtopic.php&f=24&t=21044
I wrote the following on that post: It is a travesty that one of the players who TIED FOR FIRST PLACE last year is not included in the field this year. This brings SHAME on all involved with the tournament, and especially on the pooh-bahs of the USCF, who obviously have no shame. (https://xpertchesslessons.wordpress.com/2015/03/22/dark-side-of-the-2015-us-chess-championship/)
Dark Side of the 2015 US Chess Championship was posted March 22, 2015. In a wonderful synchronicity, exactly three years later this was posted on the AW: Alek Lenderman Plays The Bird
(https://xpertchesslessons.wordpress.com/2018/03/22/alek-lenderman-plays-the-bird/)
GM Benjamin Gledura (2721)
vs GM Aleksandr Lenderman (2703)
2021 US Open
8/8 2021
C01 French, exchange variation
1.e4 e6 2.d4 d5 3.exd5 exd5 4.Nf3 Nf6 5.Bd3 Bd6 6.Qe2+ Be7 7.O-O O-O 8.Re1 Re8 9.Bg5 Be6 10.Nbd2 h6 11.Bh4 Nc6 12.Bb5 Bd7 13.Bxc6 Bxc6 14.Ne5 Bd7 15.Qf3 Be6 16.c3 c6 17.Ng6 Bd6 18.Bxf6 Qxf6 19.Qxf6 gxf6 20.Nh4 f5 21.Re2 f6 22.Rae1 Kf7 23.Nb3 b6 24.Nc1 c5 25.dxc5 bxc5 26.Nd3 f4 27.g3 fxg3 28.hxg3 a5 29.a3 a4 30.Ng2 Bf5 31.Rxe8 Rxe8 32.Rxe8 Kxe8 33.Ngf4 Kd7 34.Kf1 1/2-1/2
The question I would like you to ask yourself is, "What if Chess were like the ancient oriental game of Wei Chi, or as is more popularly known in the English speaking world, Go, and the offer of a draw were anathema?" The game would have been played to a conclusion, with White soon resigning, and Alek Lenderman would have won the US Open with a Bobby Fischer like score of 9-0. This would have garnered headlines all over the world, and not just on Chess websites, and publicity is good, GOOD! Just sayin'… Instead this was the lead at Chessbase early today while having my morning cuppa Joe, and it is still the lead tonight before bedtime: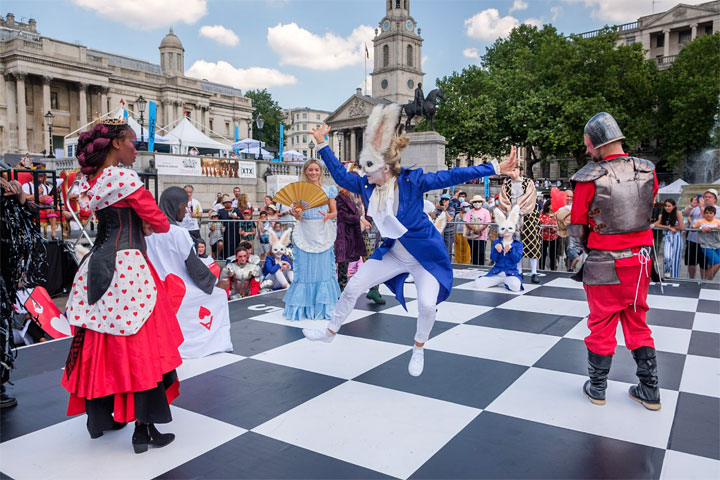 YIPEE!