It was on this day in 49 B.C.E. that Julius Caesar crossed the Rubicon River and launched a civil war.
In 50 B.C.E. the Senate announced that Caesar's term as a governor had ended and demanded that he disband his army and return to Rome. According to Roman law, if a general was accompanied by a standing army when he entered the official Roman Republic from one of the Roman provinces he would be considered a traitor. Caesar was afraid that if he obeyed Pompey's orders and disbanded his army he would be prosecuted by the Senate for abusing power in the past and would have no one to defend him.
The Rubicon River formed the border between Gaul and the Roman Republic. According to legend, even when Caesar got to the river with his army, he had still not made up his mind about what he would do. With the famous phrase Alea iacta est, or "the die is cast," he decided to cross.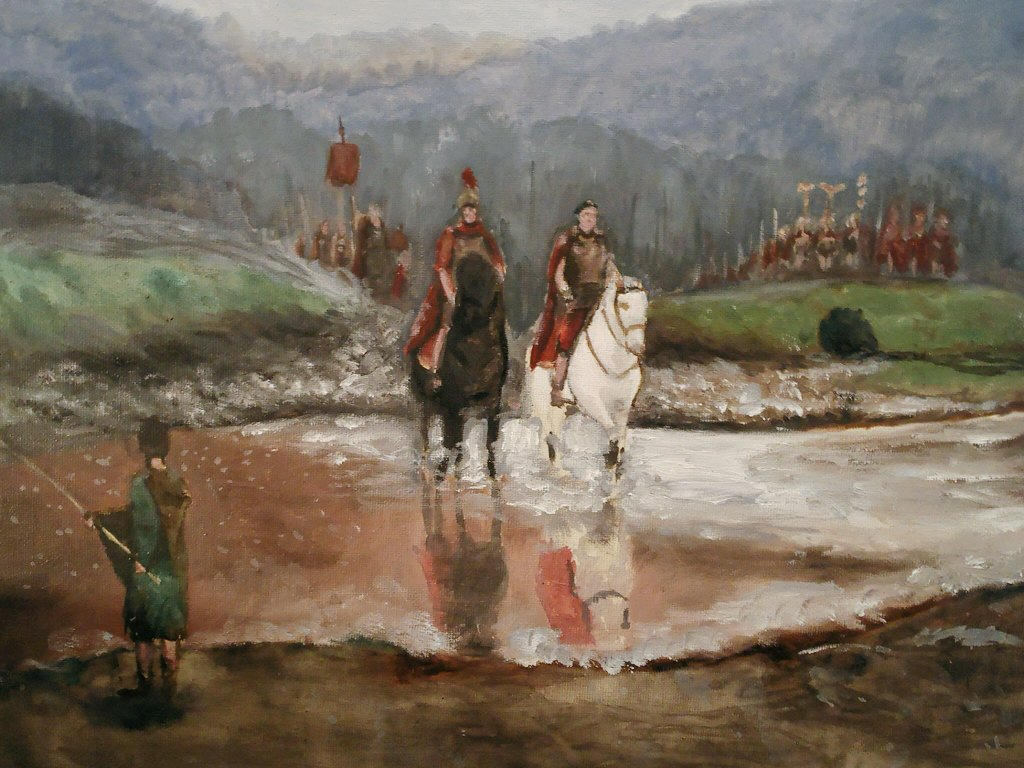 With Caesar's crossing of the Rubicon, the Roman Republic was thrown into civil war. Eventually, Caesar defeated Pompey and his allies and emerged as the winner. As emperor, he made some radical changes in government. He decreased the power of the provinces and centralized power in Rome. He eliminated much of the government's debt, disbanded powerful guilds, and rewarded people for having children in an effort to increase Rome's population. He set a term limit on governors, launched a huge rebuilding effort, established a police force, and modified the calendar. He made himself incredibly powerful and demanded that everyone revere him as part-deity.
Despite all he did and his huge legacy, Caesar's reign as emperor was short. He crossed the Rubicon in 49 B.C.E. and he was assassinated in 44 B.C.E.
Because of Caesar, the phrase "crossing the Rubicon" has entered popular culture, meaning "past the point of no return," and it is used in all sorts of contexts.(https://www.garrisonkeillor.com/radio/twa-the-writers-almanac-for-january-10-2022/)