GM Akshat Chandra 2483 (USA)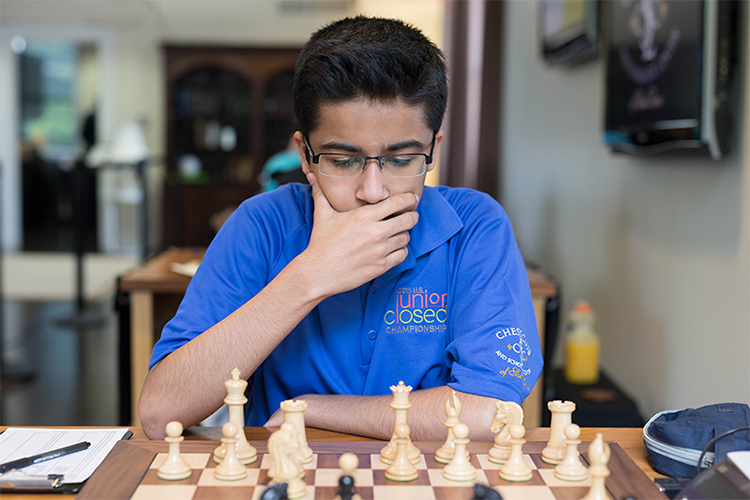 vs Bryan Xie 2124 (USA)
U.S. Masters 2021 round 01
B40 Sicilian defence
e4 c5 2. Nf3 e6 3. g3 Nc6 4. Bg2 Nf6 5. Qe2 e5 6. O-O Be7 7. Nc3 d6 8. Nd5 Be6 9. Ng5 Bxd5 10. exd5 Nb4 11. c3 Na6 12. d4 Nd7 13. h4 O-O 14. dxe5 Nxe5 15. Qc2 Bxg5 16. hxg5 c4 17. Be4 g6 18. f4 Nd7 19. Be3 Re8 20. Bd4 Nac5 21. Bf3 f6 22. gxf6 Nxf6 23. Rae1 Rxe1 24. Rxe1 Qf8 25. b4 cxb3 26. axb3 Re8 27. Rxe8 Nxe8 28. b4 Nd7 29. Bg4 Qe7 30. Be6+ Kf8 31. Qa4 Ndf6 32. Qxa7 Ne4 33. Kg2 Qc7 34. Qa1 Qc4 35. Qe1 Qd3 36. Bg4 Nc7 37. Be2 Qc2 38. c4 b5 39. cxb5 Nxb5 40. Bf2 Nc7 41. Bf3 Nf6 42. Qa1 Kf7 43. Qa7 Ne4 44. Qd4 Nd2 45. Be2 Qa2 46. b5 Nxd5 47. Be1 Nb1 48. Qc4 Qa8 49. Bf3 1-0
https://www.chessbomb.com/arena/2021-us-masters/01-Chandra_Akshat-Xie_Bryan
1.e4 c5 2. Nf3 e6 3. g3 Nc6 4. Bg2 Nf6 5. Qe2
Is that a beautiful position, or what?!
(This has been the most often played move with 1074 games in the CBDB, and it is the move favored by Fritz, but SF 14 @depth 47 plays the second most often move chosen by humans in 811 games, 5 d3. Then there is SF 141220 @depth 61 preference for 3 Nc3, the third in number of game with 312) 5…e5 6. O-O (Although SF 12 & 13, going deep into the 50s, would castle, as have 263 players in the CBDB, SF 14 @depth 43 shows 6 Nc3, a move having been played in only 7 previous games!) 6…Be7 7. Nc3 d6 8. Nd5 (Nd1 SF) 8…Be6 9. Ng5 (SF 12 @depth 44 plays the game move, but @depth 50 plays 9 c4, a TN. The same program going one fathom deeper decides upon 9 Nh4, another Theoretical Novelty) 9… Bxd5 10. exd5 Nb4? (10…Nd4 is a superior move because it threatens the Queen. This move is so weak that at the top level of the Royal Game white now has a winning advantage) 11. c3 (11 d4 could, and probably should be played immediately) 11…Na6 12. d4 Nd7?
The last move made by black was a horrendous, game losing move. Black has yet to complete development and he just moved an already developed piece for the second time and did not improve the position of the piece. Granted, the Knight is attacked twice, but White now has a game ending shot.
13. h4? (Can you find the move the young GM missed?) 13…O-O 14. dxe5 Nxe5 15. Qc2 Bxg5 16. hxg5 c4 17. Be4 g6 18. f4
18…Nd7? (He moved the dancing and prancing knight again!)
Be3 Re8 20. Bd4 Nac5 21. Bf3 f6 22. gxf6 Nxf6 23. Rae1 Rxe1 24. Rxe1 Qf8 25. b4 cxb3 26. axb3 Re8 27. Rxe8 Nxe8 28. b4 Nd7 29. Bg4 Qe7 30. Be6+ Kf8 31. Qa4 Ndf6 32. Qxa7 Ne4 33. Kg2 Qc7 34. Qa1 Qc4 35. Qe1 Qd3 36. Bg4 Nc7 37. Be2 Qc2 38. c4 b5 39. cxb5 Nxb5 40. Bf2 Nc7 41. Bf3 Nf6 42. Qa1 Kf7 43. Qa7 Ne4 44. Qd4 Nd2 45. Be2 Qa2 46. b5 Nxd5 47. Be1 Nb1 48. Qc4 Qa8 49. Bf3 1-0
https://www.chessbomb.com/arena/2021-us-masters/01-Chandra_Akshat-Xie_Bryan
Murali Karthikeyan (2426) vs Adam Horvath (2491)
Event: 8th Vezerkepzo GM 2021
Site: Budapest HUN Date: 08/26/2021
Round: 6.5
ECO: B40 Sicilian defence
1.e4 c5 2.Nf3 e6 3.g3 Nc6 4.Bg2 Nf6 5.Qe2 e5 6.O-O Be7 7.Nc3 d6 8.Nd5 Be6 9.Ne1 O-O 10.c3 Re8 11.Nc2 Bf8 12.d3 g6 13.Bg5 Bxd5 14.exd5 Nb8 15.f4 Nbd7 16.f5 h6 17.Bxf6 Nxf6 18.fxg6 fxg6 19.Ne3 h5 20.Bh3 Bh6 21.Be6+ Kg7 22.Rf3 Rf8 23.Raf1 b5 24.R1f2 a6 25.Nc2 c4 26.Kg2 cxd3 27.Rxd3 Qe7 28.Nb4 Nh7 29.Nc6 Qc7 30.h4 Rxf2+ 31.Qxf2 Rf8 32.Rf3 Nf6 33.Qe2 Re8 34.Rf1 Rf8 35.Nb4 Qb6 36.Nd3 Kh7 37.Nf2 Kh8 38.Ne4 Nxe4 39.Rxf8+ Bxf8 40.Qxe4 Kg7 41.g4 hxg4 42.h5 gxh5 43.Qf5 Qd8 44.Qxh5 Qf6 45.Qxg4+ Qg6 46.Kf3 Qxg4+ 47.Bxg4 Kf6 48.b4 Bh6 49.Ke4 Bd2 50.Kd3 Be1 51.Bc8 e4+ 52.Kc2 e3 53.Bxa6 e2 54.Bxb5 Bxc3 55.Bxe2 Bxb4 56.Kb3 Bc5 57.Kc4 Ke7 58.a3 Bxa3 ½-½
https://www.365chess.com/game.php?back=1&gid=4302440&m=19
Kirill Shubin (2429) vs Evgeny A Levin (2505)
Event: 93rd ch-St Petersburg
Site: St Petersburg RUS Date: 09/29/2020
Round: 8.3
ECO: B40 Sicilian defence
1.e4 c5 2.Nf3 e6 3.g3 Nc6 4.Bg2 Nf6 5.Qe2 e5 6.O-O Be7 7.Nc3 d6 8.Nd5 Be6 9.Ne1 Nd4 10.Qd1 Nxd5 11.exd5 Bd7 12.c3 Nf5 13.d3 O-O 14.f4 exf4 15.Bxf4 Bg5 16.Qd2 Bxf4 17.Qxf4 Qb6 18.Rf2 Ne7 19.Qd2 Rae8 20.b3 Qc7 21.Nc2 Ng6 22.Ne3 Ne5 23.Be4 Qd8 24.Bf5 g6 25.Bxd7 Qxd7 26.Rf4 f5 27.Raf1 Qe7 28.R4f2 Qg5 29.d4 cxd4 30.Qxd4 b6 31.Qd2 Qe7 32.Re1 Qg5 33.Ref1 Qe7 34.Re1 Qg5 35.Ref1 Qe7 ½-½
https://www.365chess.com/game.php?back=1&gid=4273103&m=19