Grandmasters Larry Christiansen and Gregory Kaidanov tied for first in the US Senior Chess Championship yesterday, each finishing with six and a half points out of the nine rounds played.
Larry was undefeated, winning four games while drawing five. Gregory won five games, drew three and lost, according to the broadcast, to long time nemesis, the Yerminator, Alex Yermolinsky.
Inquiring minds want to know so I went to 365Chess.com learning Kaidanov actually had a one game advantage over the Yerminator, four wins to three until the 2021 US Senior. The victory at the 2021 US Senior tied their lifetime score at four wins apiece. Yermo defeated the Kentucky Lion in the 2019, and 2020 US Senior Championships, so the win in the 2021 makes it three in a row, so maybe that is to what the announcers were referring on the broadcast. Speaking of the broadcast, while watching during the tournament, with coverage of all three tournaments being played simultaneously, I never saw the number of viewers exceed 400 until the last round when it hovered in the low to mid 400s until later finally exceeding 500. One of the highlights of the broadcast were the stories told by Yasser Seirawan.
One concerned being at a SuperNational when a huge giant of a man wearing a cowboy outfit which included a ten gallon hat, stepped up and as Yaz looked up the man said (I am paraphrasing) "We have a problem." The man stepped aside and his young son, who was dressed in exactly the same outfit, was crying after having lost all four games. Yasser brought the boy near and said, "To get here you had to compete against one hundred other players all of whom wanted to be here in your place. That means you had to be a champion just to get here." That mollified the boy, at least to the point he stopped crying…And I was thinking, "There's no crying in Chess, or Baseball!"

The next story involved GM Vassily Ivanchuk
and former World Champion Garry Kasparov
at a tournament in Wijk aan Zee. Ivanchuck had lost to Vladimir Kramnik
and Yasser could hear them reviewing the game without a board. Garry pointed out where Chucky had gone wrong and Yasser said something about Garry having "bucked up" Ivanchuk to the point he left a with his chest puffed out and a much better demeanor.
About this time I looked over at the chat and copied this:
KK91​ Yasser stories are amazing 😻
Shadowside​ White can take a draw any time in this game.
Rob Erskine ​Jen is not forgotten.😍
MrBeaks​ Yasser should write a book about his stories
I watched the interview with Larry C. after the game with interest. It was obvious he was exhausted, which is only natural because the man is sixty five years young. When asked what he was going to do to prepare for the playoff Larry said, "I'm going to get a good night's sleep." I was reminded of something Bobby Fischer
once said about a good night's sleep being better than any theory. Being about six years older than Larry I can tell you from experience that as one ages obtaining that good night's sleep becomes more difficult. Before drifting off to the land of nod last night my mind was still thinking about the ridiculous playoff for first place the next day. Larry said he thought it would be two game 30 plus some increment before an Armageddon game, which he thought would be "six to five" before being corrected by broadcast journalist Sharon Carpenter. When informed the time control would be "5 to 4" an obviously exhausted Larry C. could only shake his head…
From Chessbase this morning I learned: "With the tie for first, Kaidanov and Christiansen will play a rapid playoff tiebreak tomorrow for the title, consisting of a two game 10+2 (delay) match, followed by an Armageddon Game in the event of another tie." (https://en.chessbase.com/post/u-s-championships-niemann-and-wang-win-christiansen-and-kaidanov-have-to-play-tiebreak)
Has the Chess world gone mad? This is an Armageddon Abomination! (This was to be the title for this post until reading a review of a new book by Martin Sherwin with the title of the post seen above (https://www.thenation.com/article/culture/macmillan-war-sherwin-cuban-crisis-review/)
After nine rounds of fighting Chess over ten days why are these two Seniors being FORCED to play several SPEED games in order to call only one of them Champion? It is RIDICULOUS and ABSURD! Who foisted this ABOMINATION upon the world of Chess? Who is responsible for making these two Senior players jump through hoops like trained seals? Why has this become accepted by the Chess community? Since this SPECTACLE is taking place at the St. Louis Chess Campus (The name keeps changing) which was built by Rex Sinquefield, and since Rex is a fellow Senior, he must be ultimately responsible for the FREAK SHOW! When one has billions of inflated dollars people listen and do as suggested. I therefore call on Rex Sinquefield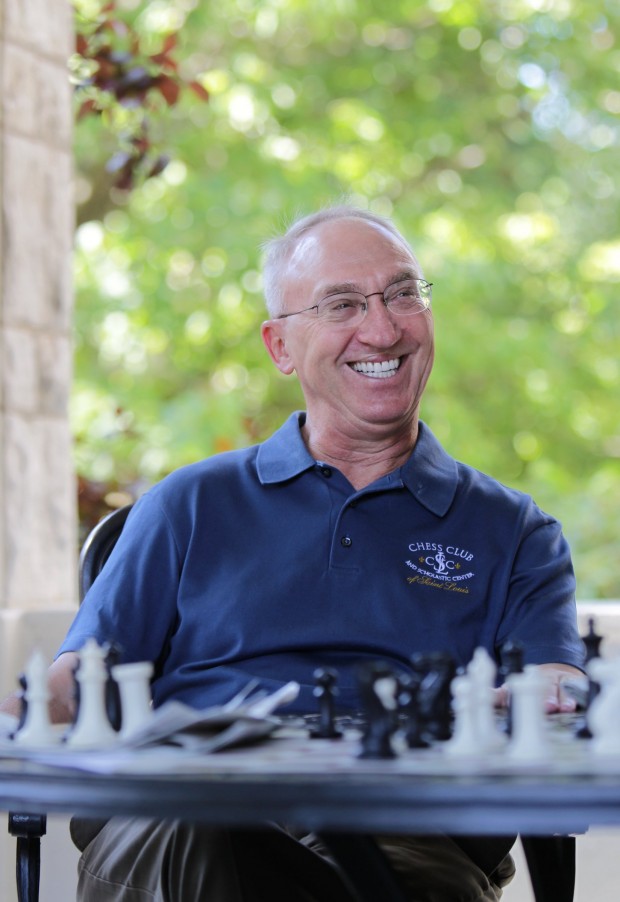 to put an end to this madness. If two, or more, players tie for first in any Chess event they should be declared Co-Champions.