IM Boris Kogan vs Expert David Spinks
Southern Congress
Atlanta, Georgia 1987
Round 1 Board 1
A50 Queen's pawn game
1. d4 Nf6 2. c4 c6 3. Nf3 d5 4. Qc2 g6 5. Bf4 Bf5 6. Qb3 Qb6 7. c5 Qxb3 8. axb3 Nbd7 9. b4 Bg7 10. Nc3 Ne4 11. h3 Nxc3 12. bxc3 O-O 13. e3 a6 14. Be2 Rfe8 15. O-O Nf8 16. c4 dxc4 17. Bxc4 Be6 18. Nd2 Bd5 19. Bxd5 cxd5 20. Nb3 e5 21. Bxe5 Bxe5 22. dxe5 Rxe5 23. b5 Ree8 24. bxa6 bxa6 25. Rfd1 Red8 26. Na5 Ne6 27. Rac1 Nc7 28. Nb7 Re8 29. Rd4 Re6 30. Nd6 Rb8 31. Rdd1 Kg7 32. Rb1 Rxb1 33. Rxb1 Ne8 34. Rb6 Nxd6 35. cxd6 Kf8 36. Rxa6 Ke8 37. g4 g5 38. Kg2 Kd7 39. h4 h6 40. Ra7+ Ke8 41. Ra8+ Kd7 42. Kg3 Rf6 (Loses a pawn. 42…Rxd6 offers stiffer resistance.) 43. hxg5 hxg5 44. Rg8 Rg6 (The king+pawn ending is lost, although the R+p ending is almost as hopeless) 45. Rxg6 fxg6 46. Kf3 Kxd6 47. Ke2 Ke6 48. Kd3 Ke5 49. f3 Ke6 50. Kd4 Kd6 51. e4 dxe4 52. fxe4 1-0
1 d4 Nf6 2 c4 c6 3 Nf3 d5 4. Qc2 (Komodo plays 4 Nc3, the most often played move according to the CBDB. Stockfish prefers 4 e3, played a little less than half as many times as 4 Nc3) 4…g6 (Although 4…d6 and 4…dxc4 have been played far more than the game move, both SF & Komodo choose the move played by Spinks) 5 Bf4 (The most often move seen in practice, but Komodo prefers 5 Nc3) 5…Bf5 (Deep Fritz @depth 28 plays this move, but SF @depth 55 plays 5…dxc4) 6 Qb3 Qb6 7 c5 (SF plays the most often played move, 7 e3) 7…Qxb3 8 axb3 Nbd7 (Both SF & Komodo prefer 8…Na6) 9 b4 (Komodo & Houdini play 9 Nc3) 9…Bg7 (Komodo plays this but SF produces a TN with 9…Nh5) 10 Nc3 (Although SF 7 plays the game move SF 10 chooses 10 Nbd2. The only game found saw Lein play 10 h3 versus Smyslov:
Anatoly Lein (2510) vs Vassily Smyslov (2580)
Hastings 1981
D11 Queen's Gambit Declined Slav, 3.Nf3
1.d4 d5 2.c4 c6 3.Nf3 Nf6 4.Qc2 g6 5.Bf4 Bf5 6.Qb3 Qb6 7.c5 Qxb3 8.axb3 Nbd7 9.b4 Bg7 10.h3 Bxb1 11.Rxb1 O-O 12.e3 a6 13.Bd3 Ne8 14.Bh2 Rc8 15.g4 Nc7 16.g5 Rfe8 17.Kd2 e5 18.Nxe5 Nxe5 19.dxe5 Bxe5 20.f4 Bg7 21.h4 ½-½
https://www.365chess.com/opening.php?m=18&n=1968792&ms=d4.Nf6.c4.c6.Nf3.d5.Qc2.g6.Bf4.Bf5.Qb3.Qb6.c5.Qxb3.axb3.Nbd7.b4&ns=7.14.11.299.896.63.857.1027.1419.20272.16783.20273.29575.32313.29576.166619.1968792
After spending far too much time analyzing the game while making notes, the decision was made to surf over to 365Chess and utilize the free Stockfish engine to correct the "Beeg Mistakes" made in analysis. Frankly, after burning the midnight oil, my analysis was far better than expected, excepting for the "HH" moves, as in Horrendous Howlers, from which you will be spared.
1. d4 Nf6 2. c4 c6 3. Nf3 d5 4. Qc2 g6 5. Bf4 Bf5 6. Qb3 Qb6 7. c5 Qxb3 8. axb3 Nbd7 9. b4 Bg7 10. Nc3 Ne4 11. h3 Nxc3 12. bxc3 O-O 13. e3 a6 14. Be2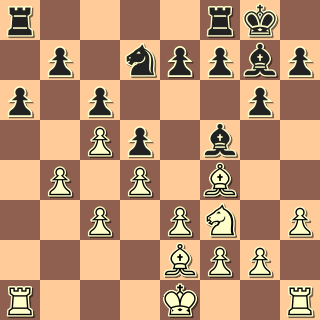 14…Rfe8 (14…Be4) 15. O-O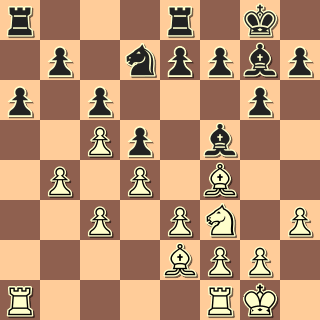 15…Nf8 (15…h5) 16. c4 (16 Bh2; or 16 g4 or maybe 16 Rfc1) dxc4 17. Bxc4 Be6 18. Nd2 (18 Bd3) 18…Bd5 (18…Bxc4 19 Nxc4 Ne6) 19. Bxd5 cxd5 20. Nb3 (20 Rfc1)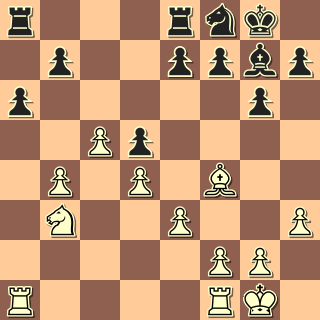 20… e5 (20…Ne6) 21. Bxe5 Bxe5 22. dxe5 Rxe5 23. b5 Ree8 24. bxa6 (24 b6 or c6) bxa6 25. Rfd1 Red8 (25…Reb8) 26. Na5 Ne6 (26 Nd4 or Ra5) 27. Rac1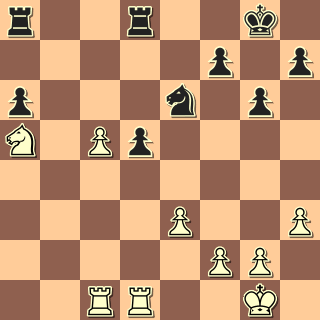 27…Nc7 (27…Nc7 is not the best as simply improving the position of the King with 27…Kf8 is better)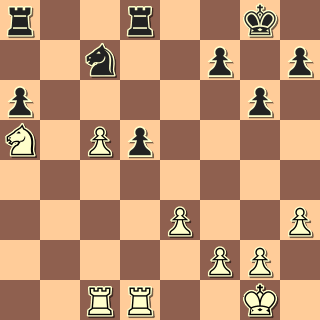 28. Nb7 (28 c6 because passed pawns must be pushed!) 28…Re8 (28…Rdb8) 29. Rd4 Re6 (29…Re4 or Kg7) 30. Nd6 Rb8 31. Rdd1 (31 g4) Kg7 (Maybe 31…Kf8 or Rb2…) 32. Rb1 Rxb1 33. Rxb1 Ne8 34. Rb6 Nxd6 35. cxd6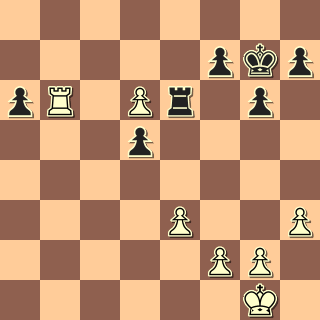 35…Kf8 (35…Re8 36 Rxa6 Rd8) 36. Rxa6 Ke8 37. g4 g5 38. Kg2 Kd7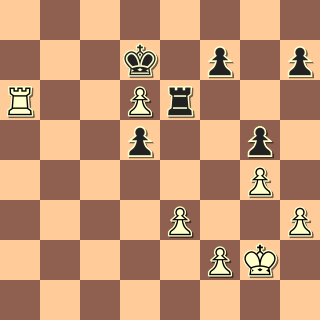 39. h4 (Wonder why Boris did not play 39 Ra7+?) 39…h6 (39…gxh4 is much better…) 40. Ra7+ Ke8 41. Ra8+ Kd7 42. Kg3?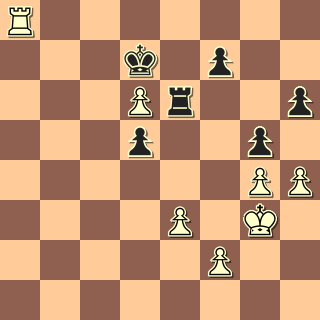 (This is a, as Boris was so fond of saying about one of my moves, "Beeg Mistake." 42 Ra7+ looks like a winner…) 42…Rf6 (This is certainly a really BEEG MISTAKE! David could have possibly drawn the game with 42…Rxd6!) 43. hxg5 (43 Ra7+ is a winner…43 h5 could be better than the move played in the game.) hxg5 44. Rg8
44…Rg6 (Surely 44…Rxd6 is better…) 45. Rxg6 fxg6 46. Kf3 Kxd6 47. Ke2 Ke6 48. Kd3 Ke5 49. f3 Ke6 50. Kd4 Kd6 51. e4 dxe4 52. fxe4 1-0