The Associated Press reports:
Investigators arrested a California train engineer Tuesday after he allegedly derailed a train in a bid to crash into the USNS Mercy,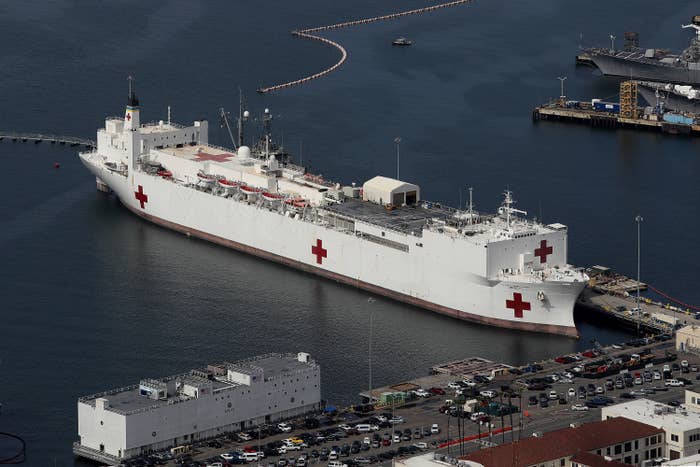 the hospital ship treating non-COVID-19 patients at the Port of Los Angeles to lessen the burden on area hospitals, prosecutors said.
Eduardo Moreno, 44, was expected to appear in court Wednesday for arraignment on train wrecking charges.
Around 1 p.m. Tuesday, Moreno allegedly ran the train at full speed off the end of the tracks near the Navy medical boat, smashing through several concrete and chain barriers, before sliding through a parking lot nearly 250 yards from the Mercy, according to the criminal complaint.
https://www.mlive.com/coronavirus/2020/04/man-believing-coronavirus-conspiracy-theory-details-train-tries-to-ram-navy-hospital-ship.html
The Washington Post reports:
Prosecutors say Moreno was "suspicious of the USNS Mercy," believing officials were lying about its true purpose. He believed "it had an alternate purpose related to covid-19 or a government takeover," they said.
Moreno told detectives he had been "putting the pieces together." He no longer believed "the ship is what they say it's for." He believed "they are segregating us, and it needs to be put in the open," according to the affidavit, which doesn't explain what Moreno might have meant by that.
He was pushing his last train of the day, a cargo bound for Vietnam, when the idea hit him: He could "draw the world's attention" to the USNS Mercy if he derailed the train, and then "people could see for themselves," according to the affidavit. He could "wake people up."
Moreno faces 20 years in prison.
Conspiracy Crackpot Tries To Crash Train Into Hospital Ship To "Wake People Up To Government Takeover"