Grandmaster Alonso Zapata 
is a professional Chess player. He settled in Atlanta seven years ago, coming from Columbia, where he won the Colombian Chess championship eight times. He has been a GM since 1984. He was born in August 1958 and is, therefore a Senior. Alonso Zapata comes to play Chess.
He has played in all kinds of adverse conditions, including one tournament hosted by Thad Rogers
of American Chess Promotions that has become known as one of the latest "Sweat Box Opens." There was no air conditioning and the conditions were life threatening, but Zapata played, and won the tournament despite the heat and stench emanating from the profusely perspiring players. (https://xpertchesslessons.wordpress.com/2013/06/04/2013-hot-lanta-chess-championship/)
GM Zapata reminds me of IM of GM strength Boris Kogan because he, too, was a professional Chess player. The few times Boris lost in the first round of a tournament he did not withdraw but completed the event, finishing 4-1. He did this because it was his job and he always came to play Chess.
From December 27 through 29, 2019, GM Zapata played in the 49th Atlanta Open, another American Chess Promotions event. He tied for first with NM Matthew Puckett with a score of 4-1, after a second round draw with the up and coming NM Alexander Rutten and a fourth round draw with NM Sanjay Ghatti.
GM Zapata then hit the road traveling to the Charlotte Chess Center to play in the 2020 Charlotte Open, a grueling event of nine rounds played over a five day period from the first to the fifth of January. Because of his age one can question the efficacy of participating in both tournaments. Zapata played in both events because he is a professional Chess player. It is what he is and it is what he does. The GM won five games. Unfortunately, he lost four. There were no draws. He finished in the fifth score group, scoring 5-4. Zapata began with two wins before losing in the third round to the eventual winner of the tournament, IM Brandon Jacobson, young enough to be the grandchild of the GM. One of the most difficult things to do as a Chess player is to come back from a loss. Studies have proven that after the loss of a Chess game the testosterone of a male drops precipitously. This is mitigated somewhat if the next game is the next day, but if there are multiple games in the same day it is a different story. I can recall the time the Ol' Swindler had been on a roll, winning many games in a row from the beginning of a tournament in New York, 'back in the day'. The Legendary Georgia Ironman and I encountered the Swindler sitting alone away from the tournament, and were shocked to learn he had lost the previous round and withdrawn. "What?" exclaimed the Ironman. "You still have a chance to win some big money, Neal." That mattered not to the Swindler because he had lost and simply could not face playing another game that day, or any other, for that matter.
After another win in the next round, versus FM Rohan Talukdar, Zapata the Chess player hit the proverbial wall, losing his next three games. Most Chess players, professional or not, would have withdrawn after the third loss in a row, and no one would have blamed him for withdrawing, but Alonso Zapata is not like most Chess players. Not only did he complete the event but he finished with a flourish by winning his last two games.
My hat is off to Grandmaster Alonso Zapata, who deserves the highest praise. The GM has set a tremendous example for the younger players of Georgia to emulate. The Atlanta area players have been fortunate to have such a fine example residing here and plying his trade. The young up and coming players may not realize it now but they will be much better Chessplayers for simply having been around a man like Alonso Zapata. What a boon he has been for the local Chess community. It is wonderful to have one classy Grandmaster in the Atlanta area. Every player, no matter what age, can learn from Alonso Zapata, just as those of my generation, and younger, learned from IM Boris Kogan. The Grandmaster has shown that it is how you play that matters.
This is the last round game versus Justin Paul,
a Zero born in 2003. The Professional Chess player had to face a Smith-Morra gambit.
2020 Charlotte Open
FM (2249) Justin Paul vs GM Alonso Zapata (2535)
1. e4 c5 2. d4 cxd4 3. c3 dxc3 4. Nxc3 Nc6 5. Nf3 d6 6. Bc4 e6 7. O-O a6 8. Qe2 Be7 9. Rd1 Bd7 10. Bf4 e5 11. Be3 Nf6 12. h3 O-O 13. Bg5 Be6 14. Rac1 Rc8
15. Nd5 Bxd5 16. exd5 Nb8 17. b4 Nbd7 18. Be3 Ne4 19. Nd2 Nxd2 20. Qxd2 f5 21. f4 Bf6 22. Bb3 Rxc1 23. Rxc1 exf4 24. Bxf4 Be5 25. Bg5 Qb6+ 26. Kh1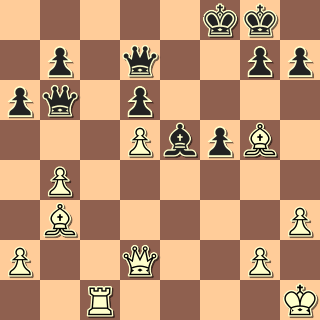 h6? (26…Nf6) 27. Be3 Qd8 28. Bc2 Qh4 29. Rf1 Qg3 30. Bg1 f4 31. Rf3 Qg5 32. Qd3 Nf6 33. Bf2 Qh5 34. Qf5 Kh8 35. Be1 Qxf5 36. Bxf5 g5 37. Rb3 b5 38. Be6 Ne8 39. Bc8 Nc7 40. Bb7 Kg7 41. Bf2 Re8 42. Kg1 Kf6 43. Rb1 Re7 44. Bb6 Ne6 45. Bxa6 Bd4+ 46. Kf1 Bxb6 47. dxe6 Ra7 48. Bxb5 Rxa2 49. Be2 Rc2 50. Bf3 Kxe6 51. b5 Kd7 52. Bc6+ Kc7 53. Re1 Rf2+ 54. Kg1
54…Be3? (54…d5! )55. Kh2 Rd2 56. Bf3 Kb6 57. Re2 Rd4 58. Rb2 d5 59. h4 Rd3 60. hxg5 hxg5 61. Ra2
61…Bc5? (61…d4) 62. Ra8 Kc7 63. Rg8 Be7 64. Rg7 Kd6 65. b6 Rb3 66. Bxd5=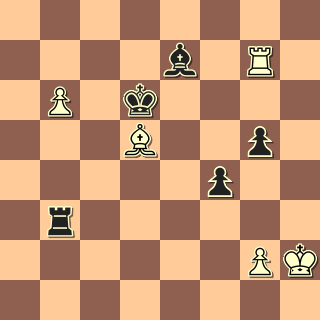 Kxd5 67. Rxe7 Rxb6 68. Rg7 Rh6+ 69. Kg1 Rh5 70. g4 Rh3 71. Rxg5+ Ke4 72. Ra5 Rb3 73. Kf2 Rb2+ 74. Kf1 f3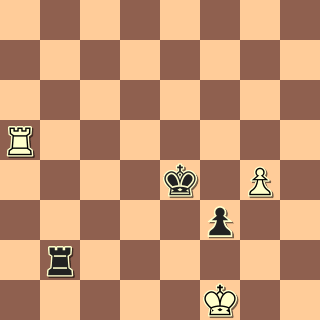 75. Ra8??? (The Zero cracks and tosses away the draw with this horrible blunder) 75…Kf4 76. Rf8+ Kg3 77. Re8 0-1
1 e4 c5 2 d4 cxd4 3 c3 dxc3 4 Nxc3 Nc6 (Far and away the most often played move, but is it the best? Komodo 19 @depth 34 plays the move, but Komodo 13.02 @depth 36 prefers 4…e6. Stockfish 10 @depth 54 plays 4 d6) 5 Nf3 d6 (SF 10 plays this move but Komodo is high on e6, which happens to be the most often played move according to the ChessBaseDataBase) 6 Bc4 e6 (The most often played move and the choice of Stockfish 310519 @depth 53, but SF 10 @depth 53 and Komodo 10 @depth 34 prefer 6…a6) 7. O-O (The most often played move but the SF program running over at the ChessBomb shows a move near and dear to the AW, 7 Qe2!) 7..a6 (7…Nf6 and 7…Be7 are the top two played moves but two different SF engines prefer the third most often played move, 7…a6 8. Qe2! (SF 050519 @depth 46 plays this move but Komodo 13.02 @depth 44 plays 8 Bf4) 8…Be7 (The only one of the top 3 engines listed at the CBDB, Komodo 10, plays 8…b5. The SF engine at ChessBomb shows 8…Nge7 best) 9. Rd1 Bd7 10. Bf4 e5 11. Be3 Nf6 12. h3 (SF 10 plays 12 Nd5) 12…O-O 13. Bg5 Be6 (The only game with 13 Bg5 shown, Senador vs Nanjo below, shows 13…Rc8. SF 10 would play 13 Rac1)
Emmanuel Senador (2380) vs Ryosuke Nanjo (2165)
Kuala Lumpur op 4th 2007
ECO: B21 Sicilian, Smith-Morra gambit, 2…cxd4 3.c3
1.e4 c5 2.d4 cxd4 3.c3 dxc3 4.Nxc3 Nc6 5.Nf3 d6 6.Bc4 e6 7.O-O Be7 8.Qe2 a6 9.Rd1 Bd7 10.Bf4 e5 11.Be3 Nf6 12.h3 O-O 13.Bg5 Rc8 14.Bxf6 Bxf6 15.Nd5 Be6 16.Rac1 Bg5 17.Rc3 Bh6 18.a3 b5 19.Ba2 Ne7 20.Rxc8 Bxc8 21.Nc3 Qb6 22.Qd3 Nc6 23.Nd5 Qb8 24.g4 g6 25.Nf6+ Kh8 26.g5 Bg7 27.Qxd6 Qa8 28.Bd5 Bb7 29.Nd7 Rd8 30.Bxc6 Bxc6 31.Nfxe5 Bxd7 32.Nxf7+ Kg8 33.Nxd8 Qxd8 34.Qxd7 Qxg5+ 35.Kh1 Bxb2 36.Qe8+ Kg7 37.Rd7+ Kh6 38.Qf8+ 1-0