In a short time the publishing company of Elk and Ruby (http://www.elkandruby.ru/) has made a very good impression, bursting onto the Chess publishing landscape like a burning fireball comet. The two newest books have added much fuel to the fireball.
Sergei Tkachenko has produced another wonderful little tome devoted to Chess compositions, Nikolai Rezvov, from Child Burglar to Grandmaster: A World Champion's Favorite Composers. The book contains one hundred fantastic compositions and the story of the composer, Nikolai Rezvov. The first couple of dozen pages comprising the introduction begins, "The community of chess composers is rich in personalities. Nikolai Vasilevich Rezvov, Ukrainian chess composition grandmaster and FIDE chess composition international master, lead a most remarkable life!
At the end of 1921 Odessa Izvestia warned: "Hunger is at Odessa's door. Until now we have been talking about an impending catastrophe. Now it is here, facing us. All the signs for this are visible. Cases of scurvy and even death from starvation are becoming frequent."
Nikolai's family suffered more bad news in addition to this social disaster; his father deserted them soon after Nikolai's birth and his parents divorced. Our hero found himself the sole male in his family. It's hard to imagine how his mother and grandmother survived such abysmal times with a newborn.
Nikolai Vasilevich told the author of this book that he was feeding his family by the age of four!
A garrison was located next to the port, protecting the port's warehouses and equipment. Odessa lads would often run down to the port to watch the cargo ships. The soldiers acted kindly towards these ubiquitous urchins and even fed them porridge. Nikolai would bring some of this precious sustenance home for his mother and grandmother.
Well, it wasn't only for trips to the port that these Odessite waifs were famous. Their lack of height and innate savviness enabled them to slip through small windows of rich apartments and open the doors for the older hands. This was a particular game of "noble thieves" for which Odessa, let's face it, had long been famous! It's not hard to guess what the "endgame" of this romantic way of life would have been for young Nikolai had it not been for one fateful encounter at the age of five or six!
After creeping his way into an apartment belonging to a local jeweler following a tip-off, Nikolai found himself caught in a trap. The owner who had sensed trouble ahead, had stayed at home and caught the young cat-burglar. The logical reaction would have been to grab this Oliver Twist by the scruff of his neck and haul him off to the police. However, the jeweler acted differently. He offered this failed burglar's mother a deal to take him on as an apprentice and teach him the subtleties of the jewelry trade. A risky and unusual step, frankly! Moreover, in order to dispel any thoughts the urchin may have had about returning to his thieving past, the jeweler, a passionate chess lover, taught his young charge the rules of the game. And that is how the child burglar Nikolai Rezvov crawled through the window into the world of chess!"
The introduction ends, "In over half a century, Rezvov created around 450 compositions encompassing all known types. Many of these are true classics!"
For instance:
1st team championship of Ukraine, 1965
(edited by S. Tkachenko, 2017)
1st place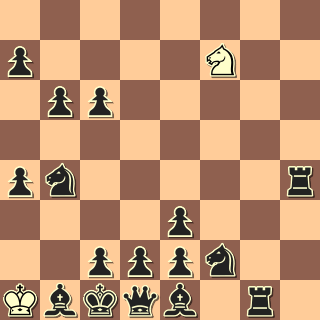 White to move and draw
Mikhail Zinar's Difficult Pawn Endings: A World Champion's Favorite Composers.
From the introduction:
"One spring weekend the lad was walking in the Yuri Gagarin(!) Park in Simferopol and dreaming of his future glorious pilot studies. The world of aviation incurred a terrible loss and the kingdom of Caissa experienced a fantastic gain when Zinar stumbled upon an open pavilion in the park with people playing chess!
Chess! This became Zinar's life obsession. In just half a year he made the journey from absolute beginner to first category player (1800 plus). After that, it was onwards and upwards. With the wish to focus entirely on chess, our hero changed jobs in 1974. This wasn't a fair exchange! Only an incurable romantic would agree to give up a position of aviation mechanic with free accommodation in a dormitory and a salary of 130 rubles per month (a very decent amount in those days) in favor of a salary of 90 rubles per month and no accommodation as a coach at a children's chess club! The chess atmosphere now literally encircled our hero 24/7. Locking the doors at night after the last chess club member had left the premises, Zinar would move tables together, pull a mattress and bed linen from the cupboard and settle down for the night. The following morning the same procedure would take place in reverse…"
The book contains one hundred pawn endings, each a thing of beauty.
M. Zinar
Chess in the USSR, 1981
1st special prize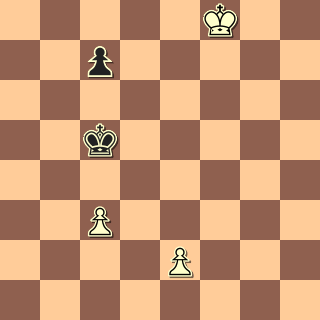 White to move and win