There have been a plethora of Chess games currently available for viewing and I have recently spent an inordinate amount of time following the action on different websites. One of the players being followrd is British GM Daniel Gormally;
the reason being having recently finished his incredibly open and honest book, A Year Inside the Chess World: Insanity, passion and addiction.
GM Daniel W Gormally (2478) – IM Richard J D Palliser (2418)
British Chess Championship 2018 round 05
1. e4 c6 2. d4 d5 3. e5 Bf5 4. Nf3 e6 5. Be2 Nd7 6. O-O Bg6 7. Nc3 Ne7 8. Rb1 Nc8 9. b4 Be7 10. h3 O-O 11. Bd3 Ncb6 12. Ne2 Bxd3 13. cxd3 a5 14. b5 c5 15. dxc5 Nxc5 16. Be3 Qd7 17. Qd2 Nca4 18. Rfc1 Ba3 19. Rc2 Rfc8 20. Rxc8+ Qxc8 21. Qd1 Qf8 22. Bd2 Nc5 23. Nf4 Ncd7 24. Bc3 Bb4 25. Bxb4 axb4 26. Qd2 Qc5 27. Ne2 Qxb5 28. Rxb4 Qa5 29. Nc1 Rc8 30. Nb3 Qa3 31. Rg4 Qe7 32. a4 Nf8 33. h4 Nbd7 34. Rb4 Rc2 35. Qxc2 Qxb4 36. a5 ½-½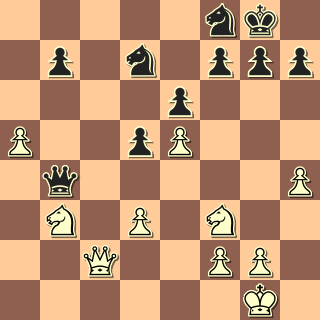 Is does not take a clanking digital monster, or even a GM, to see 36… Nxe5 37. Nxe5 Qe1+ 38. Kh2 Qxe5+ wins a pawn. The ChessBomb shows IM Palliser having three minutes, twenty two seconds remaining. I do not know, but assume the time control has something added, but even without the added time, one could comfortably fire out the above moves and still have three minutes to decide what two moves to play before running out of time. Inquiring minds want to know, so I went to ChesBomb and, sure enough, the above is given as best, continuing with 39. g3 Qe1 40. Kg2 Qb4 41. Nc5 Qxa5 42. Nxb7 Qb6 43. Nc5 Qc6 44. d4 Nd7 45. Qb1 g6 46. Nxd7 Qxd7 47. Qb8+ Kg7 48. g4 Qe7 49. Qg3 f6 50. g5 Kf7.
Why was this game drawn?
Arthur Guo
is a young player from the Atlanta area of Georgia. Aurthur was highly touted by older players a few years ago and his FM title attests to his Chess strength. I seem to recall Arthur being a student of LM David Vest. In the fifth round of the recent concluded BARBER TOURNAMENT OF K-8 CHAMPIONS Arthur faced NM Andy Huang. Andy had won his first four games and was leading the tournament, while Arthur had drawn a game.
NM Andy Huang (2276) vs FM Arthur Guo (2315)
penultimate round five
2018 Barber Tournament of K-8 Champions
1 e4 c5 2 Nf3 d6 3 Bb5+ Nd7 4 O-O Ngf6 5 Re1 a6 6 Bf1 b6 7 d4 cxd4 8 Nxd4 Bb7 9 f3 e6 10 c4 Be7 11 Nc3 O-O 12 b3 Rc8 13 Bb2 Qc7 14 Rc1 Qb8 15 Kh1 Bd8 16 Qd2 Bc7 17 g3 Rcd8 18 Rcd1 Qa8 19 Bg2 Rfe8 20 Qf2 Ne5 21 Qf1 Qb8 22 Re2 Qa8 23 Ree1 Ned7 25 Red2 Ncd7 1/2-1/2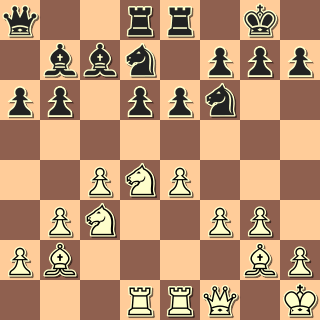 Draw? "What the fork is this?" I thought. They have reached an interesting middle game position. The white Queen's position could possibly be improved, and the black Bishop on c7 looks somewhat out of place, but other than that it is a normal type position for this opening. White has more space, which can be increased with moves such as f4, h4, and g4. After all, the dark-squared Bishop has moved from the Kingside to the Queenside, meaning white has a preponderance of force on the Kingside. White can even increase territory on the Queenside with moves like a3 and b4. This would force black to "crack back" in order not to be smothered. And then we would have a GAME!
But no…
How are these young players ever to become better if they shuffle their pieces around behind the lines without taking up the challenge? How will they ever become proficient in playing the endgame if they agree to short draws? One would think that with the current human World Champion Magnus Carlsen's grinder style of playing as long as there is play would filter down, with the young players attempting to emulate Magnus. But no!
Andy Huang won his last round game vs NM Alexander Costello, while Arthur Guo drew his final game with FM Anthony Bi He, who took clear second place. Arthur tied for third Costello and FM Vincent T. Say.