Yu Yangyi
vs Bu Xiangzhi
9th Hainan Danzhou GM 2018 Rd 2
1. e4 e5 2. Bc4 Nf6 3. d3 Nc6 4. Nf3 Bc5 5. O-O d6 6. c3 a6 7. a4 Ba7 8. Na3 O-O 9. Bg5 Be6 10. Re1 Kh8 11. b4 Ne7 12. d4 Ng6 13. dxe5 Nxe5 14. Nxe5 dxe5 15. Bxe6 fxe6 16. Be3 Bxe3 17. Rxe3 b5 18. h3 Qe8 19. Nc2 a5 20. axb5 Qxb5 21. bxa5 Rxa5 22. Rxa5 Qxa5 23. Ne1 Rb8 24. Kh2 h6 25. Qe2 Rb1 26. Nf3 Qa1 27. g3 Rb2 28. Nd2 Qc1 29. Rd3 Ra2 30. Kg2 Kh7 31. Qf1 Qc2 32. c4 Ne8 33. Qb1 Nd6 34. Qxc2 Rxc2 35. h4 Kg6 36. Kh3 h5 37. f3 Kf6 38. g4 hxg4+ 39. fxg4 Nxc4 40. Nf3 Re2 41. g5+ Kg6 42. Rc3 Nd6 43. Nxe5+ Kh5 44. Rxc7 Re3+ 45. Kg2 Rxe4 46. Nf7 Nf5 47. Kf3 Rxh4 48. Rc8 Kg6 49. Rc7 Rd4 50. Ra7 Rb4 51. Rd7 Kh5 52. Ra7 Rb1 53. Kf4 Rf1+ 54. Ke5 Re1+ 55. Kf4 Ne3 56. Nh8 Nd5+ 57. Kf3 Rf1+ 58. Ke4 g6 59. Rg7 Nf4 60. Nf7 Kg4 61. Ke5 Re1+ 62. Kf6 Nh5+ 63. Kxg6 Nxg7 64. Kxg7 Kf5 65. g6 e5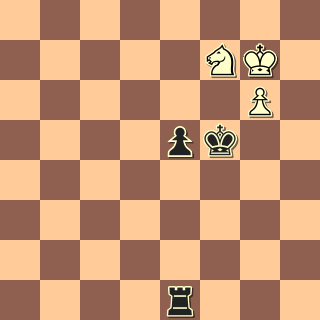 White to move. What move would you make?
66. Nh6+ Ke6 67. Nf7 e4 68. Ng5+ Ke7 69. Kh7 Rh1+ 70. Kg8 e3 0-1
Yu vs Bu
1. e4 e5 2. Bc4 Nf6 3. d3 Nc6 4. Nf3 (Back in the day the only move I played was 4 Nc3. If one played the BO that was the accepted way to play. When checking the game at ChessBomb I noticed the Stockfish program showed the move 4 a4 as best. SF and Houey at the CBDB show 4 Nf3 as the best move. After 4 a4 SF at the Bomb gives this variation: (4. a4 Bc5 5. Nf3 O-O 6. O-O d5 7. exd5 Nxd5 8. Nbd2 Bb6 9. Re1 Bg4 10. a5 Bxa5 11. h3 Bh5 12. g4 Bg6 13. Nxe5 Nxe5 14. Rxe5 c6 15. Ne4).
This is the theory. The following games are what has appeared in practice:
Kovalenko, Igor (2632) vs Malakhov, Vladimir (2685)
Event: Coupe de France 2018
Site: Asnieres-sur-Seine FRA Date: 06/23/2018
ECO: C24 Bishop's opening, Berlin defence
1. e4 e5 2. Bc4 Nf6 3. d3 Nc6 4. a4 Bc5 5. c3 a5 6. Nf3 d6 7. O-O h6 8. Re1 O-O 9. h3 Be6 10. Nbd2 Bxc4 11. Nxc4 Re8 12. Qb3 b6 13. Be3 Qd7 14. Rad1 Rad8 15. Qb5 Bxe3 16. Nxe3 Ne7 17. Kh2 Ng6 18. c4 Nh7 19. Qb3 Nhf8 20. Qc2 Ne6 21. Nd5 c6 22. Nc3 Ngf4 23. Ne2 Nxe2 24. Qxe2 c5 25. b3 Rf8 26. Nh4 Nd4 27. Qg4 Qxg4 28. hxg4 g6 29. Rh1 Kg7 30. g3 Rh8 31. Kg2 h5 32. gxh5 Rxh5 33. Nf3 Rxh1 34. Rxh1 Nxf3 35. Kxf3 Rh8 36. Rxh8 Kxh8 37. Kg4 Kg7 38. Kg5 f6+ 39. Kh4 Kh6 40. Kg4 1/2-1/2
Kovalenko, Igor (2632) vs Doschanov, Zhaslan (2196)
Event: Astana Open 2018
Site: Astana KAZ Date: 06/28/2018
ECO: C24 Bishop's opening, Berlin defence
1. e4 e5 2. Bc4 Nf6 3. d3 Nc6 4. a4 d5 5. exd5 Nxd5 6. Nf3 Bc5 7. O-O O-O 8. Re1 a6 9. Nbd2 f6 10. Ne4 Bb6 11. c3 Kh8 12. Ng3 Be6 13. Bb3 Bf7 14. Bc2 Qd7 15. Bd2 a5 16. Qb1 Bg8 17. h4 Rae8 18. h5 f5 19. h6 e4 20. dxe4 fxe4 21. Rxe4 Rxe4 22. Bxe4 Ne5 23. Nxe5 Bxf2+ 24. Kh1 Qe7 25. Nf5 Rxf5 26. Bxf5 Qxe5 27. Qe4 Qf6 28. Rf1 Bc5 29. c4 Qa6 30. Rf3 Nf6 31. Bc3 Bd5 32. hxg7+ Kg8 33. Bxh7+ 1-0
Boros, Denes (2445) vs Chandra, Akshat (2510)
Event: Saint Louis Norm GM 2018
Site: Saint Louis USA Date: 02/11/2018
ECO: C24 Bishop's opening, Berlin defence
1. e4 e5 2. Bc4 Nf6 3. d3 Nc6 4. a4 Bc5 5. c3 a6 6. Bg5 h6 7. Bh4 Be7 8. Nd2 O-O 9. Ne2 Nh5 10. Bxe7 Nxe7 11. Nf3 d6 12. h3 Ng6 13. O-O c6 14. Bb3 Qf6 15. Ng3 Nhf4 16. Kh2 Be6 17. Bc2 d5 18. d4 Rad8 19. Re1 dxe4 20. Nxe4 Qe7 21. Bb3 exd4 22. cxd4 Qc7 23. Kg1 Bd5 24. Rc1 Ne6 25. Bxd5 Rxd5 26. Nc5 Ngf4 27. Nb3 Rfd8 28. h4 Ng6 29. Rc4 Qf4 30. Qe2 Nxh4 31. Ne5 Nxd4 32. Rxd4 Rxd4 33. Nxd4 Rxd4 34. Nd7 Ng6 35. g3 Qd6 36. Nb6 Kh7 37. Qe3 Rd3 38. Qe4 Qd4 39. Qxd4 Rxd4 40. Re2 a5 41. f4 f6 42. Kg2 Rb4 43. Nd7 Rxa4 44. Re8 Rd4 45. Rd8 Rd5 46. Kf3 h5 47. g4 hxg4+ 48. Kxg4 Kh6 49. b3 b5 50. f5 Rxd7 0-1
Kies, Werner (2144) vs Duester, Frank (1791)
Event: Leverkusen op
Site: Leverkusen Date: 02/02/2004
ECO: C24 Bishop's opening, Berlin defence
1. e4 e5 2. Bc4 Nf6 3. d3 Nc6 4. a4 d5 5. exd5 Nxd5 6. c3 Be6 7. Nf3 Be7 8. Bb5 Qd6 9. Ng5 O-O-O 10. Nxe6 Qxe6 11. O-O a6 12. Bc4 Qf5 13. a5 Nf4 14. Bxf4 Qxf4 15. b4 e4 16. d4 Rd6 17. Qe2 Rh6 18. g3 Qf5 19. f3 Qh5 20. fxe4 Bf6 21. Qxh5 Rxh5 22. e5 Bg5 23. Rxf7 Rd8 24. Kg2 Nxd4 25. cxd4 Rxd4 26. Be2 Rh6 27. Rxg7 Bd2 28. b5 Re4 29. Bf3 Rd4 30. bxa6 bxa6 31. Ra2 Bb4 32. h4 1-0