Samuel L Shankland
v Awonder Liang
U.S. Championship 2018 round 11
1. e4 c6 2. d4 d5 3. exd5 cxd5 4. Bd3 Nc6 5. c3 Nf6 6. Bf4 Bg4 7. Qb3 e5 8. h3 exf4 9. hxg4 Qe7+ 10. Kf1 O-O-O 11. Nd2 g6 12. Re1 Qc7 13. g5 Nh5 14. Be2 Ng7 15. Ngf3 Ne6 16. Bb5 Bg7 17. Qa4 Rd6 18. Nb3 b6 19. Nc1 Nb8 20. Nd3 Kb7 21. Nb4 Qd8 22. Ne5 Qc7 23. Qb3 Rhd8 24. Rxh7 a6 25. Bd3 Ka7 26. Qa4 a5 27. Bb5 Kb7 28. Nbd3 Rg8 29. Nf3 Rh8 30. Rxh8 Bxh8 31. a3 Nc6 32. Bxc6+ Rxc6 33. Nde5 Bxe5 34. Nxe5 Rd6 35. Qe8 Rd8 36. Qxf7 Nxg5 37. Qxc7+ Kxc7 38. Nxg6 f3 39. Nf4 Kc6 40. gxf3 Nxf3 41. Re6+ Kb5 42. Ke2 Ng1+ 43. Kd3 1-0
While watching this game I tuned it out to concentrate on the position after Awonder played 27…Kb7.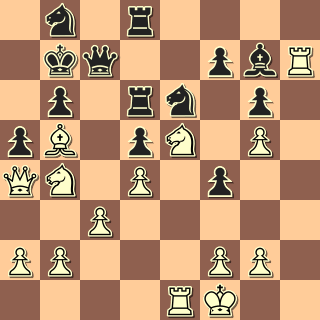 My initial thoughts concerning Sam playing 28 Nbc6, but after black plays 28…Rh8 it seemed there must be more to the position than offered by the move 28 Nbc6. I wanted to move the knight attacked by the pawn, but digging deeper I saw another line. 28 Nbc6 need not be played because of the devastating move, after 28 Nec6 axb4, of 29 Qa7+! Kc8 30 Ne7+, winning the Queen…
28 Nec6 is the most FORCING MOVE. Black MUST take the Knight. After 28…Nxc6 29 Bxc6+ Rxc6 30 Qxc6 Qxc6 31 Nxc6 Kxc6 32 Rxe6 fxe6 33 Rxg7 it's "Turn out the lights, the party's over."
The move Sam played was good enough to win, but it is a shame Sam did not play the Knight to c6 variation in lieu of backing down at the critical moment. One can do that with a completely won game I suppose, but other completely won games in this championship were not won. Sam had worked on that c6 square and though it looked as though Awonder had it covered, he did not have it covered sufficiently. I am not criticizing the new United States Chess Champion as this is only a slight blemish on his overall splendid, and strong, play in this tournament. What seemed to concern Sam most was making the Olympiad squad. Now Sam makes the US "big three" the US "BIG FOUR!"
What makes this so amazing is that in his previous tournament, China vs The World, Sam had lost FIVE games, while winning only one, for a performance rating of only 2597. Do you think Sam had something to prove after that debacle? Prove it he did!
A gambling man could have obtained great odds wagering on Sam Shankland, who would, no doubt, be stuck with the moniker, "The Shank" with the gamblers. All, or at least most, of the "smart money" would have gone to the Big Three. Considering the fact that tournaments like this with an even number of players are unfair, because have the field must play with the black pieces an extra time, which is obviously inherently unfair. How many "smart" gamblers would wager on any of the unfortunate players at a serious disadvantage? Sam was given lemons, which he turned into lemonade. He won four games with the black pieces while drawing two, for a performance rating with black of an astounding 2927! This was higher than his PR with white of "only" 2849. His combined PR was 2892.
I intentionally eschewed watching the coverage provided by the usual suspects this year in order to "watch" the old fashioned way, using a real board with pieces while watching the games provided at TWIC, without computer aided analysis. Copious notes were taken, along with comments, which were later checked over at the ChessBomb. Until the last round…when I brought up Yaz, Maurice, and Jennifer, just in time to watch Sam give his now famous fist pump. Every picture tells a story, don't it?
I have been involved with the Royal game since 1970 and this is the most remarkable performance I can recall. David Spinks was famous for saying, "You gotta PULL for SOMEBODY, man!" As the tournament progressed I could not help but "pull" for The Shank. Congratulations to Sam Shankland for a brilliant tournament performance, which was a thing of beauty. I recall a time when The Shank was in some kind of crisis, talking of giving up the Royal game. Fortunately for we Chess fans, Sam did not quit. I can think of no more deserving Champion than Sam Shankland. This was his tenth appearance at the US Chess Championship. Sam has paid his dues, in full. If lack of confidence has held The Shank back until now, it is no longer a factor in the equation. Samuel L. Shankland has earned his place on the podium along with all of the great former US Chess Champions of history! Long live the Champion!